St Ignatius Loyola Church
Introduction
St. Ignatius has been a central St. Louis landmark since its completion in 1924, known both for its architecture and the congregation's history of supporting racial integration despite initial opposition by some white leaders of the Catholic Church in Denver. Architects Frank W. Frewen and Frederick J. Mountjoy designed this structure based on the design of another church in Cork, Ireland. From the 1920s to 1940s, the building served as a Jesuit Parish and a Catholic Church. The congregation included members of multiple races, and Jesuit leader William Markoe refused to give in to pressures from his superiors to segregate the church. Serving a largely African American community the church insisted on supporting both integration and the nascent civil rights movement following World War II. Father Edward Murphy S.J continued Markoe's work and won awards for encouraging good relations between the African American community and the larger community of Denver.
Images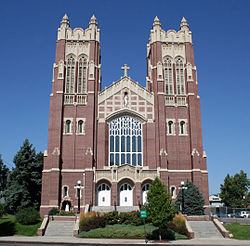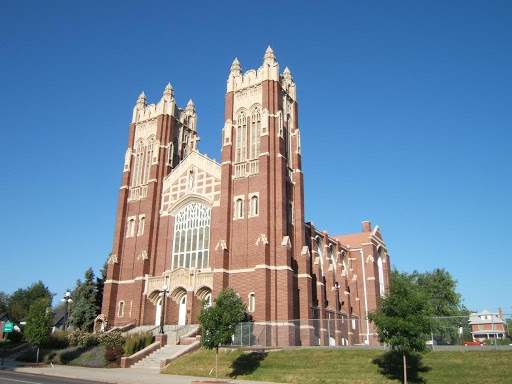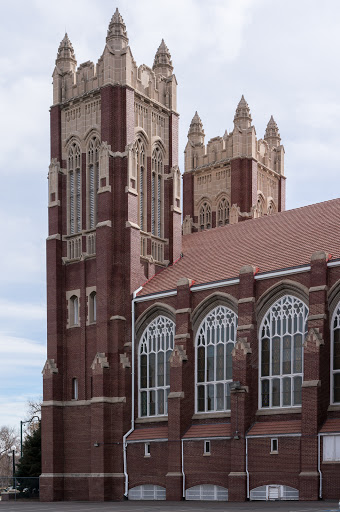 Backstory and Context
This church is located on the North edge of City Park and is known for its distinctive redbrick and twin spires. The church was designed by notable architects Frank W. Frewen and Frederick J. Mountjoy. Frewen grew up in the Whittier neighborhood and attended Manual Trade School before a career that included the design of around eighty buildings in Denver. Together Frewen and Mountjoy designed several notable structures in Denver such as Elbert and Park Hill Elementary Schools and the Fairmount Cemetery Communal Mausoleum.
The church was built in the late Gothic Revival style and is modeled after a church in Cork, Ireland. The exterior features red brick-laden twin spires. In addition, five hand-stenciled stained glass windows decorate the Church.
St Ignatius began as the Jesuit Sacred Hearts Parish in 1879. Sacred Heart grew very rapidly and moved to share the Catholic Loyola Chapel. Eventually, both were moved to a larger location at St. Ignatius on York and 23rd. In 1939 the basement of the church was used as an elementary school. Plans to build an actual school were made, but in lieu of the Great Depression, the school wasn't completed until 1954. This school mostly served African American children.
After World War II Jesuit Father William Markoe, was the leader of St. Ignatius and insisted on supporting integration despite opposition from some Catholic leaders at the time. From 1950-1970 the next pastor of Loyola, Fr Edward Murphy, S.J. worked hard to keep the neighborhood integrated. In 1965 he earned a Reward of Merit, from the George Washington Carver Memorial Institute in Washington DC. It was for "outstanding contributions to the betterment of race relations and human welfare." He went on to be named "Man of Year" by the National Negro Voters Educational Council.  
In 1994 this church was added to the National Register of Historic Places. Today it stands as a testament to the graciousness of its congregation. They raised $1 million to renovate the church and make it accessible for those with disabilities. 
Sources
Churches in the Whittier and San Rafael, St Ignatius Loyola. Accessed June 14th 2020. https://history.denverlibrary.org/whittier-neighborhood-and-san-rafael-historic-district.
St Ignatius Catholic Church, History of Colorad. Accessed June 19th 2020. https://www.historycolorado.org/location/st-ignatius-catholic-church.
St. Ignatius Loyola Parish, Jesuits. Accessed June 19th 2020. https://jesuits.org/Parish-Center-Detail?TN=CODE-20130729083730.
Image Sources
Public Domain

Public Domain

Public Domain