Polk Walking Tour
Introduction
This walking tour of the grounds of the President James K. Polk State Historic Site will give visitors a chance to tour the grounds and gain a better perspective of the 11th President's beginnings.
Images
James K. Polk Highway Marker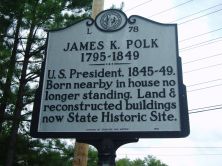 Backstory and Context
The eleventh President of the United States began his life in the humble surroundings of western North Carolina's frontier. His grandfather James Knox lived near what is now Cleveland in Rowan County. James Knox Polk was born in 1795 and was the oldest of Samuel and Jane Polk's ten children. The original log home and traces of the Polk's life on their 250 acre farm in Mecklenburg County, just south of Charlotte, have disappeared, but a recreated cabin is open to the public.
     After life in North Carolina, James and his family moved to Tennessee in 1806 to reunite with other branches of his father's family already there. Polk attended school sporadically in North Carolina and Tennessee and, in 1815, his education was sufficient enough for him to be accepted into the University of North Carolina where he graduated with honors in 1818.
     After graduation Polk returned to Tennessee to study law and enter politics, an endeavor in which he immediately began to succeed. He became involved in politics initially when he was elected to first to the state legislature in 1823. He then became a member of the U.S. House of Representatives and in 1837 was elected Governor of Tennessee for one term. He lost his gubernatorial re-election bid and soon developed an interest in serving in office at the national level. A staunch Democrat, Polk succeeded and narrowly won election to the Presidency over Henry Clay in 1844, making him the youngest president to that date at age forty-nine.
     Polk's presidency was marked by westward expansion, including war with Mexico, as well as controversies surrounding slavery, banking, and tariffs. Polk was seen by contemporaries as conscientious and attentive to the needs of the country. In his Presidential campaign, he promised not to run for a second term and, true to his word, he did not. After the inauguration of his successor, Zachary Taylor, Polk and his wife Sarah returned to Tennessee by a circuitous journey throughout the eastern part of the country. Exhausted by his Presidency and arduous trip home, he died of cholera just three months after returning to Tennessee in 1849.
Sources
Accessed June 13th 2020. http://www.ncmarkers.com/Markers.aspx?MarkerId=L-78.
Image Sources
http://www.ncmarkers.com/Markers.aspx?MarkerId=L-78