Russell-Plough Building-Professional Centre Building
Introduction
Ed S. Russell, a real estate developer, and W. D. Plough, a hardware merchant from Wilbur, constructed a two-story building on the northeast corner of Wenatchee Avenue and Orondo Street, 33 South Wenatchee Avenue, in 1910. Plough opened a hardware business there which continued until 1915. C. J. Breier ad F. W. Wohlers opened a clothing store there in 1916. In 1923 Breier handled general merchandise and continued in business until 1931. For many years two restaurants operated in the building. The Red Apple Café, a Chinese restaurant started by Dan and Harry Eng, existed from 1923 until 1960. Polison's Café ran from 1922 until 1968. In 1979 La Hacienda del Sol, a Mexican restaurant, opened.The Wenatchee, or Maurice's Shoe Klinik, Western Auto, and Foster and Marshall were former tenants. The building, completely remodeled in 1964, took on a new look, and became the Professional Centre Building, providing modern office suites on the second floor. The Owl Drug, a pioneer pharmacy, has been located on this corner since about 1964 when it was forced to move during rebuilding of the SeaFirst Bank Building across the avenue. This building has recently had another exterior update.
Images
Downtown Wenatchee. The Plough Building on the northeast corner of Wenatchee Avenue and Orondo Avenue. Businesses visible along South Wenatchee Avenue include: Red Apple Cafe, Sellar Realty Company, Inc., The Toggery, and the Public Drug Company. Businesses seen along north side of street include: Don's Cellar, Billards, and Hotel Chelan. Photo circa 1936.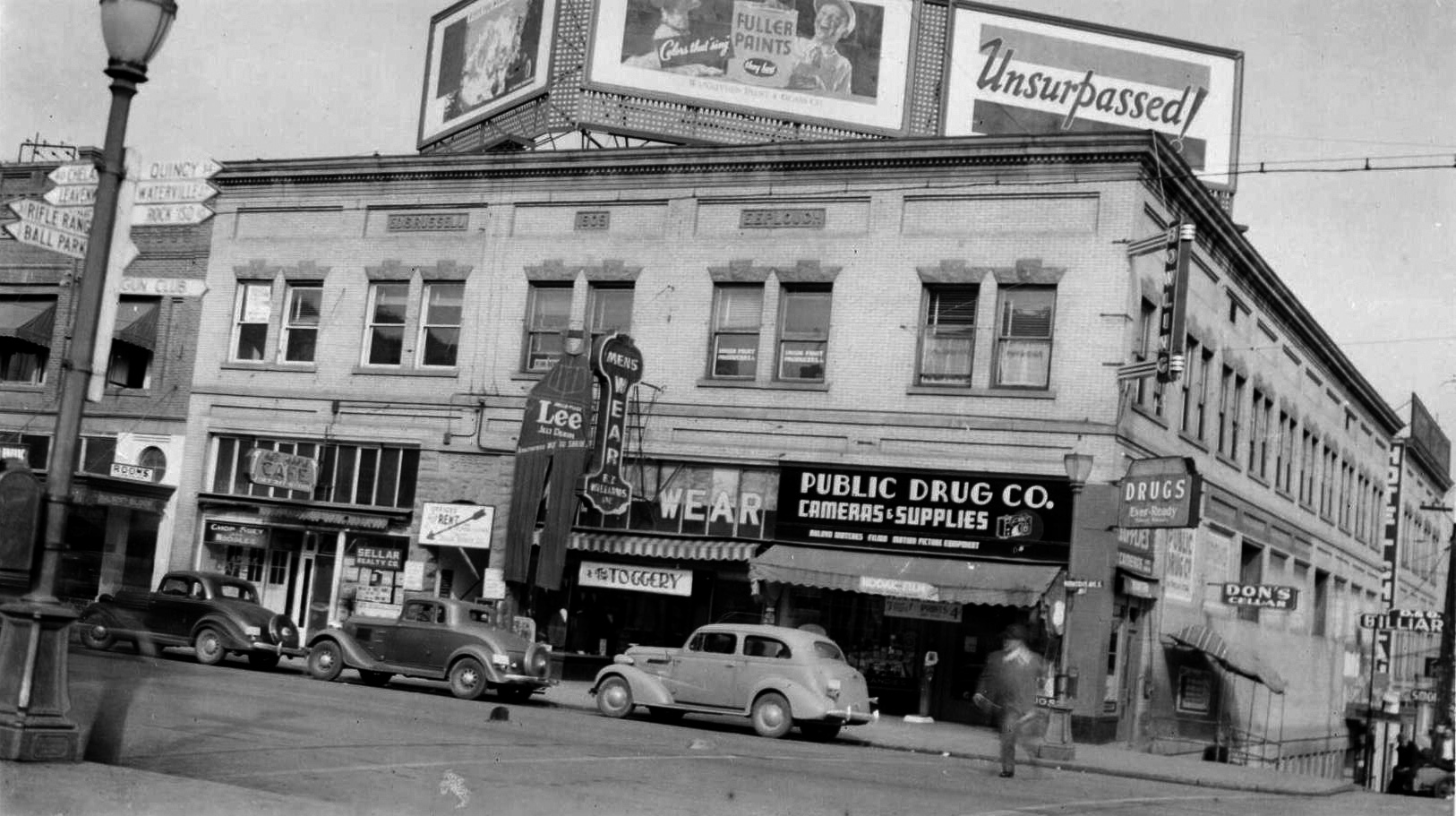 A 1965 postcard showing the view northward up Wenatchee Avenue from the intersection with Orondo Avenue. First National Bank building on left corner, Owl Drug and the Plough Building on the right.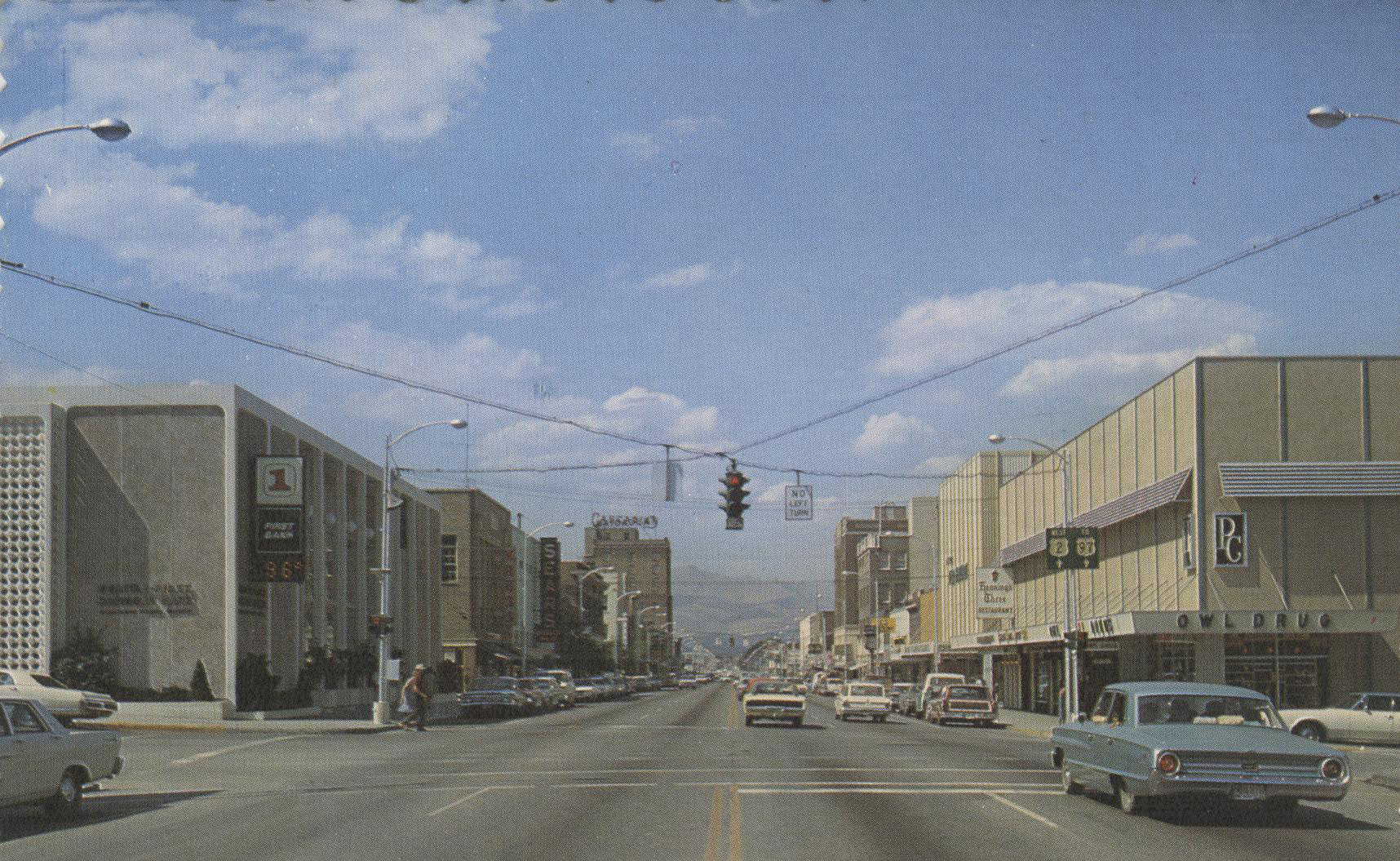 Illustration by artist Betty Bell of the Russell-Plough building as it looked at the time of its construction in 1908.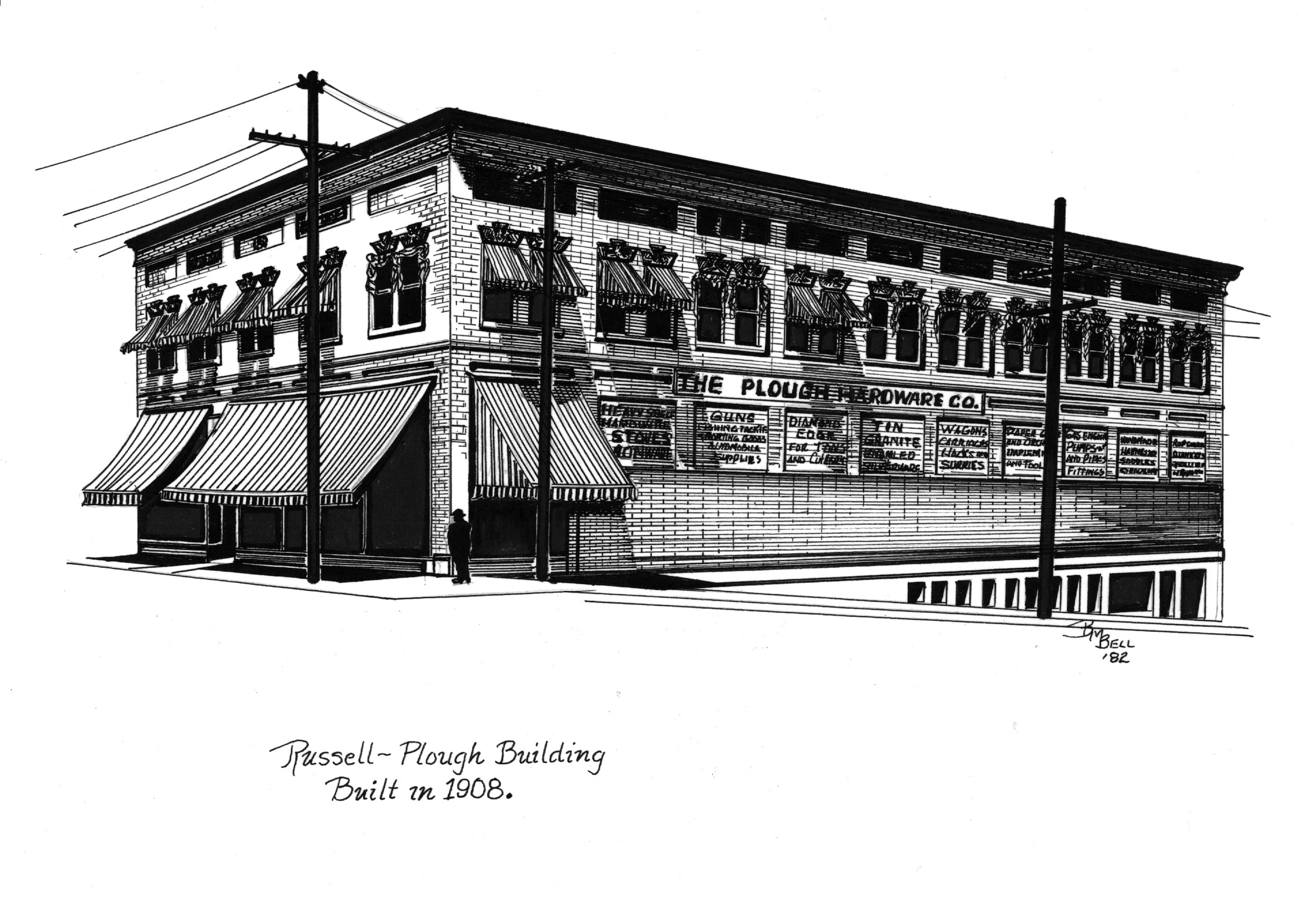 Sources
Polk Directories. Wenatchee, WA. 1907-2006.
Image Sources
Wenatchee Valley Museum & Cultural Center Photography Collection # 008-47-2

Wenatchee Valley Museum & Cultural Center Collection # 011-3-2

Wenatchee Valley Museum & Cultural Center Collection # 89-36-22

Additional Information