Eagle Transfer Company
Introduction
The Eagle Transfer Company moved into its building at 315 S. Mission in August of 1910. The two story and basement building was constructed at a cost of $13,000. The main floor, a large room with pillars, was used to house vehicles and to hitch up teams. A passageway led to the basement where stalls accommodated 85 head of horses. Hay racks and feed boxes were connected to the loft on the second floor. A water heating system provided warm drinking water for the horses as well as for washing harnesses and wagons. Grooves in the concrete floor were connected to the sewer and a concrete manure repository was located in the alley. A fire destroyed the building in 1914. A new building was constructed on the site in 1921 at a cost of $50,000 for the "Howitzer Company" of the National Guard. Since 1928 when a new Armory was built, there have been a variety of tenants at 315 S. Mission.
Images
A 1910 photo showing the Eagle Transfer Building. As of 2020, Eagle Transfer still operates in the Wenatchee Valley, however not from this address.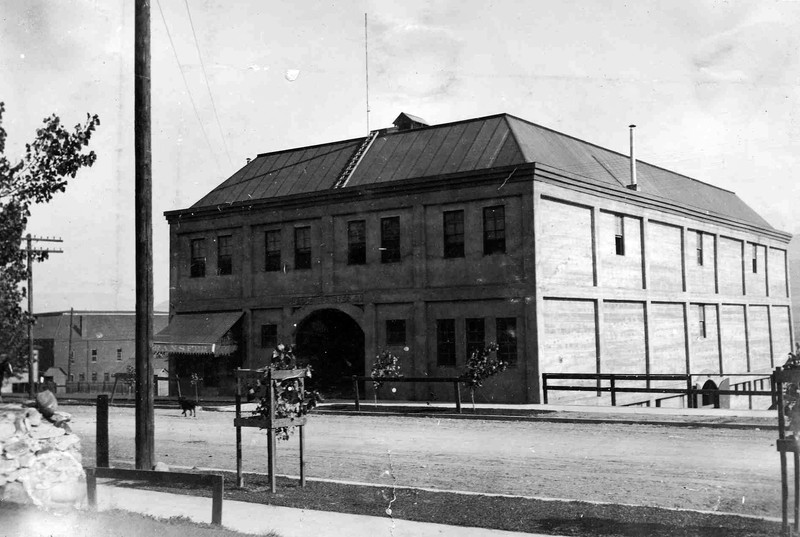 Eagle Livery Feed & Sale Stable building as it appeared before 1910. It was founded in 1903.. Photo also shows someone in a horse drawn carriage and an automobile on the street in front.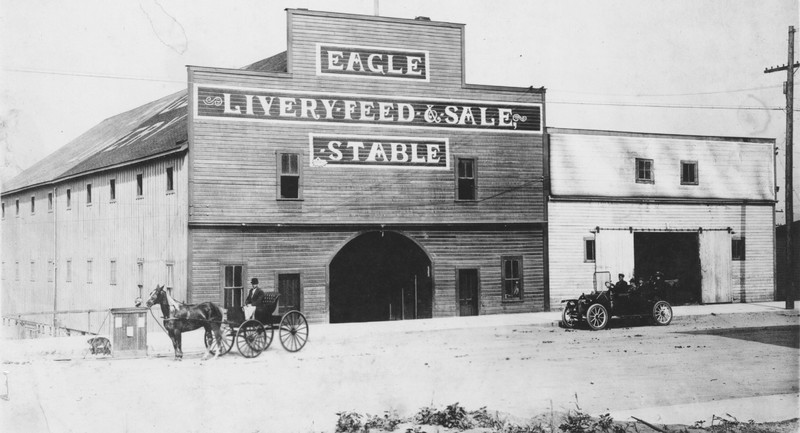 Drawing from the 1910 photo done by artist Betty Bell.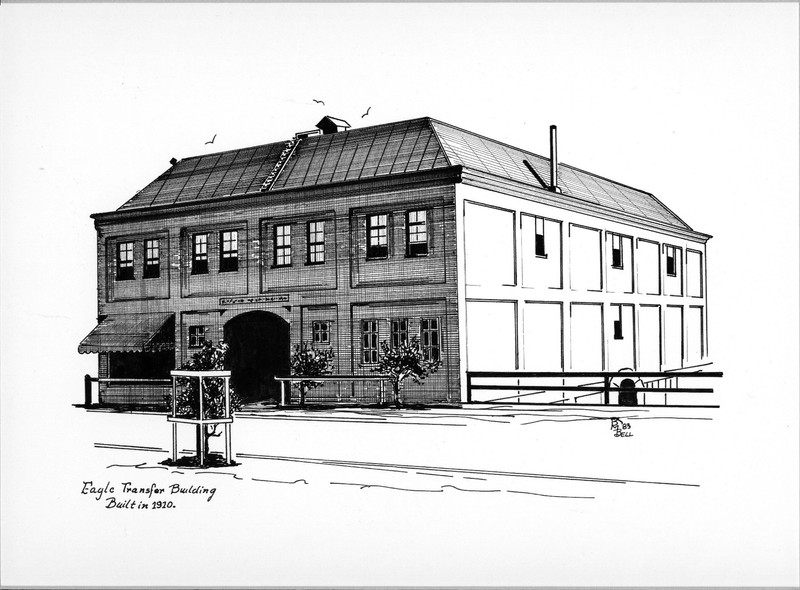 Albert N. "Bert" Courtway the founder of Eagle Transfer.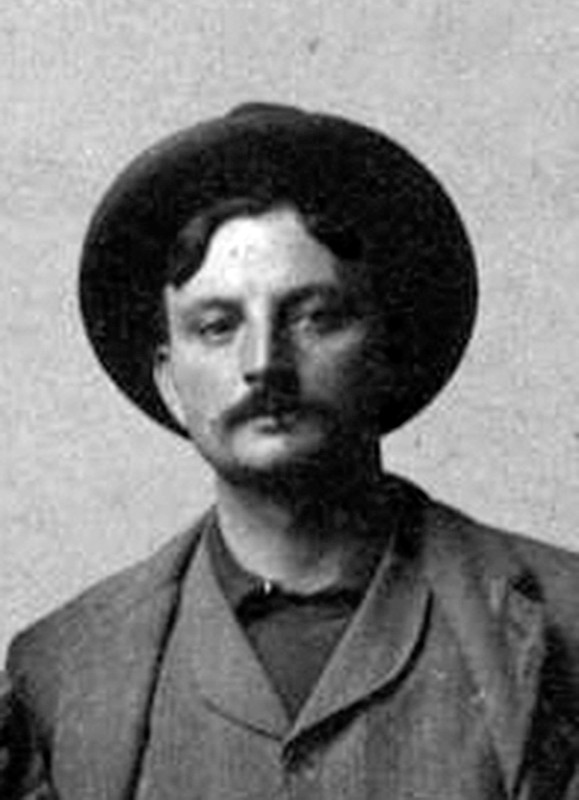 Backstory and Context
Wenatchee owes much of its growth to the Great Northern Railway Company, which (beginning in 1892) provided a lifeline between the small hamlet on the Columbia River and the rest of the United States. But what about getting people to and from the trains, and moving around within the town and surrounding area? For this, Wenatchee has long depended on a transportation company whose character continues to evolve: Eagle Transfer.
The Eagle Livery and Transfer Company (often simply called Eagle Transfer) was founded in 1903 by Albert N. "Bert" Courtway. He was from a large Catholic family of 15 children whose patriarch, Francis X. Courtway, hailed from western Canada. When the older children were small, the family moved to Michigan and then to Klickitat County in Washington Territory in 1880. Here Francis, Bert and oldest brother Anthony B. "Tony" Courtway each began purchasing property and raising livestock. Bert owned 5,000 head of sheep, Tony had 3,000 sheep and Francis raised cattle. In 1895 Francis sold out and moved to "Lone Rock" at the mouth of Colockum Creek with his wife and younger children. Here he made a name for himself as a cherry grower, thanks to one gigantic old tree that yielded one ton of cherries in 1903.
It is not clear when Bert came to Wenatchee, but he appears in a photograph marked "1885" of the first jury formed in Wenatchee. He owned a fruit orchard around Fifth Street and Wenatchee Ave-nue, a large ice house, and interests in a few mining ventures before establishing the Eagle Livery & Transfer Company. Ralph Littlefield and C. Will Reed became early partners in the business.
"Livery" was a lucrative endeavor at the turn of the last century. Based in a frame building at 125 South Wenatchee Avenue, Eagle L&T offered many services: stabling and feeding horses; selling feed, coal and firewood; and renting out horses and wagons. 
Livery business offered many services
Two-horse Eagle "buses" would meet all incoming trains and steamboats, picking up passengers and their luggage and delivering them to their hotels or residences. On May 15, 1906, an Eagle Transfer carriage was sent to the Entiat Rapids to bring officers and passengers from the wrecked steamboat "Selkirk" back to Wenatchee.2 Eagle L&T buses also hauled groups of people on various outings – and the company had the contract to haul the mail from the railroad depot to the post office. 
Wenatchee-area families needing to move their household goods, including pianos, would engage Eagle Transfer or its rival, Arrow Transfer. On at least one occasion, several Eagle rigs were put into action transferring a carload of furniture from Seattle from the train depot at First and Wenatchee Avenue to the steamboat landing at the foot of Chehalis Street. The furniture was consigned to Waterville, Chelan, Lakeside and other upriver points.
Though many people had their own horses, a young man might visit Eagle Transfer to arrange a special occasion for his sweetheart. An ad that ran in The Wenatchee Daily World for several months in early 1905 suggested, "Give Your Wife a Treat. Take her to ride some pleasant Sunday afternoon or evening. A nice rig and gentle horse with just the right amount of spirit at our stable." Eagle Transfer also offered a taxi service in a "first-class hack," affirming that drivers were "prepared to answer calls in any part of the city all hours of the day or night."
In early 1906 Tony Courtway – who had started a livery business of his own in Goldendale in 1903 – moved to Wenatchee with his wife Addie and at least three of their seven children. He and younger brother Frank opened a saloon called Courtway Brothers at 108 Orondo Avenue (across from today's McGlinn's Public House). Tony also bought into brother Bert's livery company, purchasing the shares of C. Will Reed. By this time Littlefield had sold his stock to John A. "Jack" Scaman. Bert Courtway sold his company stock to Clifford C. Griggs, son of steamboat captain Alexander Griggs, but retained ownership of the Eagle Transfer real estate. This consisted of the frame building and 12 lots (seven facing Wenatchee Avenue and five facing Columbia Street). Bert, Will Reed and some other Wenatchee men headed to Alaska for a few years to pursue mining interests.
With Griggs as president, Tony Courtway as vice president and Scaman as secretary-treasurer, the company thrived. Scaman was the expert on horses. Raised on a grain farm in North Dakota, he was helping his dad with the harvest at the tender age of six – riding the center horse and guiding the team that pulled the harrow. 
After moving to Washington as a teenager he tended bar in Brewster, worked in hay fields, and hauled lodgepole pines with horses down steep trails on Burch Mountain before Capt. Alexander Griggs hired him to work for the Columbia & Okanogan Steam-boat Company. Here Scaman loaded firewood, drove a horse that pulled loads of wheat up the incline from the boats, and stacked wheat sacks seven high.5 He later married Griggs' daughter Essie.It was Scaman who would travel to Okanogan County, Portland and Spokane to purchase horses for Eagle Transfer to rent and sell. Another Courtway brother, Fred, sometimes accompanied him on these trips.
In February of 1906, work began on a new three-story livery barn for Eagle Transfer. Its dimensions were 48 by 160 feet, with room for 80 head of horses, 50 wagons and 125 tons of hay. It was said to be the largest commercial barn in North Central Washington.6 The company also installed a set of wagon scales in front of the barn on Wenatchee Avenue, for its own and public use.
Eagle Transfer got into the construction business in May 1906 when it won a contract to excavate, using horses, the basement of the new three-story brick building on South Wenatchee Avenue that would become the Pioneer Department Store. A month later Eagle contracted to excavate the new Columbia Valley Bank building a block north. The company also removed dirt and rocks from the basement of the Chelan County Courthouse and the Chinook Hotel, later called the Columbia Hotel (this building burned down in an arson fire in 1988). In the next several years Eagle Transfer received contracts for re-grading and graveling major downtown streets including Chelan Avenue, Wenatchee Avenue, Kitti-tas Street and Okanogan Avenue as well as portions of the roads to Chelan and Leavenworth.
Eagle Transfer's work horses were hardy and well behaved. Another of the company's ads in The World urged, "Let us do your Teaming. We handle the work of many of the leading businessmen and they say we do our work well, let us do yours." This was later replaced with, "All Kinds of Teaming, well and properly done at most reasonable prices. Our business is growing rapidly because we try to earn, and more than earn, every dollar you pay us."
Of course accidents happened once in a while. The newspaper described an incident in which Eagle Transfer was hauling a "tin building" to a new site on Wenatchee Avenue. The building had been a temporary location for the fire department after the big downtown fire of 1909, but now was to be used as a shelter for city wagons. The building, mounted on skids, was being pulled by four teams. "A good start was being made yesterday but somebody said, 'Whoa!' just when the horses were doing their hardest pulling. After that it seemed impossible to get the four teams to pull together again and the attempt had to be abandoned till this morning." After hooking up six teams of horses, the building was moved smoothly.
The stable men at Eagle Transfer occasionally had to deal with difficult horses being boarded in their barn. The newspaper reported that employee Roy Culbertson had been taken to the McCoy hospital for three stitches, after being kicked in the head by a horse. "The horse was a transient brought into the stable for feed. The owner of the horse claims that he gave warning of the horse's vicious tendencies but the boys say they had no warning. The owner drove away unconcerned about the condition of the unfortunate man."8 
In April 1908 Courtway, Scaman and Griggs sold the livery portion of the business to David C. Town of Waterville. Town, who paid $8,500 "for the animals, rolling stock, goodwill etc.," had operated the stage lines between Waterville, Orondo and Wenatchee.9 He did not stay with Eagle Livery very long. He married divorcee Amanda Martin of Leavenworth in December 1912 and moved to that city, having sold the Wenatchee business. (See The Confluence, Spring 2014.) 
Town also advertised in The Wenatchee Daily World. His first ad read, 
ANNOUNCEMENT. Having purchased the livery business from Eagle Transfer and Livery Company, it shall be my aim in the future, as it has been theirs in the past, to give to the patrons of this barn the very best of service. Notice to Farmers – Let us feed your teams. Your patronage is solicited. Phone 185. D.C. Town, Proprietor, Eagle Livery.
David Town, his son Clint, and one of Courtway's sons were members of the Eagle Transfer baseball team in 1909. The town's Twilight League was a source of great entertainment for Wenatchee residents. Other teams were the Firemen, Bankers, Real Estate, Printers, Icemen, Ellis-Forde department store and Tammany. One special exhibition game was played on July 26 when the team in last place, Eagle Transfer, took on a team organized by Frank Keller called "The Fats" – each player weighing more than 200 pounds. Eagle Transfer won the game.
For a few years after the businesses split, Eagle Livery and Eagle Transfer were next-door neighbors. A few automobiles had arrived in Wenatchee, but horses were still the predominant means of transportation in the early 1910s. The newspaper described another mishap:
An Eagle Livery team hitched to Hamilton Undertaking Company's funeral wagon became scared while Driver Roberts was standing a few feet away. They took off, heading for their barn. They tried to turn into the barn but were going too fast and missed the entrance, smashing the scales and colliding with an Eagle Transfer dray team standing in front of Duffy's cigar store. Here they broke loose from the hearse. One horse was finally captured but the other one hadn't been found by press time.
Eagle Transfer began constructing a new building at 315-319 South Mission Street, between Thurston and Kittitas streets, in early 1910. It had two stories and a basement and was made of reinforced concrete. The main floor held horse stalls, offices and space for washing vehicles. On the second floor were bedrooms, baths, lockers and a social hall for employees. Feed storage was in the basement, accessed by an elevator. Despite a petition signed by several Mission Street property owners that a livery barn "would depreciate the value of other real estate on the street," the city permitted the building.
Especially after Jack Scaman purchased a rock crusher in Spokane, Eagle Transfer's construction business skyrocketed. The crusher produced gravel for new concrete sidewalks as well as roads and building foundations. The company's hauling side flourished, too. Wenatchee's population was growing, and new residents were happy to see Eagle Transfer's two Daily World ads that ran for several months in late 1910: "General Transferring and Storage; moving pianos and household goods our specialty" and "For safe and prompt Transferring, Draying, Piano Moving, light and heavy Truck Work – see the old reliable Eagle Transfer Company. Phone 1105. We never sleep."
As a solid commercial establishment, Eagle Transfer was a Wenatchee booster – contributing to the volunteer fire department, county fair, a fund to create displays of Wenatchee fruit in Seattle, supporting the Wenatchee Commercial Club, and participating in town parades. 
By 1914 Tony Courtway had bought out his partners, Scaman and Griggs, and had become president and sole owner of the business. His wife Addie was vice president. Several secretary-treasurers are listed over the next few decades in the Polk Directory, including the Courtway brothers' old friend, Will Reed, from 1925 to 1930. 
Eagle Transfer's building on South Mission burned down circa 1915 and the company moved to 112 South Wenatchee Avenue. Gasoline-powered trucks replaced horses, and Eagle Transfer added the storage of dry goods to its services. The firm later moved to 120 South Columbia Street.
A young man named Larry Erickson came to work as a driver in 1929. "He came looking for a job and found a lifetime career," said the current owner of Eagle Transfer, Mike Walker. Erickson told Walker that in 1929 the company employed between 12 and 16 men. "They had 16 trucks, four of which delivered coal and wood every day. They had two men and two trucks six days a week, 10 hours a day, delivering the Great Northern freight. They also did local dray work and moved household goods. It was a busy firm in those days."13
The 1930s were dif-ficult for Eagle Transfer and other businesses, as the country settled into the Depression. In 1937 Tony Courtway's company went into receivership. Fruit Delivery, a Seattle firm, controlled Eagle Transfer for two years, then sold the business to Lou Johns. Johns sold it in 1944 to Lloyd Eckert of Eckert Freight Lines in Seattle. Eckert appointed Larry Erickson as manager of the firm. Erickson later told Walker that by 1944 the company had only three pieces of equipment: a pickup, a flatbed and a van. They operated out of a small shop at 210 Orondo Street.
"Larry had an uphill battle bringing the company up out of the hole, but he was successful – so Mr. Eckert kept the company with Larry as manager until 1949, when he sold the business to West Coast Fast Freight," Walker said. Erickson continued as manager.
Well on the way to recovery, Eagle Transfer moved down the street to a large brick building, 234 South Columbia Street, in 1950. Erickson successfully negotiated a contract with Alcoa which resulted in handling nearly a million pounds of freight per day. The contract, written to cover the duration of the plant's construction program, called for Eagle to do all the unloading, checking and warehousing of shipments received by Alcoa for building its plant south of Wenatchee. In addition, as an agent for Lyons Van Lines, Eagle Transfer handled the movement and storage of household goods for Alcoa's new employees and their families. Fifteen trucks and 40 men kept busy with this welcome project.
Eagle Transfer was doing so well by the early 1950s that Erickson decided to open a branch in Moses Lake. In 1953 Erickson pioneered Washington state's first highway post office. Eagle driver Arnold Batcheller and a postal clerk first wheeled a 35-foot van out of town on October 1, headed for the Okanogan Valley. The traveling post office picked up and dropped off mail over a 135-mile route. Leaving Wenatchee, it served the communities of Entiat, Lakeside, Chelan, Azwell, Pateros, Brewster, Malott, Okanogan, Omak, Riverside, Tonasket and Oroville. The clerk sorted and canceled the mail with the vehicle's own postmark while the "post office on wheels" rolled along the highway.
The "Hypo," as it was called, ran Monday through Saturday – leaving Wenatchee at 4:45 a.m. and returning at 7 p.m. The daily load was between 4,000 and 8,000 pounds of mail. The truck was equipped with a wash basin and drinking water. A cable connection allowed it to be hooked up to electricity during prolonged stops. The highway post office ran for about 10 years.
In 1954 West Coast Fast Freight sold its entire operation to Pacific Intermountain Express (PIE). The new firm was not accustomed to operating a storage company and planned to liquidate Eagle Transfer, both in Wenatchee and Moses Lake. It offered a job to Larry Erickson, but he refused – and ended up buying Eagle Transfer from the PIE chain.
In 1960 Eagle became an agent for the large national transportation company North American Van Lines. Under Erickson's ownership, Eagle Transfer contracted with Great Northern Railway (soon to become Burlington Northern) for "piggyback" freight service in Wenatchee. Rail cars loaded with trailers would arrive at Appleyard, Wenatchee's freight terminal south of town. Eagle Transfer would back a tractor (truck cab) up to the rail car, unload the trailer, haul it to the customer for loading or unloading, then return the trailer to the flat car. The contract enabled Wenatchee-area shippers to take advantage of the low rail rates in vans.
Mike Walker and Wayne Turner purchased the company from Erickson in 1968. Walker had spent his first 11 years living on Terminal Street in Wenatchee, attending Lincoln School, before his father moved the family to Mossyrock, Wash. where Mike went to high school. Returning to Wenatchee, he got a job at Montgomery Ward mounting tires. He was promoted to the shipping department, where he got to know Eagle Transfer manager Ray Evert. "I asked him if he thought Larry would ever sell the business," Walker said. Erickson was ready to retire, and liked the young men's spunk, so agreed to very lenient credit terms. 
"Larry was a big, husky Swede – very active in the community and a great guy," Walker said. "He let us have the business for a dollar down and a dollar a week." Walker was 23 years old.
He and Turner worked long days and sometimes seven-day weeks to keep Eagle Transfer on a moneymaking trajectory. By that time the company had one semi-truck, a "solo" van, three tractors working with the railroad flatcars, and one pickup truck. Turner managed the business, handling estimates and bookkeeping, and Walker started out as a "worker bee" mover and driver. Within a few years they switched places: Walker became president and manager, and Turner started driving one of the piggyback trucks. Walker purchased Turner's interest in 1976.
"It was hard work!" Walker said. "We got a lot of good contracts, though." One was with General Telephone, which needed lots of new six-foot-long, one-ton switchboxes to be moved and placed with a crane. Others were with United Parcel Service and the Avon beauty products chain. Eagle Transfer also delivered liquor to the Eagles and Elks clubs in town. "This was a two-man job," Walker laughed. "One guy had to watch what was left on the truck, while the other carried in the booze!"
By the 1980s, freight transportation in the U.S. had become intermodal – using multiple modes (ship, rail and truck) to move containers without actually handling the freight itself. This improves security, reduces damage and loss, and allows freight to be transported faster and more economically. Eagle Transfer was well adapted to this. Many of its local customers did business in Seattle, Pasco, Portland and other cities – so Eagle opened new branches in those cities. By 1985 Eagle Transfer had branches in Montana and Nebraska, followed by California, Alabama, Georgia and other states.
Walker's firm bought out E.I. Kane, an inter-modal trucking company based in Washington, D.C. that handled records storage and distribution, around 1990. Jeff Lang ran the East Coast operations of what became known as Eagle Intermodal Transport. Lang is now CEO of the Eagle Group, a conglomerate of more than 10 companies from all around the U.S. Walker is chairman of the board. Eagle became an agent of United Van Lines – and Walker says moving and storage is the main focus of the business today.
"Eagle Transport Company: strong tradition, strong people, strong vision, since 1903." The national company now has at least 850 employees, or "associates," including contractors. Its success has made Walker and his wife, JoAnn, financially comfortable. They created Lifeline Ambulance in 1988 and, a few years ago, invested some $2.7 million in the Pybus Public Market.
"JoAnn and I decided it would be nice to give something back to the community," Walker said. "I'd always loved the old Pybus steel plant building and got really jazzed at the idea of turning it into a public market." They formed a 501(c)(3) charitable foundation, obtained an 80-year lease from the Port of Chelan County, and renovated the 25,000-square-foot building to hold 20 year-round tenants. JoAnn oversees the cultural events, art installations and decorations for the market; Mike works on various projects there.
The Walkers remain active in the community, serving on boards and volunteering with service clubs. Mike was director general of the Apple Blossom Festival and has participated on several city advisory committees. The couple has received several prestigious community awards including the Wenatchee Valley Chamber of Commerce's Legacy Award, the Wenatchee Business Journal's Business Person of the Year, and the GWATA technology alliance's Lifetime Achievement Award.
Sources
Hull, L M. History of North Central Washington. Wenatchee, WA. 1929.
Wenatchee Daily World (Wenatchee) May 16th 1909. .
Wenatchee Daily World (Wenatchee) September 18th 1905. .
Wenatchee Daily World (Wenatchee) November 20th 1906. .
Anderson, Eva N.. Pioneers of North Central Washington. Wenatchee, WA. 1972.
Polk Directories. Wenatchee, WA. 1907-2006.
Rader, Chris. Eagle Transfer Helps Build Wenatchee. The Confluence. October 1st 2013.
Image Sources
Wenatchee Valley Museum & Cultural Center Photography Collection # 80-67-19

Wenatchee Valley Museum & Cultural Center Photography Collection # 99-88-12

Wenatchee Valley Museum & Cultural Center Collection # 89-36-13

Wenatchee Valley Museum & Cultural Center Collection # 76-43-1

Additional Information