600 Broad St
Introduction
600 Broad St, constructed in 1977, is a design by the world-renowned architect I.M. Pei. Situated along the central axis of Broad St, this building is the only of its kind and serves as a landmark for the mid to late 70s redevelopment effort downtown. On-axis with the building are parking wells and plazas that span between the 600 and 1000 blocks of Broad Street.
Images
Early Development of Central Median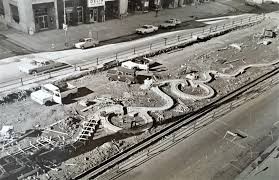 I.M. Pei Alongside a Scale Model of Downtown Augusta, GA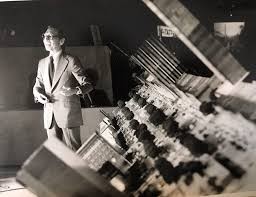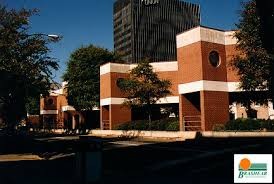 Backstory and Context
Architect I.M. Pei proposed his initial concept for the revitalization of Augusta's Broad Street in the year 1974. The original proposition was to remove the pre-existing angled parking on both sides of the street as well as the outer third lanes, in order to make space for parallel parking. There would also be central parking wells down the median of the street, for a more efficient flow of traffic. In addition to the 450-car parking plaza on the 800 block of Broad street, there were to be two 8,500 sq ft. retail spaces between the 800 and 900 blocks of Broad St, as well as a park with benches and a fountain on the 700 block.
Much of Pei's original design remained through multiple revisions, but the centrally located retail spaces were not approved. Walking down Brod Street today, one can see the 21' fountain as well as the in-ground parking. The concrete planters and lamp posts on Broad street were also the construction of I.M. Pei's plan to renew the garden city, as it was once called.
Pei's plan has endured forty-three years and continues to serve as a characteristic component of downtown Augusta. 600 Broad St. now hosts a number of start-up companies, an art gallery, and an event room.
Sources
"600 Broad." Augusta Georgia, www.visitaugusta.com/listing/600-broad/518/.
"Broad Street Revamp Plan." GenealogyBank.com : Start Your Membership, Augusta Chronicle, 18 Sept. 1974, www.genealogybank.com/doc/newspapers/image/v2:1252FEAF2D2D3A44@GB3NEWS-12841F5B9533A790@2442309-12841F5B9A8EED88@4-12841F5B9A8EED88@?h=8.
Image Sources
https://www.augustachronicle.com/news/20181216/way-we-were-famous-architect-im-pei-took-on-broad-street

https://www.augustachronicle.com/news/20181216/way-we-were-famous-architect-im-pei-took-on-broad-street

https://www.metafilter.com/77422/I-is-for-Islamic-M-is-for-Museum-Pei-is-for-Pei