Winters House & Tumwater Lumber Mills Rogers Street Historic District
Introduction
The Winters House is one of five homes on Rogers Street built by Tumwater Lumber Mills of Olympia. The home is easily identifiable due to its light green stucco facade and turreted entrance. Tumwater Lumber Mills began designing ready-cut, or kit, homes in 1921. Their homes were sold throughout the United States and Europe and were especially popular in Olympia. The Winters home is listed on the Olympia Heritage Register.
Images
The Winters House in 2014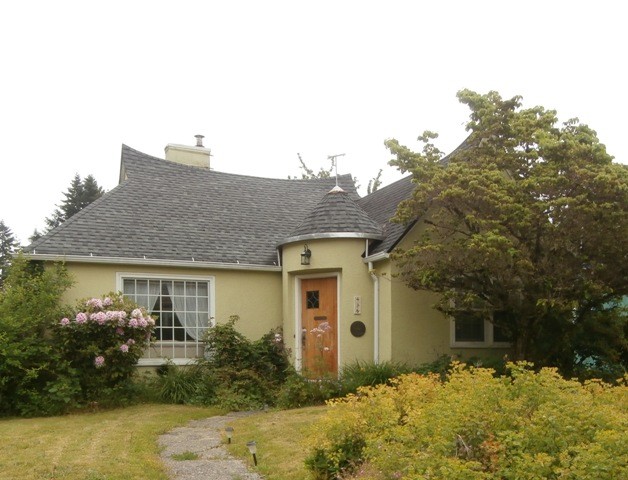 A catalog of Tumwater Lumber Mills's homes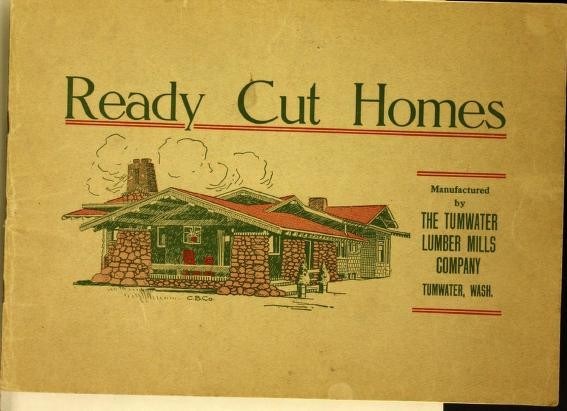 Backstory and Context
One of the most influential families in Olympia in the early part of the twentieth century was the Anderson family. Anton and Matilda Anderson migrated to Tumwater from Sweden in the early 1900s and gradually developed a thriving lumber, timber, and pulp industries of the Puget Sound region. The family built a lumber mill on the Tumwater Falls and began manufacturing pre-ready homes in 1921.
The idea of kit homes emerged in the early 1900s when more Americans began moving to urban areas and building homes. The homes were popularized by Sears & Roebuck and Montgomery Ward, each of whom sold thousands of the ready-made homes and shipped them throughout the country. Like their more famous counterparts, Tumwater homes came with all the pieces of lumber numbered and ready for assembly. The company also offered the services of a foreman if the homeowner decided not to build the home himself.
The Anderson family prided themselves on the fact that their pre-cut homes helped minimize waste both at the mill and at the construction site. The kits included paint, windows, and hardware, as well as perhaps 30,000 pieces of lumber, depending on the size of the home. The company built more than 500 ready-made homes in the Olympia area.
The Winters home was one of five homes the Anderson family built on Rogers Street as a showcase for their pre-cut homes. The home, which is similar in design to other Tumwater homes on the street, features a turreted entrance and a green stucco exterior. It was built in 1931 for Walter Winters, who was a deputy highway engineer. With its distinctive turret and upturned roofline, the Winters home was used as a show house in promotions of the Tumwater Lumber Mills.
Sources
Tumwater Family Sold Kits for Pre-Cut Homes , The Olympian. February 27th 2014. Accessed June 10th 2020. https://www.theolympian.com/news/local/article26067070.html.
Winters House , Olympia History . Accessed June 10th 2020. https://olympiahistory.org/wp-content/uploads/2016/11/HistoricID-0681-Winters-House.pdf.
Brookshire , Alla . Historic Homes: 100 Years of Architecture in Olympia , Thurston Talk . January 21st 2020. Accessed June 10th 2020. https://www.thurstontalk.com/2020/01/21/historic-homes-100-years-of-architecture-in-olympia/.