Eugene F. Goodrich House
Introduction
The Eugene F. Goodrich House is in a neighborhood in the south section of Massachusetts Street, a few blocks east of Kansas University. The Queen Anne-style wood frame house rests on a limestone foundation and has a gable-on-hip roof. The 2-1/2 story structure was built to be a single family residence in 1890 for the new postmaster; the architect is unknown. The building was listed in the National Register in 2001; at that time, it was a commercial structure housing the offices of Psych Solutions. It now contains the offices of Psychological Resources Inc., a firm that specializes in providing psychological testing of applicants for public safety positions.
Images
Photograph of east elevation of Eugene F. Goodrich House ca. 2008 (KSHS)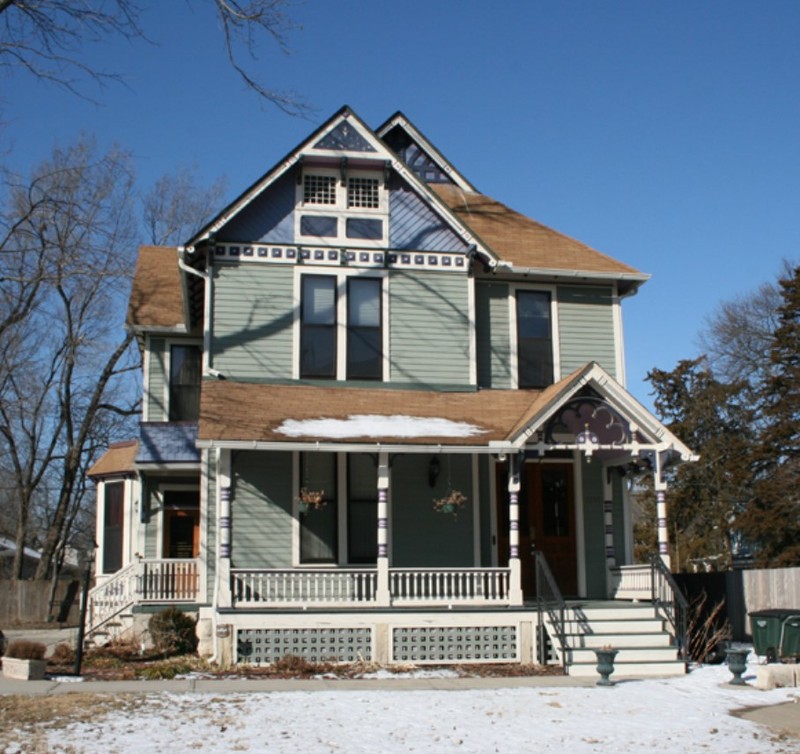 Backstory and Context
The Eugene F. Goodrich House is outside of the original boundaries of the town of Lawrence. It lies within Babcock's Enlarged Addition, five blocks south of South Park. The early twentieth-century neighborhood of the house was mainly residential with a mixture of commercial structures. Some of the house lots had outbuildings on the lot such as carriage houses or garages. This block of Massachusetts Street is currently commercial or multi-family residential. The carriage house on the Goodrich lot was removed many years ago and replaced with a two-car garage. The garage was removed in the late twentieth century to meet zoning requirements.
Massive interior renovation was accomplished on the neglected and dilapidated interior by the physician couple who owned the house in the late twentieth century. Only one of the house's original light fixtures survived - a brass and leaded crystal chandelier, which has been restored. The dormer windows on the third story contain the only surviving original stained glass windows.
Eugene F. Goodrich built this house after he was appointed the eighth postmaster of Lawrence in 1889; he held this position until 1894. Goodrich also worked as a grocer and shipper of produce. William W. Cockins bought the home in 1911; he had established the Crooked L ranch, a huge cattle ranch in western Kansas in Meade County, in his younger days. The house was dually owned by Cockins and William E. Tenney (likely a son-in-law) by 1917. William W. Cockins was born in 1837 and died in 1924; he is buried in Oak Hill Cemetery in Lawrence. Cockins' wife, Sarah Ann Welch Cockins, passed away in 1922. William Edward Tenney and Carol Tenney owned the house until 1932; in that year, it was owned by E.M. Tenney and Orpha Johnson. William E. Tenney was born in 1859 and died in 1933; his wife, Eoline M. Cockins Tenney, was born in 1865 and lived until 1960. At some point, the house was divided into multiple apartments.
The Goodrich House is said to be haunted by the spirit of a young woman, according to tales from its days as rental apartments for college students. Doors would mysteriously fling open, attic lights and door buzzers would go on and off by themselves, and a terrified dog left home alone once tore through a second story window screen to jump out of the house (he survived).
The Eugene F. Goodrich House was surveyed as part of the National Register Thematic Nomination, Historic Resources of Lawrence (Douglas County). It was nominated due to its architectural characteristics: Queen Anne style with some Stick detailing. Decorative wood trim, called stick work, is applied to the wood frame exterior to emphasize the underlying basic wood structure. Wall surfaces of Stick style homes tend to show verticality and angularity. Wood shingles may be used as infill.
Sources
FindAGrave. William W. Cockins (1837-1924) Memorial #34065468, Find A Grave. February 21st 2009. Accessed June 10th 2020. https://www.findagrave.com/memorial/34065468/william-w_-cockins.
FindAGrave. Eoline M. Cockins Tenney (1865-1960) Memorial #34065603, Find A Grave. February 21st 2009. Accessed June 10th 2020.
https://www.findagrave.com/memorial/34065603/eoline-m_-tenney.
Lawrence Historic Resources Commission. Analysis of Environs of 1711 Mass. St., Eugene F. Goodrich House, HRC Packet Information, Item No. 5. March 26th 2015. Accessed June 9th 2020. https://assets.lawrenceks.org/assets/agendas/cc/2015/04-28-15/pl_l-15-00046_environs_definition_and_map.pdf.
Loughlin, Amanda. 045-3010-03000 Goodrich, Eugene F., House, 1711 Mass. St., Kansas Historic Resources Inventory. Accessed June 9th 2020. https://khri.kansasgis.org/index.cfm?in=045-3010-03000.
Psychological Services Inc.. Services, Psychological Services Inc.. Accessed June 9th 2020. http://www.psychologicalresources.com/index.php/services/.
Spiridigliozzi, Erin A.. Ford, Susan Jezak. NRHP Nomination Form for Eugene F. Goodrich House. National Register. Washington, DC. National Park Service, 2001.
Thomas, Paul A.. Haunted Lawrence. Haunted America. Charleston, SC. The History Press, 2017.
Wentworth Inc.. Victorian Style Stick Architecture (1860-1890), Historic Styles. January 1st 2020. Accessed June 10th 2020. https://www.wentworthstudio.com/historic-styles/stick/.
Image Sources
Kansas Historic Resources Inventory database: https://khri.kansasgis.org/index.cfm?in=045-3010-03000

Additional Information