Ernest L. Blumenschein House and Museum
Introduction
The Ernest L. Blumenschein House and Museum commemorates the life and art of Ernest Blumenschein, his wife Mary, their daughter, Helen, and members of the Taos Society of Artists. A classically trained artist known for paintings of Native Americans and American southwest, Blumenschein first visited Taos in 1898, quickly realized the artistic potential of the area and people and fell in love with what D.H. Lawrence referred to as "The peculiar 'otherness' of Taos." In 1914, Blumenschein and five other Taos artists formed the "Taos Six" and founded the Taos Society of Artists, an organization that helped develop the Taos art colony and inspired other artists to migrate to Taos. In 1919, Blumenschein acquired this house, and he lived here until his death in 1960. Helen donated the house and its belongings to the Taos community in 1962, and later, in 1965, the house was converted into a museum. Also, the house was designated as a National Historic Landmark in 1965, and in 1966, the house was listed in the National Register for Historic Places.
Images
The Spanish Pueblo-style home where Blumenschein produced some of his greatest artwork.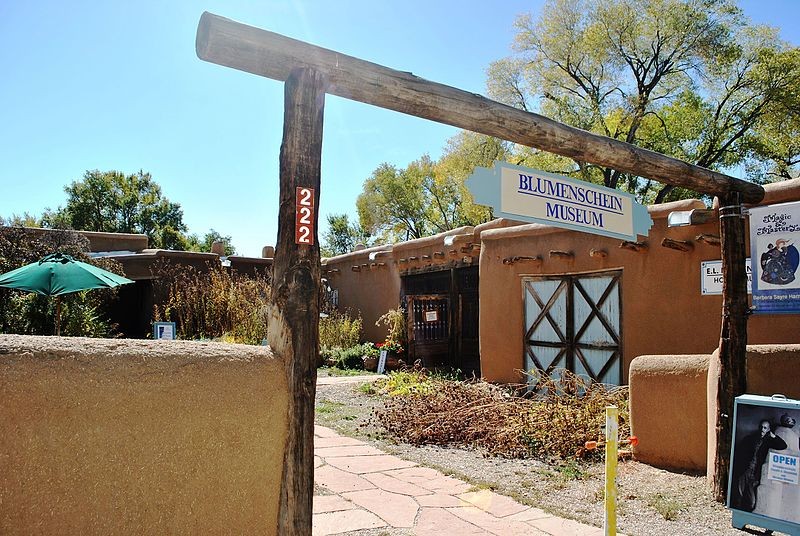 The inner-courtyard of the ELB House and Museum.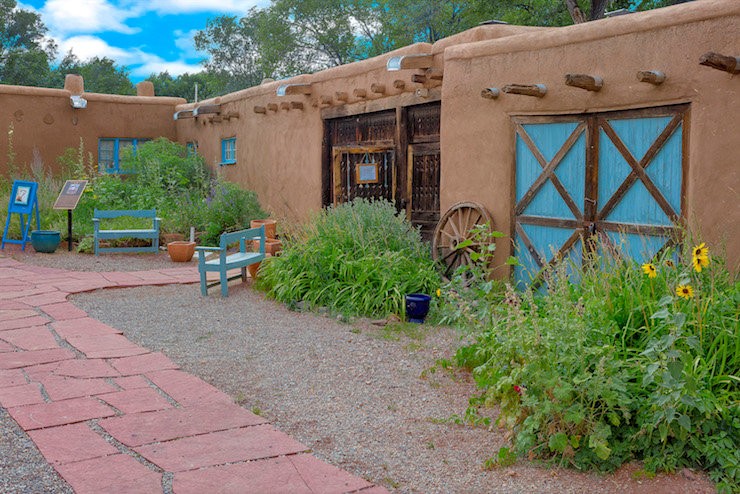 The dining room within the house.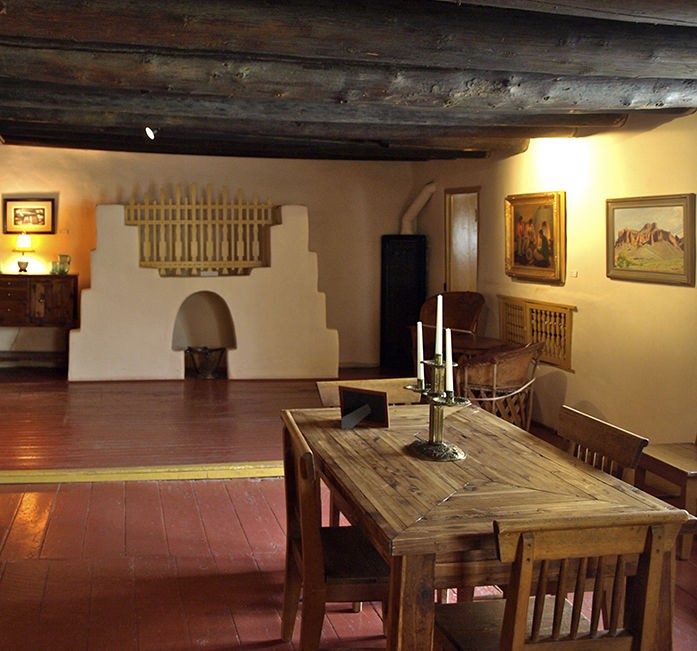 Ernest and Mary Blumenschein at work in their New York studio.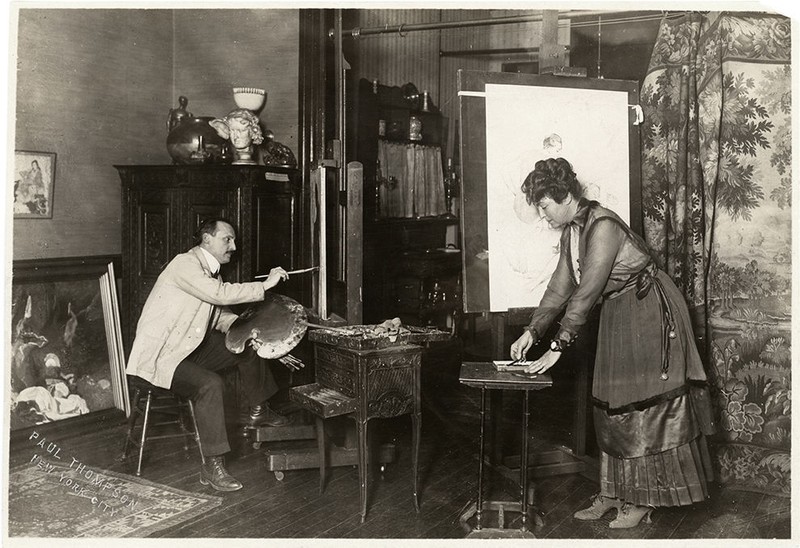 A photograph of the disabled wagon that brought Blumenschein to Taos. That's Bert Phillips with the wagon.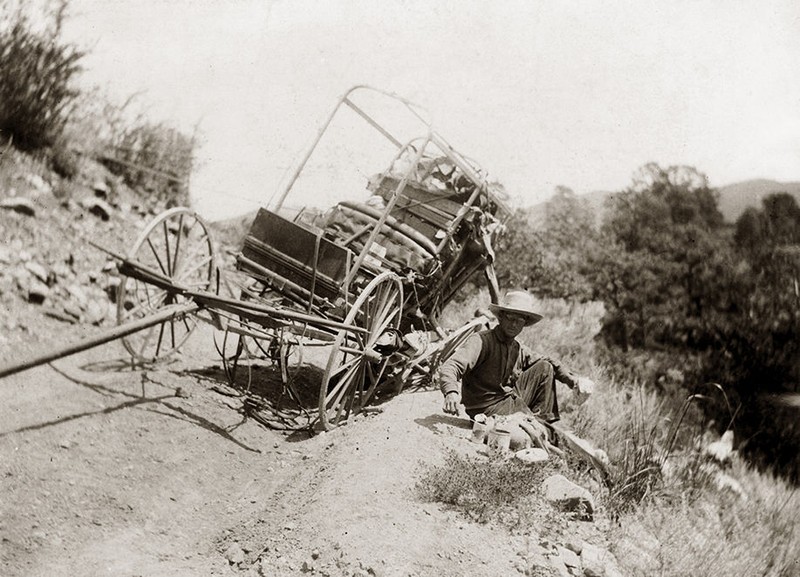 "Rancho de Taos Church," an oil painting by Blumenschein painted sometime in the 1920s.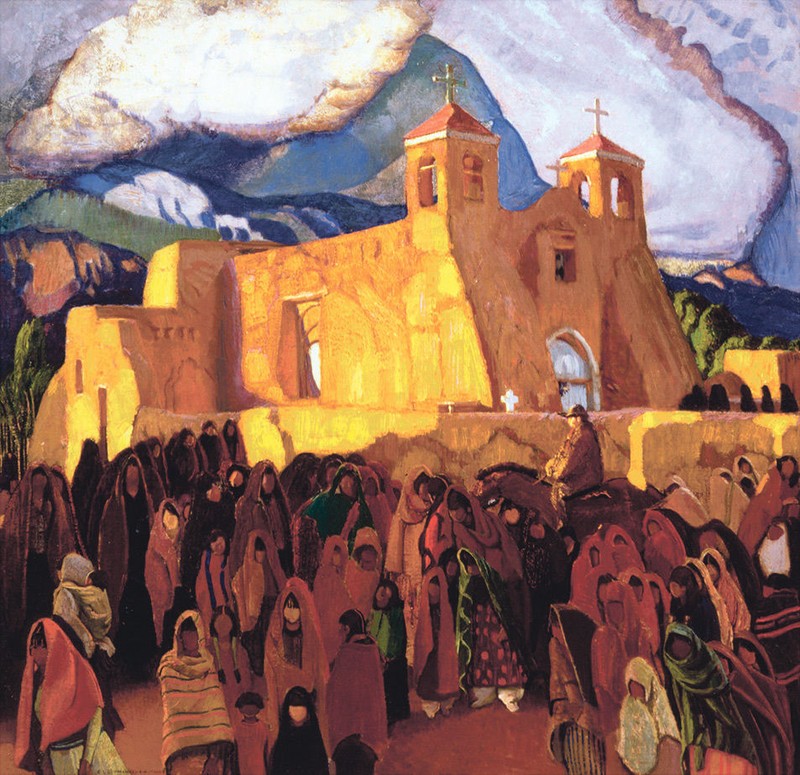 Backstory and Context
Ernest Blumenschein was born in Pittsburgh in 1874 and was raised in Dayton, Ohio after his mother died when he was four. He initially went to the Cincinnati School of Music to study violin, but he switched to art after attending an art class. He moved to New York City in 1892 and studied at the Art Students League. To support himself, Blumenschein worked as a violinist for the New York Symphony. Then, he studied at the Académie Julian in Paris in 1894 where he met fellow artist, Bert Phillips. He was back in New York City by 1896 where illustrated for various periodicals, such as Harper's, Scribner's and McClure's and for well-known authors like Jack London and Stephen Crane.
In 1898, McClure's sent him west and as part of that journey, he and Phillips headed southwest from Denver with Mexico as their destination. With a wagon, team of two horses, and art supplies, they broke a wheel in New Mexico. Blumenschein headed to the nearest town, which happened to be Taos, to get the wheel fixed. While there, he became enamored with the new artistic subject matter, in the form of landscapes and people, that surrounded him. The town was relatively inaccessible, the nearest telephone line was 25 miles away, it had no electricity or running water, and most of the residents spoke Spanish. Despite all this, he spent the next three months in Taos painting, sketching and laying the foundation for the Taos Art Colony prior to returning to New York while Phillips decided to stay.
Blumenschein then continued his studies in Paris, returning in 1899 and again from 1902 to 1909. While in Paris he met and married fellow artist and jewelry designer, Mary Shepard Greene. The two returned to New York City in 1909, and Blumenschein began spending his summers in Taos as Mary was reluctant to leave the conveniences of the city. In 1914, he and five other Taos artists co-founded the Taos Society of Artists in order to spread the works of its members outside the Southwest and to convince other artists to join them. In both regards, the society was successful as their art and artists received national acclaim and inspired other art societies in Santa Fe, New Mexico and Tucson, Arizona.
The Blumenscheins permanently moved to Taos in 1919 and settled into the home of Taos artist, Herbert "Buck" Dunton, which would eventually become their home. The eleven-room, single story adobe structure was most likely built in stages with the oldest section from the early 1800s. The Spanish style pueblo home that would go on to become a museum that memorializes Blumenschein's life also features a central courtyard and low wall that separates it from the street.
Blumenschein's work was first described as post-impressionism and later as modernist with abstract representation. He was a prolific painter, as were other members of the Taos Society of Artists, who produced works of the local landscape and peoples, to include numerous Native Americans. Of his artistic motivations, he once said, "I can't explain why I paint and draw. It is as necessary for me to do as for an apple tree to produce fruit. Just a job I love. But a good many bad apples came off my tree – and were often destroyed." Blumenschein was known for painting over works he did not like.
Blumenschein lived in the house until his death in 1960. It was then donated to the Kit Carson Memorial Foundation (or Historic Museums) in 1962 by Blumenschein's daughter, Helen. Helen was also an artist and took much inspiration from her father who taught her how to paint. The house was once used as an apartment building at one time. It was converted into a historic house and museum by Taos Historic Museums, which still owns and operates the property. It is now furnished as it might have been when the Blumenschein family occupied it with family possessions, artwork, and European and Spanish colonial style antiques. It is also used as a gallery to display works from members of the Taos Society of Artists and other local artists. 
Sources
Abatemarco, Michael. "Wheel of history: Ernest Blumenschein and the Taos Six." Santa Fe New Mexican. August 5, 2016. Accessed June 8, 2020. https://www.santafenewmexican.com/pasatiempo/art/museum_shows/wheel-of-history-ernest-blumenschein-and-the-taos-six/article_e0a9a2a0-7c77-52f6-a35e-7fe216e0a390.html
Greenwood, Richard. "National Register of Historic Places Nomination Form: Blumenschein House." United States Department of the Interior/National Park Service. June 30, 1975. Accessed June 8, 2020. https://npgallery.nps.gov/NRHP/GetAsset/NHLS/66000495_text
Editorial Staff. "Ernest Blumenschein and the Indians." The Magazine Antiques. January 31, 2009. Accessed June 8, 2020. https://www.themagazineantiques.com/article/ernest-blumenschein-and-the-indians/
"Ernest Leonard Blumenschein (1874-1960) Biography." Medicine Man Gallery. Accessed June 8, 2020. https://www.medicinemangallery.com/ernest-leonard-blumenschein-biography
James, Mel. "Museum Spotlight: E.L. Blumenschein House and Museum." LiveTaos. May 8, 2014. Accessed June 8, 2020. https://livetaos.com/artsandentertainment/museum-spotlight-e-l-blumenschein-home-museum/
Additional Information