Flatcar
Introduction
Unfortunately, this car is no longer on site. In May 2021 Canonie Atlantic informed CCHS that in preparation for sale of the rail yard the track on which these two cars sat had to be cleared. As our siding was not long enough to accommodate them, we opted to sell them to a private railroad collector in Goshen VA where they will join his fleet of cars, which he plans to develop into a railroad museum. We have retained the photos and descriptions for general interest.
Behind the boxcar is a 100-ton flatcar supported by six-wheel trucks. It was manufactured during the 1950s for the US Department of the Army. It was built by Magor Car Corporation, a builder of all types of railroad freight cars, originally located in Clifton, New Jersey. Magor produced thousands of rail cars for US military use during both World Wars, and later exported rail cars to Europe under the Marshall Plan.
Images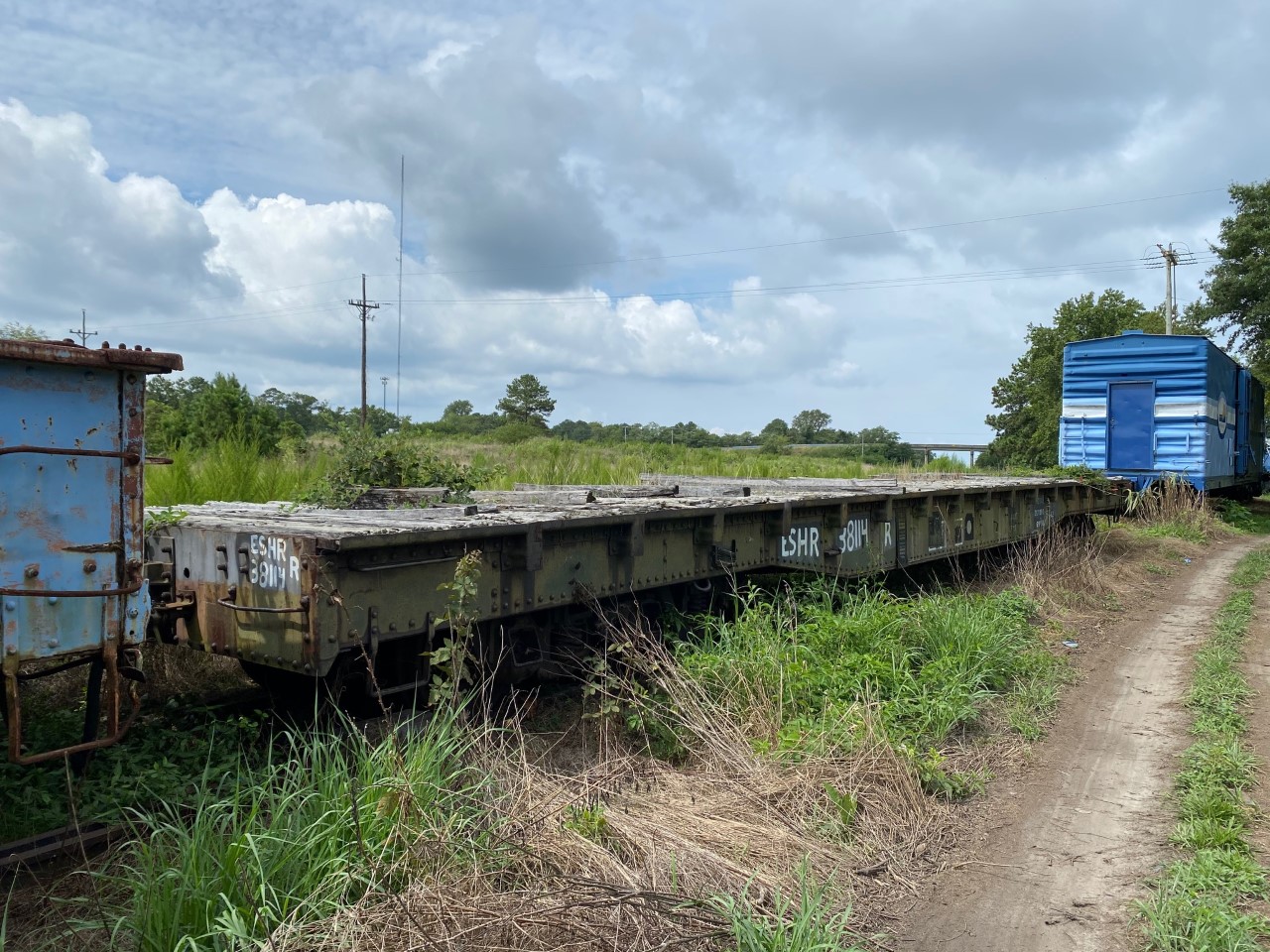 Backstory and Context
Flatcars have been used to transport railroad freight since the 1820s. They consist of an open wooden or steel deck mounted on wheel trucks located at each end of the car. A flatcar may have pockets at the sides of its deck where stakes can be mounted to stabilize a load, or points where ropes or cables can be secured to tie a load down. Flatcars can be used for any type of freight that is impervious to weather. From World War II until today they have been increasingly employed for intermodal or "piggyback" transportation in which a loaded truck trailer is mounted on the flatcar.
This flatcar was likely acquired by the Eastern Shore Railroad (ESHR), predecessor of the Bay Coast Railroad (BCR), from Fort Eustis in Newport News, whose mission since World War II has been Army transportation training, and aviation and marine shipping. It still displays its military paint colors. Like the gondola car, it was briefly used as a "reach" car for loading freight cars onto the railroad's barge. It was also used by ESHR and BCR at both their Little Creek and Cape Charles locations to transport rail, railroad ties, and backhoes on the railroad's own tracks for "maintenance of way," that is, to keep the railroad's tracks in good repair for freight transportation.
Sources
Treese, Lorett, "Flatcar" Cape Charles Historical Society. 2020.
Personal Interview with former BCRR employee Alex Perry.
Image Sources
Cape Charles Historical Society and Museum