BCR 2000 Locomotive
Introduction
Directly behind the Bloxom Station is a 90-ton diesel locomotive that came to us in 2018 when the Bay Coast Railroad (BCR) ceased operations in Cape Charles. Like other railroad stock, the locomotive had been built to last. Throughout its 60-year working life, it was bought and sold by various railroad companies, each time acquiring a new name, "model designation" and paint job as well.
Images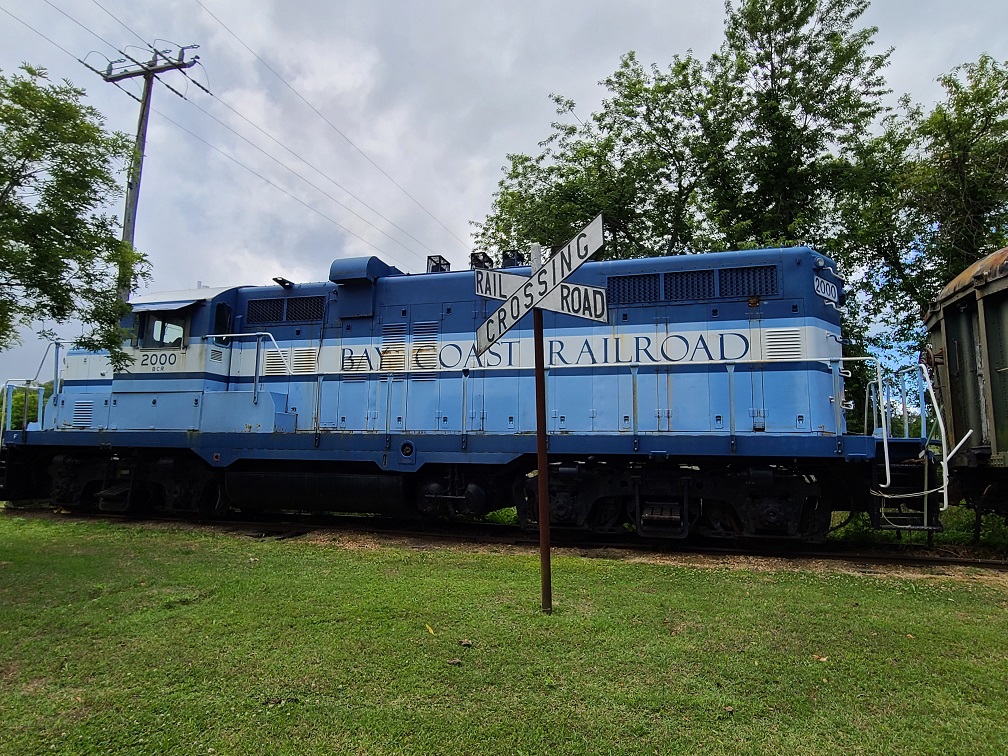 Backstory and Context
Our BCR 2000 was built by General Motors in 1958 as a GP9 diesel locomotive for Illinois Central Railroad. Its first name was IC 9250. GP9 models contained steam generators to provide heat for passenger cars. In 1970, when passenger rail traffic dwindled, it was converted to a GP10 model by removing the steam generator, allowing the front of the engine to be lowered and thereby improving the engineer's vision from the cab. At this time it was owned by Illinois Central Gulf Railroad and known as ICG 8250. Precision National Corporation became its next owner as PN 2000. In 1981 PN 2000 came to the Eastern Shore Railroad, was renamed ESRR 2000 and was painted dark blue.
Here on the Eastern Shore the locomotive was used to transport freight between Pocomoke MD and Cape Charles. From Cape Charles harbor freight cars continued to be hauled by tug on special 'car float' barges across the Chesapeake Bay to Norfolk, a service that began in 1886. In 2006 the freight operations of the Eastern Shore Railroad passed to Bay Coast Railroad. The locomotive received its final name BCR 2000 and was painted BCR iconic colors of light and medium blue. It remained in operation here until rail service ended in Cape Charles and most of the Eastern Shore of Virginia in 2018.
The GP10 was one of the most versatile and reliable diesel locomotives ever built, ideally suited to the purpose for which BCR used it: hauling large heavy tonnage freight. Bayshore Concrete Products was a key customer. With good track it was capable of speeds of around 80 mph. Here on the Shore it ran between 10 and 25 mph. When the Museum received the locomotive in 2018 we were responsible for moving it from the railroad yard to the museum rail siding. Thankfully Jerry Lewis, the last and long-time locomotive engineer, with his railroad contractor friend Mike Howard, were able to safely move it along deteriorated track and position it on our siding.  
Sources
Ash, Mike. "BCR 2000 - Our New Locomotive." Cape Charles Newsletter June 15th 2020.
Personal Interviews with former BCRR employees Art Tross, Alex Perry, Jerry Lewis and F.R.A. employee Jeff Apple
Image Sources
Cape Charles Historical Society and Museum