Leon Gaspard House
Introduction
Built between 1926-1931, the Leon Gaspard House stands as an artistically unique structure that represents the life and work of Belarusian artist, Leon Gaspard (1882-1964). Throughout his career, Gaspard was known for painting and sketching subjects that depict indigenous cultures, small townscapes, and folkloric traditions in Taos, New Mexico, Asia, Belarus, and Russia. Gaspard found artistic success in the Taos art colony, and essentially, he moved to Taos with his first wife, Evelyn. While constructing the house, Gaspard made plans to combine the Byzantine-Pueblo style with Asian architectural features Inside, Gaspard decorated the house with European furniture and textiles. Once completed, the house's exterior was light pink, but over time, the color darkened to red. In 1978, the house was listed in the National Register for Historic Places for its distinct architectural design and its historical association with Leon Gaspard. After Gaspard's death, there were some attempts by local museums to procure and preserve Gaspard's items in the house. Currently, the house is a private residence.
Images
The Artistically Unique Leon Gaspard House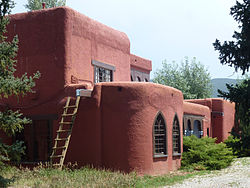 The Entrance to History: Leon Gaspard House Sign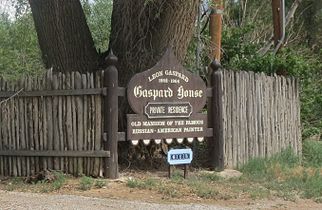 The Man Behind the House: Leon Gaspard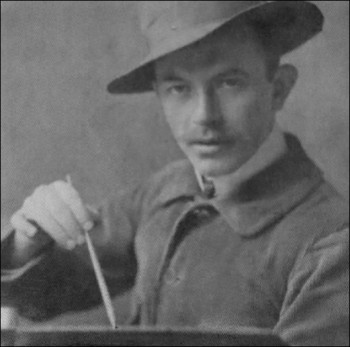 One of Gaspard's Spectacular Works: The Russian Peasant Parade (1911)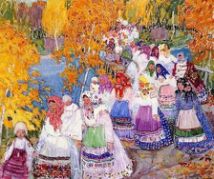 Backstory and Context
Leon Schulman Gaspard was born in Vitebsk, Belarus on March 2, 1882. His father was a traveling rug merchant while his mother was pianist. Gaspard would travel with his father throughout the Siberian Steppes, and on the way, he would sketch the native people and natural areas he would encounter. Gaspard's mother later on taught him how to play the violin. Both of his parents tried to get him be a musician, but Gaspard decided to pursue his dreams of studying art. At 15, Gaspard started studding art throughout Vitebsk, but hw was later sent by his parents to study in Paris at the Académie Julian. While he was studying in France, Gaspard took an apprenticeship under Adolphe Bouguereau, an artist famous for his nude figures. He would prepare Bouguereau's canvases and brushed and run errands for him. Gaspard eventually developed his Asiatic color and scenes, realism and French Impressionist technique. Gaspard's parents died while he was in Paris, and his allowance diminished. In order to survive, Gaspard began selling his paintings and drawings in the streets of Paris.
In 1909, Gaspard married American ballerina, Evelyn Adell. Soon, he became an up-incoming artist and began showing his work through Europe. However, all of that quickly changed when WWI began. Gaspard was drafted as a pilot for the French Air Corps was wounded when his plane was shot down. After leaving the hospital in 1916, Gaspard and Evelyn left for New York where he continued to showcasing his artwork in newspapers and at art exhibits. However, Gaspard could keep up with his career in New York due to his declining health. Gaspard's doctor advised him to move to the west to better his health. In 1917, Gaspard and Evelyn eventually visited Taos and Santa Fe in Mexico, and after finding artistic success in Taos, the couple moved to Taos. Gaspard took inspiration from the Native Americans and the landscape in Taos and applied them to his paintings, but unlike his contemporaries in Taos, he would still paint and sketch towns and people in Belarus and other far away places. In 1921, Gaspard and Evelyn took a trip to Asia where he was inspired by the nature, people, and architecture, which would later become subjects in his works.
Once Gaspard and Evelyn returned back to Taos from their trip in Asia, they started working on their house. The two-story house's construction started in 1926 and ended in 1931. Gaspard made plans to combine two distinct designs for the house. For the basic foundation, the house exudes a Byzantine-Pueblo style through its adobe base, thick walls, flat roof and ceilings of vigas and latias. The house also incorporated Asian architectural features, such as pointed arch windows. Inside, the house was decorated with textiles, fabrics, and furniture that Gaspard and Evelyn bought on their trip to Europe in 1932. The house's exterior was originally light pink, but over time, it darkened to red. In the backyard, there is a small barn where Gaspard would keep livestock.
Later on his life, Gaspard continued to stay at Taos and create art. He became friends with other artists and literary figures in Taos, such as Mabel Dodge Luhan, D.H. Lawerence, and Nicolai Fechin. In 1956, Evelyn died from complications to injuries she had sustained from a horse riding accident, which left Gaspard in despair. Eventually, Gaspard married artist, Dora Kaminsky. The couple traveled throughout the United States, Europe, and Asia and continued to create art. In 1964, Gaspard passed away at the age of 82. Posthumously, Gaspard's work gained massive popularity, and to this day, numerous galleries around the world continue to display and sell his work.
As for the house, local museums attempted to preserve the house's integrity by making general repairs to the structure and procure Gaspard's belongings and displaying them in the house. The furniture, textiles, and other pieces of decor that Gaspard had collected were at one time on display for the public to see. The museums even tried to restore the house's original light pink color but failed. In 1978, the house was listed in the National Register for Historic Places for its distinct architectural design and its historical association with Leon Gaspard. Currently, the house is a private residence.
Sources
"Leon Gaspard," Gerald Peters Galleries. n.d. Accessed June 6th 2020. https://www.gpgallery.com/artists/leon-gaspard#1.
Therein, Ellen. "Leon Gaspard House," National Register for Historic Places. December 26th 1978. Accessed June 6th 2020. https://npgallery.nps.gov/NRHP/GetAsset/cc2cd7ae-c5d9-4227-9c7b-ca96317de8c5.
Waters, Frank, Leon Gaspard. Flagstaff: Northland Press, 1964.
Image Sources
https://en.wikipedia.org/wiki/Leon_Gaspard

https://en.wikipedia.org/wiki/Leon_Gaspard

http://artofrussiagallery.com/wp-content/uploads/2014/06/GL_ArtistPhoto_outline-350x347.jpg

https://en.wikipedia.org/wiki/Leon_Gaspard

Additional Information