Uwajimaya Seattle
Introduction
In 1970, the signature Uwajimaya: Asian Market location was opened here in Seattle's international district. The store contained a deli, live fish tanks, and a gift store that had items ranging from books to kimonos. 8 years after the Seattle location was established, another Uwajimaya store was opened in Bellevue. The Seattle location had multiple moves, and eventually had an expansion and landed where it is today, now called the Uwajimaya Village. Over time, the company gained a loyal following by continually giving to the community, especially to those of the international district. The continued support of customers provided financial security for Uwajimaya and pushed the name Uwajimaya: Asian Market into a national spotlight.
Images
View of the entrance of the Seattle Uwajimaya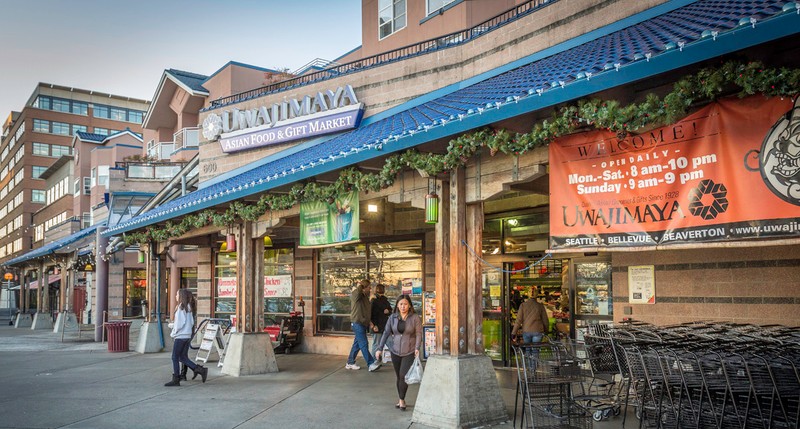 Uwajimaya storefront on South Main Street. Located a few blocks away from the current Uwajimaya location in the Seattle/International District. (1970)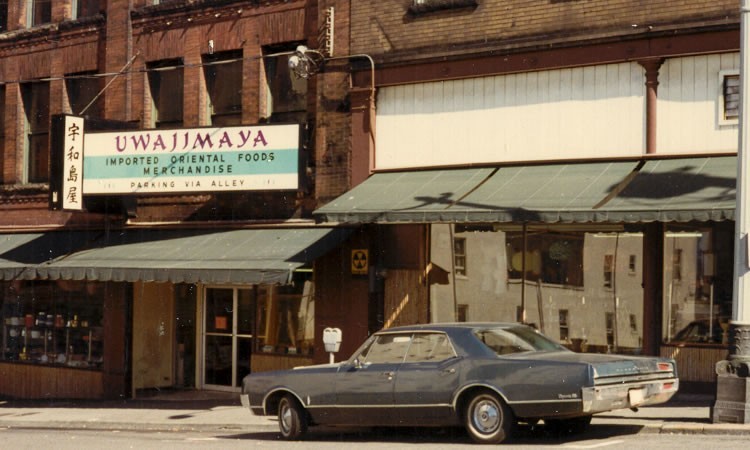 Picture of the Uwajimaya kiosk at the World's Fair in Seattle. (1962)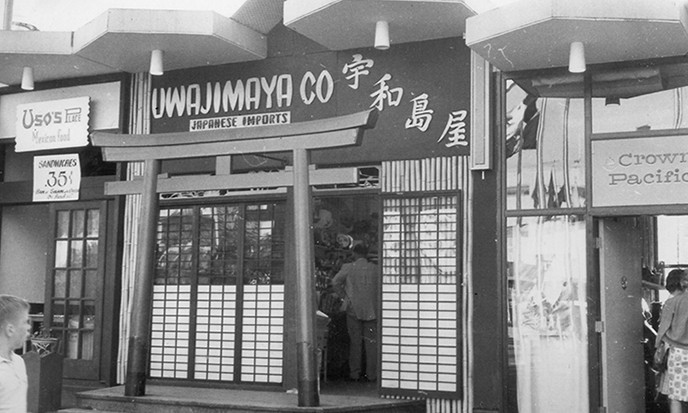 Backstory and Context
In 1928, Uwajimaya by Fujimatsu Moriguchi in Tacoma, Washington. Moriguchi was originally from Yawatahama, Japan, but later emigrated to Washington. In Yawatahama, there is a very popular fish market called the Doya Market. Uwajimaya started with humble beginnings, with Moriguchi selling fishcakes and other goods to Japanese farmers, loggers, and fishermen in Tacoma out of the back of his pickup truck. These people were usually young males who didn't have access to food that they enjoyed. Moriguchi decided to name his company Uwajimaya after the city of Uwajima in Japan. The -ya ending comes from the Japanese word for store.
Due to World War II and the internment of Japanese Americans, Moriguchi was forced to halt his business, and he and his family were sent to the Tule Lake Internment Camp in 1942. After Moriguchi was released, he moved to Seattle and opened up a store in the International District on 422 Main Street. The store mostly sold canned goods and grocery items from Japan. 
The breakthrough moment for Moriguchi and his company was when the World's Fair came to Seattle in 1962. He opened a booth at the fair that sold chopsticks, Japanese bowls, and crackers. Many of these items were new to people and were the type of items that someone would buy as a gift for someone else. Moriguchi used this opportunity to reach non-Japanese clients, and it was received well.
Unfortunately, in the summer of 1962, Fujimatsu Moriguchi passed away. His business was taken over by his four sons, Kenzo, Tomio, Akira, and Toshikatsu. In 1970, Uwajimaya moved to a larger location at 6th Avenue South and South King Street. It became the largest supermarket in the Pacific Northwest. Over time, the store branched out from selling mainly Japanese groceries and goods to all types of Asian products. This includes items from China, India, the Philippines, Thailand, Vietnam, Korea, Mexico, and Indonesia. 
As the Uwajimaya brand grew bigger and bigger, they began to open up new locations in other parts of the Pacific Northwest. In 1978, they opened up a location in Bellevue, Washington, to take advantage of the increasingly large population on the Eastern side of Seattle. Twenty years later, in 1998, Uwajimaya opened its first location outside of Washington in the Oregon suburb of Beaverton. In 2000, the Seattle Uwajimaya location moved one block south to become the heart of the ambitious Uwajimaya Village project. This new development was across the street from where the store initially located and measured at 60,000 square feet. The Uwajimaya Village includes a food court, bank, optician, beauty salon, cosmetic shop, and a cellular wireless store along with all the other goods and groceries. The fourth Uwajimaya location was opened in Renton, Washington, in 2009. 
Sadly, Sadako Moriguchi, the wife of Fujimatsu Moriguchi and a staple within the Uwajimaya community and the Moriguchi family, passed away due to Alzheimer's in 2002. Many customers and community members mourned the death of the hardworking woman. Currently, the CEO of Uwajimaya is Denise Moriguchi, the granddaughter of Sadako and Fujimatsu Moriguchi.
Sources
Uwajimaya. "History." Accessed June 2, 2020. https://www.uwajimaya.com/about/history.
"History of Uwajimaya, Inc. – FundingUniverse." Accessed June 2, 2020. http://www.fundinguniverse.com/company-histories/uwajimaya-inc-history/.
Seattle Met. "Uwajimaya Celebrates 90 Years as Seattle's Most Beloved Asian Supermarket." Accessed June 2, 2020. https://www.seattlemet.com/sponsored/2018/08/uwajimaya-celebrates-90-years-as-seattle-s-most-beloved-asian-supermarket.
Image Sources
https://uwajimaya-merchants.org/

https://www.uwajimaya.com/about/history

https://www.uwajimaya.com/about/history