Great Bend Tunnel
Introduction
The first Great Bend Tunnel was constructed between 1870 and 1873 as a throughway for the C&O rail line. It was intended to save engines an extra eight mile trip around the next bend in the rive, which earned the tunnel its name. Due to frequent rockslides, use of the tunnel was discontinued in the early twentieth century, though a new passage was completed in the 1930s. Great Bend Tunnel is most famous for its association with a well-known American legend: John Henry. It is speculated that the "steel-driving man" raced against a steam-powered drill in the very hills of southern West Virginia in a small town named Talcott.
Images
A comparison of the new Big Bend Tunnel (left) and the old.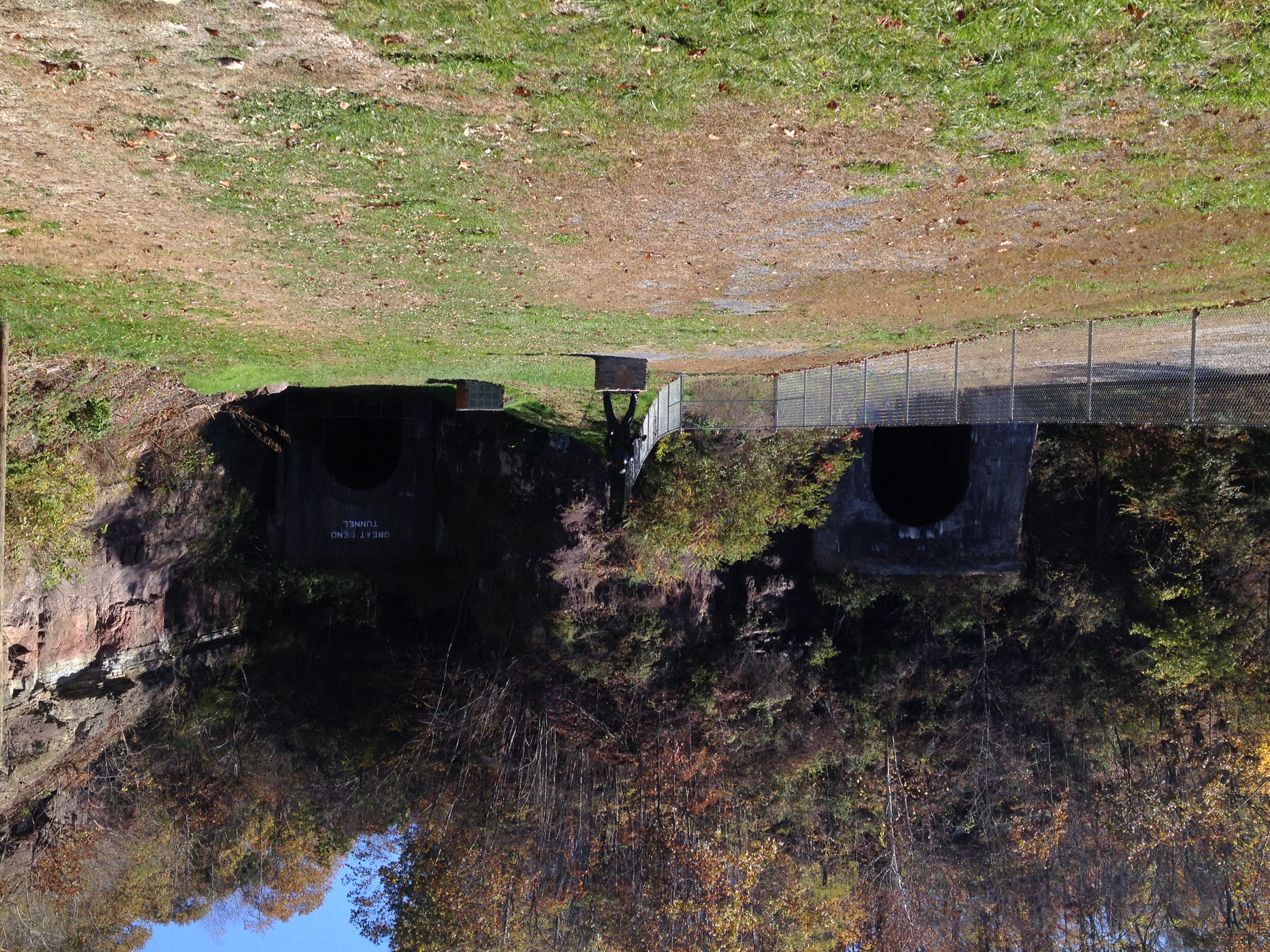 John Henry and Big Bend Tunnel.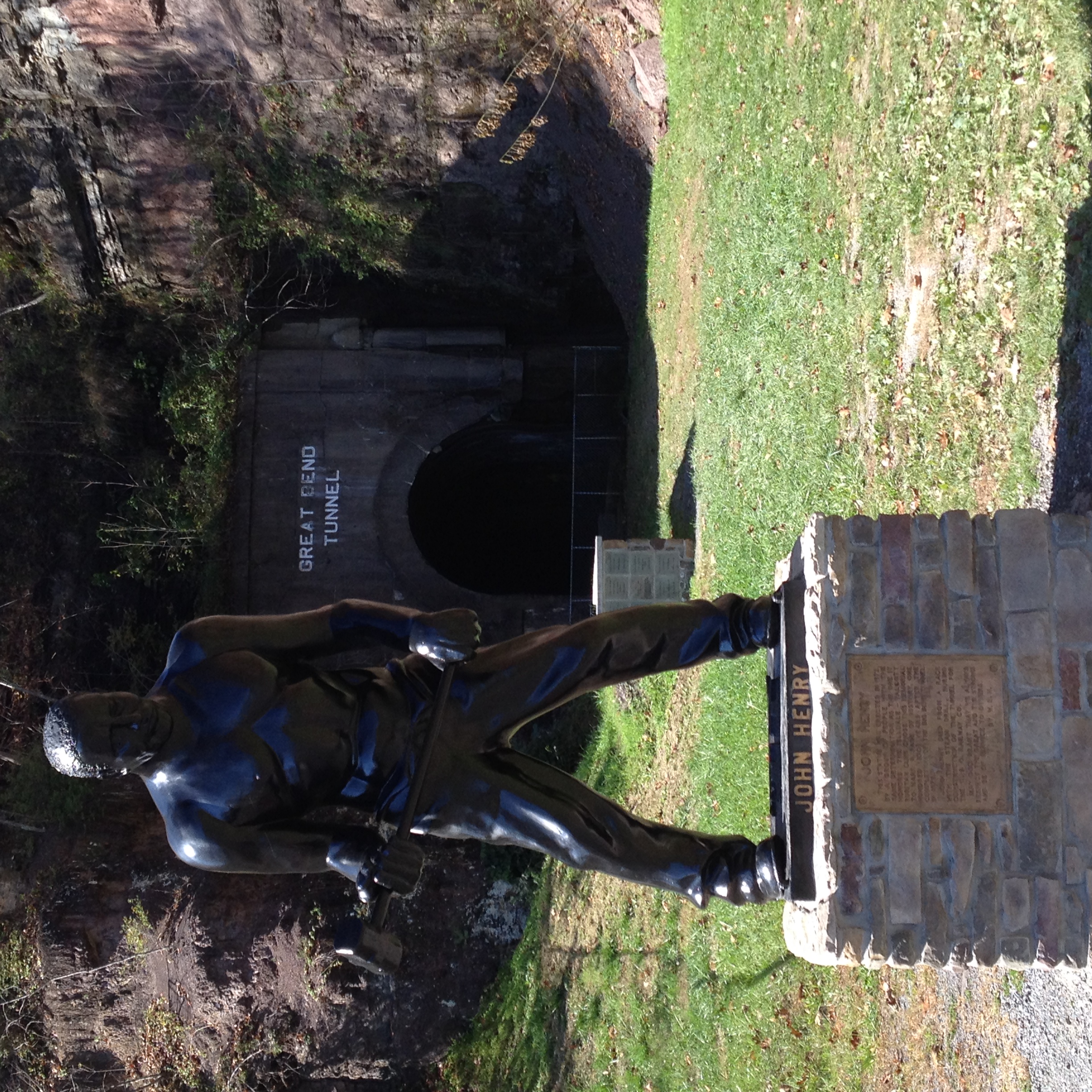 WV Historical Marker (on Route 3 above the tunnel)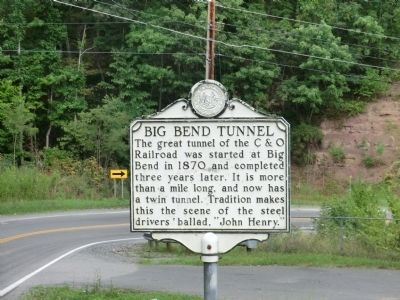 Backstory and Context
Great Bend Tunnel is located near Talcott, West Virginia and is a passage along the C & O mainline. The tunnel was constructed through Big Bend Mountain in order to avoid an eight-mile bend along the Greenbrier River, giving the tunnel its namesake. At the time of its construction it was the longest tunnel on the C & O, measuring over a mile and a quarter in length. A marker next to the C & O Railway in Talcott reads, "The Great Tunnel of the C & O Railroad was started at Big Bend in 1870 and completed three years later. It is more than a mile long, and now has a twin tunnel (Lewis)." Although the tunnel was eventually completed, its passage was constantly plagued by rock falls. To hinder the rock falls, C & O operators hired laborers to line the tunnel with brick walls. The tunnel was shut down in the early twentieth century, but a new one was completed in the 1930s and continues to be used today by the CSX Railway. The old tunnel, however, retains its popularity due to the legend of John Henry.
John Henry, nicknamed the "steel-driving man," was an African American folk hero who is speculated to have worked on the Big Bend Tunnel. He was tasked with hammering steel drills into the rock walls to make room for dynamite. According to legend, Henry raced against a steam-powered drill to see who could drill the deepest: man or machine. Henry ended up winning, but at a terrible price. Over exertion and stress made Henry's heart stop, leading to his death within the confines of the tunnel. While workers were lining the tunnel with brick, recurring work stoppages were reported by C & O operators due to workers complaints of hearing a hammer drilling steel or sighting a large, hammer-wielding apparition.
Scott Reynolds Nelson, author of Steel Drivin' Man: John Henry, the Untold Story of an American Legend, speculates that Henry was a prison inmate and product of the convict labor system. Nelson could find no railroad records of a steel drill race at Big Bend and argues that the contest was held forty miles away at the Lewis Tunnel, where records indicate that prisoners worked next to steam drills. The ballad of John Henry laments that his body was buried "in the sand." Nelson asserts that this line is referring to the sand along the perimeters of the Virginia penitentiary, where countless unmarked graves held convicts who suffered from silicosis. Whether John Henry was associated with Big Bend or Lewis Tunnel, his legend continues to echo along the mountains of southern Appalachia.
Next to the eastern entrance of the tunnel stands an 8ft bronze statue of John Henry, appropriately located in John Henry Park. The park is still under construction, but committee members hope to include a paved parking area and turnaround loop for school and tour buses, a rest area with picnic shelters, a vending machine building, playground and plumbed restrooms, walking and biking trails, historic kiosks, an amphitheater, and a visitor center. DuPre, fundraising chairwoman for the park's steering committee, stated that "John Henry is not just a part of Summers County or West Virginia history, he's a national historic figure who represents the working man who created America."[1] To be sure, historic Big Bend Tunnel would not be as popular if it wasn't for the "Steel Driving Man." 
Sources
"Big Bend Tunnel." The West Virginia Cyclopedia. http://www.wvexp.com/index.php/Big_Bend_Tunnel (accessed October 20, 2014).
"John Henry." Poetry Foundation. http://www.poetryfoundation.org/poem/171628 (accessed October 20, 2014).
Nelson, Scott Reynolds. Steel Drivin' Man: John Henry, the Untold Story of an American Legend. Oxford: Oxford University Press, 2008.
[1] Steelhammer, Rick. "John Henry Historic Park Takes Shape at Talcott." The Charleston Gazette. http://www.wvgazette.com/News/201202240211 (accessed October 20, 2014).
Image Sources
"Big Bend Tunnel. "The Historical Marker Database." Accessed October 7, 2020. https://www.hmdb.org/m.asp?m=59216.

Additional Information