Bolton Priory
Introduction
Bolton Priory, located in Pelham Manor, New York, is an historic home that was built for the Reverend Robert Bolton and his family. After the Reverend Bolton and his wife moved to England in 1850 where they spent the rest of their lives, the home has continued to serve multiple uses including a private girls' school and today is still a private residence. The Bolton Priory was added to the National Register of Historic Places in 1974 because of the unique English style architecture. In addition, the Bolton Priory was the home of Rev. Robert Bolton Jr., one of the founders of the Westchester County Historical Society and author of the first history of Westchester County.
Images
Bolton Priory current image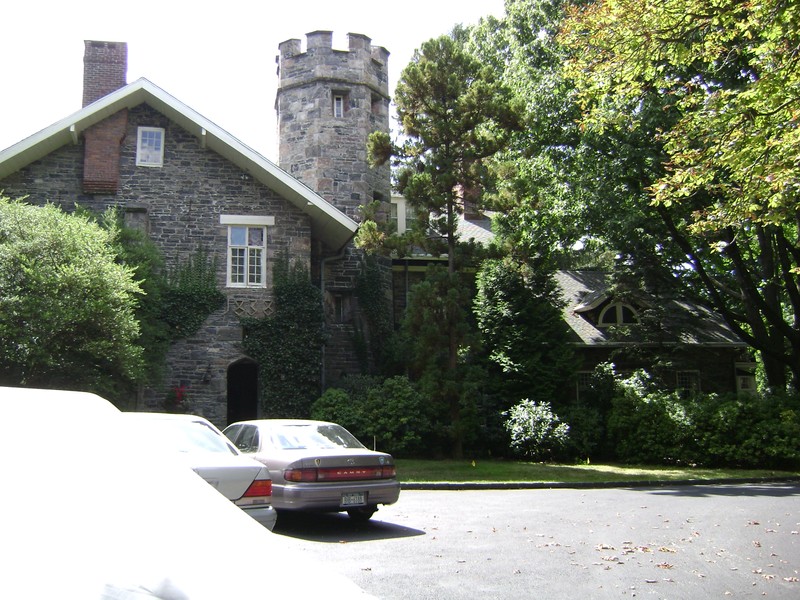 Backstory and Context
The Bolton Priory, located at 7 Priory Lane, Pelham Manor, New York, was built in 1838 for the Reverend Robert Bolton. Bolton was born in New York in 1778. Robert Bolton married to Ann Jay and they had thirteen children. He purchased 38 acres in Pelham where he built his residence, the Priory, a term used for a class of small English monasteries.
Bolton Priory notable for its unique English design. Bolton probably designed the house himself, possibly assisted by his son John who became an architect. The house was a family project with the sons responsible for carved woodwork, mantels and stain glass.
In 1850, the Reverend Robert Bolton and his wife Ann decided to move back to England to live out there their lives. They gave the home to their daughter Nanette and her sisters, who would run the Bolton Priory as a school until 1881. In 1881 the private girls school was sold to one of the former students, Adele Sampson Stevens, who gave the home to her daughter Mrs. Frederick H. Allen in 1883. Mrs. Allen kept the home until 1969. The Bolton Priory continues to be a private residence to this day.
Sources
Williams, Gray. Jackson, Kenneth T.. Picturing Our Past National Register Sites in Westhcester County. New York. 2003.
Bell, Blake A.. The Passing of an Era: The Bolton Family Sells The Priory in 1883, Historic Pelham. March 9th 2016. Accessed June 4th 2020. http://historicpelham.blogspot.com/2016/03/the-passage-of-era-bolton-family-sells.html.
Image Sources
National Register of Historic Places