Iowa Gold Star Military Museum
Introduction
Located at Camp Dodge, the Iowa Gold Star Military Museum honors Iowa natives who have served in war and homeland defense. Its exhibits include artifacts from various wars. It also has accounts from native Iowa veterans. The museum organizes events for people who have served in the military to be involved in the community, such as parades and public events spotlighting the service of military members. Tours are given to visitors and groups who come to learn more about the history of Iowa in war. Admission is free to the public.
Images
Picture of the Iowa Gold Star Military Museum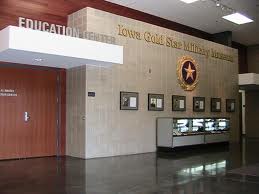 Picture from the Veterans Day Parade held at by the museum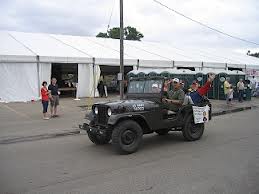 Backstory and Context
The Iowa Gold Star Military Museum is located at Camp Dodge, an Iowa National Guard base. Camp Dodge is a historical site in itself, as it was a training facility for soldiers in World War I. Every year, the museum is involved with a Veterans Day parade, which includes ceremonies where Iowa veterans share their stories and are honored by the public. The museum also offers a research center, which is open to the public and contains information on the history of Iowa's involvement in the war. It also holds records of how many natives served in each war.

The general message that the museum tries to give to visitors is that it recognizes and respects veterans. The museum is also the host of tours given to local schools, veterans meetings, and other special events that recognize the history of the veterans. Artifacts have been donated that were part of different wars, including vehicles and weapons. Interactive exhibits in the museum give visitors a better understanding of the history and impact of Iowa veterans and involvement in war. Activities include artifact and history searches and scavenger hunts.

The museum gives a good history of different American wars. Its exhibits help visitors include artifacts that further educate visitors on the military history of the area. Veterans' accounts have helped the museum create an atmosphere based on the history of those who have served. The museum and its exhibits and programs are updated frequently and the museum continues to add to its collection and exhibits.
Sources
Iowa Gold Star Military Museum. Catch Des Moines. Accessed September 24, 2017. http://www.catchdesmoines.com/listings/Iowa-Gold-Star-Military-Museum/412/.

Iowa Gold Star Military Museum. State of Iowa website. Accessed September 24, 2017. https://www.goldstarmuseum.iowa.gov/.


Additional Information