Tennessee Military Museum
Introduction
The Military Museum is a branch of the Tennessee State Museum located in Nashville. The museum offers information and historical artifacts from the Spanish-American War up until World War II. Artifacts include deck guns from battleships, military memorabilia, and even presidential war memorabilia. The museum is free to general public.
Images
A cannon that is on display in the Military Museum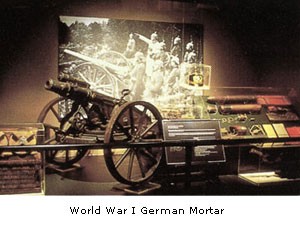 A soldier's uniform from war on display in the Military Museum
Backstory and Context
The Military Museum is a great place to visit for those who are interested in the history of battles fought from the Spanish-American War through World War II. Not only does the museum offer artifacts from war events, it also gives detailed information about each war. Each exhibit goes into detail about what started each war, the military efforts given, and the outcome of each war. While doing so, it also tells the stories of Tennessee veterans.

Some of the artifacts that are of interest and significance include Eisenhower's "Ike" jacket, a builder's model of the U.S.S. Tennessee, and two of the six Medals of Honor that were received by Tennesseeans. The museum also displays many artifacts from World War I and II including machinery, weapons, and wartime posters. A full-scale replica of the nuclear bomb that was dropped on Hiroshima can also be found here. Each exhibit gives full detail about what is being displayed and provides examples of how they were used.

Sources
"Military Branch Museum." Tennessee Military Museum. Accessed January 23, 2015. http://www.tnmuseum.org/Exhibits/Military%5FBranch%5FMuseum.



Additional Information