Stiles School
Introduction
This three-story, Collegiate Gothic-style school building was built in 1929 to serve Avon Fractional School District #11, locally known as the Stiles School District. The building was the design of Royal Oak architect Frederick D. Madison, who made a specialty of school buildings. It served the Stiles District until 1947, when Stiles was consolidated into the new Avondale School District, and thereafter served as an elementary school site for the Avondale district until 1998.
Images
Stiles School, south and east elevations, 2020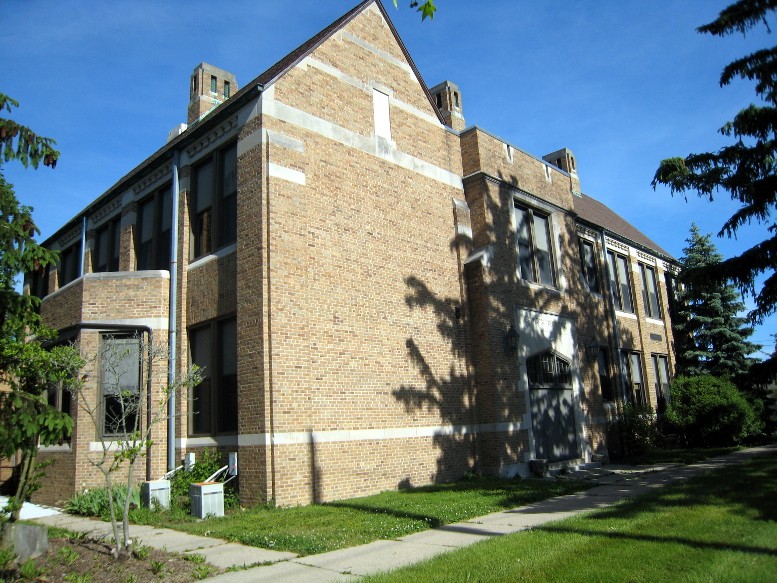 Stiles School, main entrance on east elevation, 2020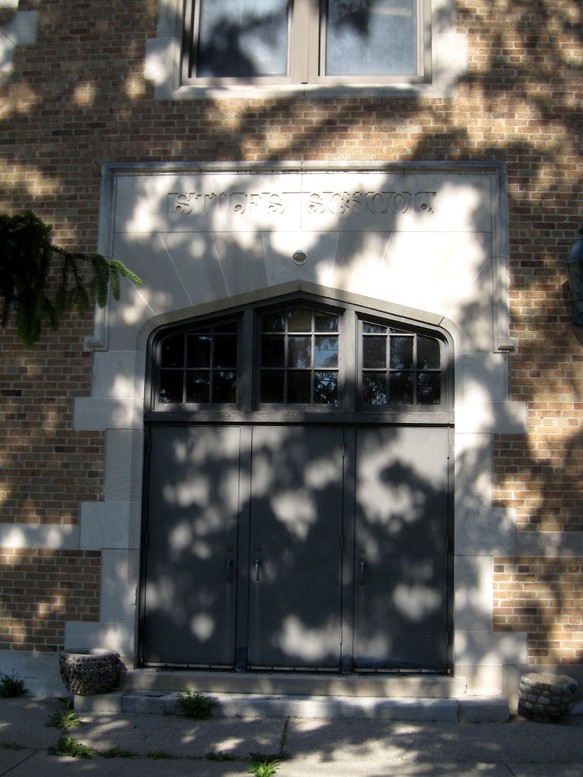 Backstory and Context
This building is the design of Michigan architect Frederick Daniels Madison (1888-1969), who was based in Royal Oak and began his professional practice in 1916. He worked for the well-known architectural firms of John Scott & Co. and Louis Kamper before establishing his own practice. During his active career, Madison designed many school and government buildings. Among his designs were the old Oakland County Jail, Genesee County Court House, Royal Oak High School, and Royal Oak's Baldwin Theatre.
The school is believed to have derived its name from Samuel Stiles, a farmer who owned property across South Boulevard on the corner opposite the school, in the northwest corner of section 3 of Troy Township. Around the turn of the twentieth century, the intersection of Livernois and South Boulevard was sometimes locally referred to as "Stiles Corners."
A notable feature of the building is a set of Mother Goose murals on the interior walls, believed to have been a Depression-era art project.
The Stiles school district was consolidated with other area rural school districts to form the Avondale Public Schools in September 1947. Thereafter, the school building was known as Stiles Elementary School, a part of the Avondale district. After the Avondale district closed the school in 1998, it leased the property to Oakland Steiner School. Steiner purchased the building outright in 2006 and saved the property from a proposed housing development.
Sources
"Consolidation Wins Big Victory 809-122 Monday," Rochester Era, September 25, 1947, p.1.
Michigan Rural Property Inventory, Avon Township, 33DD;
Pray, Eula. History of Avon Township, p. 96.
"Stiles School Bursting Seams," Rochester Clarion, May 31, 1956, sec. 2, p.1.
Michigan. Rochester Hills. Historic District Study Committee. Final Historic Study Committee Report, Stiles School Historic District, Rochester Hills, Michigan, December 9, 2010.
"Hearing on Use of Stiles School," Detroit Free Press, June 25, 1998, p.6.
"Historic School May Get a New Lease on Life: District Looks for Way to Reuse Old Building," Detroit Free Press, July 2, 1998.
Old School Stays Put," Detroit Free Press, October 29, 2006, p.187.
Image Sources
Deborah Larsen

Deborah Larsen

Additional Information