The Historic Delaware Hotel
Introduction
The Delaware House was built in 1886 in Leadville, Colorado. It is nestled in the heart of the Rocky Mountains and has hosted travelers for over 130 years. The hotel was built by the Callaway brothers and fuses together Victorian and "Wild West" architecture. This historic building is now a museum and gallery but continues to work as an active inn. Guests of the house will feel as if they have been transported back in time due to the inn's historic furniture and antique inventory. Its unique atmosphere has made the Delaware House a jewel for Coloradans and tourists alike.
Images
Leadville's delaware Hotel dates back to 1886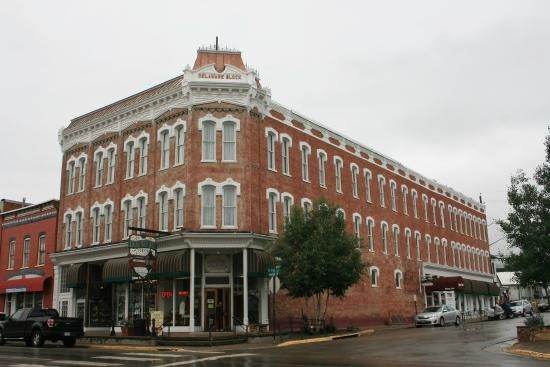 Backstory and Context
During the 1860's, Leadville (known as Oro City during this time) was a booming town. It reaped the benefits of the West's gold rush. People flocked to the western states with hopes to secure their own fortune. However, Leadville's gold supply quickly depleted and was replaced by a silver rush in the 1870's. With the establishment of the railroad and the allure of silver, Leadville, Colorado began to catch the eyes of individuals who wanted to establish themselves in this region. That included three Callaway brothers: William, George, and John.
The Callaway brothers moved to Leadville in the mid-1880s. They were wealthy queensware merchants from Denver who were looking to expand their business. The brothers decided to place a branch of their Queen's Ware earthenware on Leadville's Harrison Avenue as well as a hotel that paid "homage to their home state" according to a recent article.1
The Delaware Hotel was completed in October 1886 with steam heating, hot and cold plumbing, and gas lightning. It was designed by architect, George King. King was inspired by the French Mansard design that was popular in this region. The hotel was approximately $60,000 to build. The Delaware House offered rare commodities of its time. The hotel housed six bathrooms, and the first floor hosted shops. Two other floors contained fifty rooms for the inn. It was no wonder that the Delaware House became a notable place for the rich and famous to occupy.
The hotel has reportedly hosted celebrities such as Molly Brown (a local socialite who was onboard the Titanic and assisted survivors after the tragedy), the magician, Houdini, the composer, John Philips Sousa, and the famous outlaw, Butch Cassidy. Now, the hotel has been fully restored to offer guests a unique, historical experience while they enjoy the town of Leadville.
Sources
Leadville's Delaware Hotel: History Comes to Life, www.gocolorado.com. July 28th 2017. Accessed June 3rd 2020. https://www.theclio.com/editEntry/105627.
The Crown Jewel of Leadville, delawarehotel.com. Accessed June 3rd 2020. https://delawarehotel.com/our-hotel/.
Image Sources
https://delawarehotel.com/

Additional Information