African-American Quilt Museum and Textile Academy
Introduction
The African-American Quilt Museum and Textile Academy is in Suite 206 at 2001 Haskell Avenue. The studio of the acclaimed textile artist, Marla A. Jackson, doubles as a museum for the artist's narrative quilts, inspired by the oral histories of her ancestors and the region. Ms. Jackson's quilts have been displayed in the American Folk art Museum, The Smithsonian's Museum of African American History and Culture, and the Smithsonian's Anacostia Community Museum.
Images
Logo of the 2nd Annual National African American Quilt Convention, held here in July 2018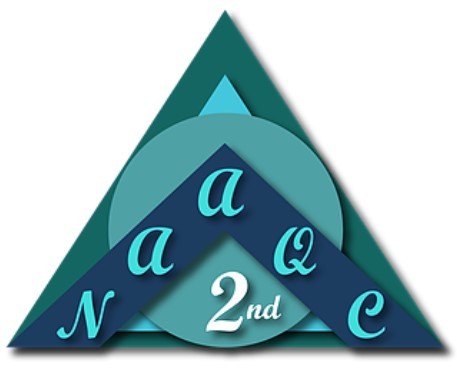 Backstory and Context
Quilt and textile artist Marla Jackson invites visitors to tour her art studio and teaching gallery by appointment. Her narrative quilts have been exhibited at dozens of museums and have been featured in programs on the Public Broadcasting Station (PBS) and in the Kansas History Society Quarterly magazine. The community-based visual arts educator also donates art supplies and her talents to a local school, Liberty Memorial Central Junior High.
The African-American Quilt Museum and Textile Academy is a part of the National Underground Railroad Network to Freedom. Marla's company is called Marla Quilts, Inc. Marla was born in Michigan and moved to Kansas at age 18. She comes from a family of artists.
Two of the quilts displayed in the museum are said to have been made by Maria Rogers Martin, an African-American woman who was among the enslaved people stolen from the Wayside Rest Plantation and led to Kansas on foot by Union troops in the winter of 1862. Maria may have made the bedcovers while she worked in Lawrence as the paid servant of Colonel Jennison. The repeating patterns on the quilts are the "Feathered Star" and the "Mississippi Oak Leaf." Maria lived and worked in Lawrence for 40 years; for part of the time, she was in the home of Frank D. Brooks, a city official, at 1400 Haskell Avenue. In 1907, she returned to Cass County, Missouri, where some family members lived. She is buried in the old brown family cemetery at Wayside Rest Plantation.
Ms. Jackson teaches textile arts to local youth. Besides narrative storytelling through quilting, she offers classes in batik, fabric dying, and fabric painting. Some of her students' art projects have featured images of prominent African-Americans including Martin Luther King, Jr. and Barack Obama. The museum is open by appointment only on Mondays, Wednesdays, and Fridays from 9 am to 4:30pm, tours of the museum are free but donations are accepted.
Sources
Freedom's Frontier National Heritage Area. Marla Quilts - African American Museum & Textile Academy, Partner Spotlight. January 1st 2016. Accessed June 8th 2020. https://myemail.constantcontact.com/Partner-Spotlight---Marla-Quilts.html?soid=1102073656590&aid=4vcx0R6B4_8.
Jackson, Marla A.. African-American Quilt Museum & Textile Academy, Freedom's Frontier National Heritage Area. January 1st 2020. Accessed June 2nd 2020. http://www.freedomsfrontier.org/Visitors/Sites/Comments.aspx?id=170.
National African American Quilt Convention. Our History, About. January 1st 2018. Accessed June 2nd 2020. https://www.naaqc.org/.
Paige, DeAsia. "Lawrence-based quilter inspires a new generation of artists." The University Daily Kansan (Lawrence, KS) February 1st 2019. Online ed, Arts and culture sec.
Image Sources
https://unmistakablylawrence.com/explore/play/unmistakable-events/naaqc/

Additional Information