Grace Church
Introduction
Grace Church has been called "one of the city's greatest treasures." It has been a functioning church for over 200 years and has only moved locations once back in 1843. The French Gothic Revival build of the church is what catches peoples attention to it. Grace Church is located at the corner of Broadway and East 10th Street in Manhattan, New York. Due to its unique location and population the church is a historic parish church which is part of Episcopal Diocese New York. Grace Church is protected by the city and its church government they have established. The church also has houses and a school just a few blocks away from the church. The houses are now used by the school for after school programs. Grace Church is just as beautiful on the inside as it is the outside, including high ceilings and tiled patterned floors.
Images
Inside of the Grace Church.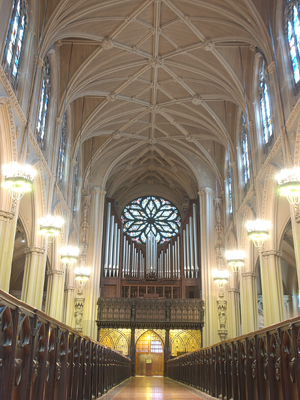 Side view of the Grace Church.
Front view of Grace Church.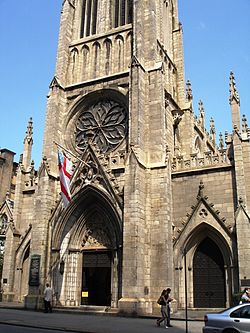 Backstory and Context
Grace Church was designed by James Renwick Jr. The church held their first worship service in 1808 two miles from where the church is located today. It was first an independent foundation that decided to expand itself as the city surrounding it was expanding. Due to its downtown location the church really became popular within its community. The third rector, Johnathan Mayhew Wainwright really supported mission churches and wanted this one to grow. He worked to improve the churches music quality as well as provide a public school for children which was succeeded in 1923. First a female charity school opened then a few short months later a boys school opened.

In 1834 the fourth rector, Thomas House Taylor, saw that the city was expanded its way north and thought that the church should do the same. He tried in 1837 to convince the congregation to move but it was not in the budget at the time. Grace Church finally decided to re-locate itself in 1843. Henry Bevroot Jr sold the church land from his old farm land. Deciding who should build their church was one of the toughest decisions they had to make, but they decided on James Renwick Jr who was a twenty-four year old who had never built anything in his life. Renwick may have not had any experience but his entire family was full of talent and influence.

The committee decided on a gothic style with persuasion from Thomas House Taylor who spent month in Europe studying their churches. Although Renwick had never built much less even seen a Gothic style church, he was there to make the church happy, which is what he did. The church was finished and consecrated in 1846 and was a much plainer version than the church is now. Taylor died in 1867 and in the two years prior he was very ill and did not have much influence on the church so it started to drift away from the original ideas. Until Henry Codman Potter became the fifth rector.

Potter established Grace Church as a free church in 1856. He wanted those who could not afford to pay or rent a church pew a place where they could come a worship. On Christmas Eve of 1874 the church burned to the ground and had to be completely rebuilt by the supervision of Potter. Due to the high immigration population the church suffered no loss of interest from the public. The church now offered day care, education to get better jobs, and various recreation activities. Since the rebuilding the church now has a sunday school, and much improved choir, and Grace Church School.

In 2004 James Donald Waring became the 14th and present rector of the church. He values the churches history and believes their best days are ahead of them, not behind. Grace Church is very popular around the New York City and has a very high population. Through its tragedies and its glory the church has never gone against their churches motto, and do not plan on it. Grace Church is full of history and the future which is evident by its success.
Sources
http://gracechurchnyc.org/home/about/history/
Additional Information