Thomas Sumter Memorial Park
Introduction
Thomas Sumter Memorial Park is the burial site and family graveyard of Revolutionary War hero General Thomas Sumter, the "Fighting Gamecock." It is located on Acton Road (SC Highway 488) near Stateburg, South Carolina.
Images
GEN Thomas Sumter Gravesite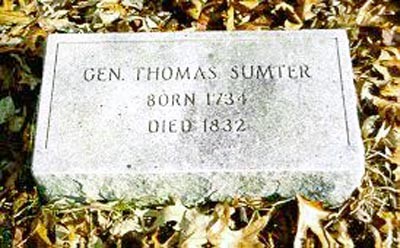 Historical Marker at Thomas Sumter Memorial Park

Backstory and Context
Thomas Sumter Memorial Park is the final resting place for General Thomas Sumter and members of his family. Sumter was an American Revolutionary War general and statesman who is widely known as the "Fighting Gamecock."
Born at the Preddy's Creek settlement of Louisa County, near Charlottesville, Virginia, on July 14, 1734, General Sumter was the longest surviving general of the Revolution. He was a planter and a surveyor who served as a member of the militia of the Colony of Virginia, where he gained combat experience in a number of skirmishes with Cherokee Indians during the French and Indian Wars. Sumter moved to South Carolina in 1760 and opened a small store at Nelson's Ferry.

Just prior to the Revolution, Sumter was elected a lieutenant colonel in the Second South Carolina Rifle Regiment. During the war, he led soldiers in many guerilla-style attacks against British and loyalist forces throughout South Carolina. It was during these battles when a British general is said to have commented on Sumter's skills by saying that he, "fought like a gamecock." Lord Conwallis is said to have called Sumter his, "greatest plague."

After the Revolution, Sumter was elected to the U.S. House of Representatives, serving from 1789 to 1793 and from 1797-1801. In 1801 he was elected by the South Carolina Legistlature to replace Charles Pinckney in the U.S. Senate. In 1810 Sumter retired from the Senate to his 150,000 acre plantation near Stateburg, SC, a city Sumter founded.

Sumter died at the age of 97 on June 1, 1832, making him the last general of the American Revolution to die.

Also buried at the site are Thomas Sumter, Jr. and Thomas DeLage Sumter. Thomas Sumter, Jr., was the lieutenant governor of South Carolina and the first U.S. Ambassador to Brazil. Thomas DeLage Sumter served as a member of the U.S. House of Representatives
Sources
"Sumter, Thomas," Biographical Directory of the United States Congress, accessed Dec 10, 2014, http://bioguide.congress.gov/scripts/biodisplay.pl?index=s001073 "Patriot Militia General Thomas Sumter," The Patriot Resource, accessed Dec. 10, 2014, http://www.patriotresource.com/amerrev/people/patriots/sumter.html "The Last Surviving General of the American Revolution: General Thomas Sumter (The Fighting Gamecock)," South Carolina Parks.com, accessed Dec. 10, 2014, http://www.southcarolinaparks.com/files/State%20Parks/Rev%20War/RW_Gen%20Thomas%20Sumter.pdf
Additional Information