St. Ignatius Mission
Introduction
St. Ignatius Mission is a historic Catholic mission in St. Ignatius, Montana. Located on the Flathead Indian Reservation, it was founded in 1854 by Jesuit missionaries Father Pierre-Jean De Smet and Father Adrian Hoecken. It consists of the original log church erected in 1854, a cabin used as a church built in 1891, a sister's residence built in 1864, and the modern Rectory which was constructed in 1960. The cabin is now a gift shop and museum featuring artifacts from the mission. The 1891 church, which was added to the National Register of Historic Places in 1973, is a beautiful example of Gothic architecture. It features a red brick exterior, a belfry that almost 100-feet high, and gothic stained glass windows. The church is well-known for the 58 murals portraying religious scenes from the New Testament, the Hebrew Scriptures, and the lives of saints. Jesuit Brother Joseph Carignano, S.J., who worked as the mission cook and taught himself how to paint, painted them between 1904-1905. Visitors can take self-guided tours each day of the week.
Images
St. Ignatius Mission was established in 1854 by Jesuit priests Father Pierre-Jean De Smet and Father Adrian Hoecken.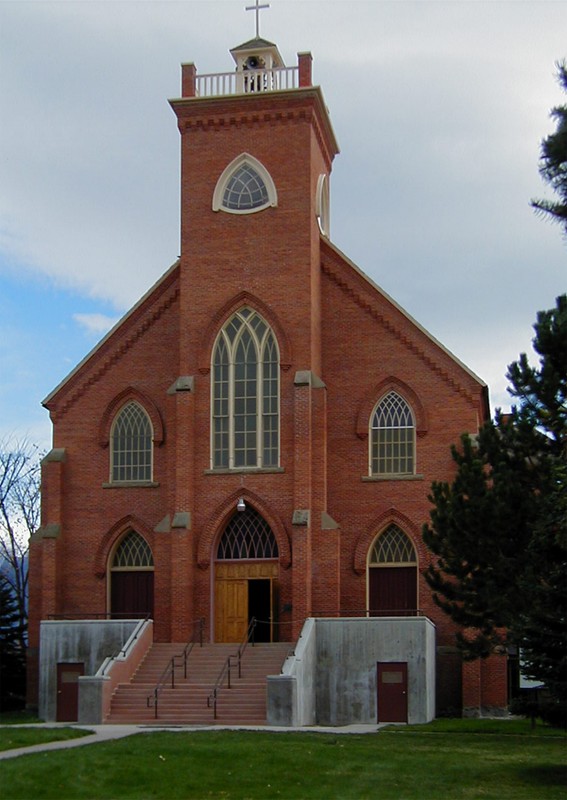 Backstory and Context
Father DeSmet and Father Hoecken established the mission in 1854, ten years after they founded it in what is now the town of Cusick, Washington along the Pend d'Oreille River. Ultimately this site was unsuitable; it was somewhat isolated, there was little productive farmland, few animals to hunt, and the weather was poor. As a result, DeSmet and Hoecken decided to leave. Chief Alexander of Kalispell tribe requested they relocate the mission here to serve the Pend d'Orielle and Kalispell Indians. Over a thousand Indians moved permanently to the mission by the next year and three other Jesuits joined DeSmet and Hoecken. By 1864, the mission had a chapel, Blacksmith and carpenter shops, a flour mill, and a boarding school run by four nuns of the Sisters of Providence—they were the first sisters in Montana. Ursuline Sisters taught at the mission as well.
At its peak between 1890 and 1896, as many as 300 Indian children were taught here, which included learning trades. After the federal government stopped funding mission schools in 1896, the number of children taught at St. Ignatius declined. There were only 47 boys at the mission in 1901. The education of Indian children continued, however. The Ursuline Sisters operated a boarding school until the early 1970s. The mission has been open to visitors since 1973.
Sources
Guyaz, Norman. "St. Ignatius Mission." National Park Service - National Register of Historic Places Nomination Form. June 19, 1973. https://npgallery.nps.gov/NRHP/GetAsset/NRHP/73001053_text.
"The Mission Today." St. Ignatius Mission. Accessed June 2, 2020. https://stignatiusmission.org/the-mission-tours.
Thompson, Steve. "St. Ignatius Mission Church | St. Ignatius, Montana." Crown of the Continent. Accessed June 2, 2020. https://crownofthecontinent.net/entries/st-ignatius-mission-church-st-ignatius-montana/176529fe-850f-4a69-8038-5fd00263866f.
Image Sources
Wikimedia Commons: https://commons.wikimedia.org/wiki/File:St_Ignatius_Mission_(St_Ignatius_Montana)_2002-05.jpg

Additional Information