Denny Blaine Park
Introduction
Denny Blaine Park is a pleasant park located on the shore of Lake Washington at 200 Lake Washington Blvd E, 98112. It takes up two acres of land and includes a small beach along with a vast grassy area, a picnic table, and a volleyball pit for those who choose to use it. It offers a great view of the lake and attracts many people every day. Nudity is common at Denny Blaine Park as it is known as a nudist park but it is obviously optional. The Denny-Blaine neighborhood also has a rich history and is one of the most affluent neighborhoods in Seattle. A lot of people have heard about Denny-Blaine due to the death by suicide of Kurt Cobain in 1994 who resided on Lake Washington Blvd E in Denny-Blaine.
Images
Denny Blaine Park in 1912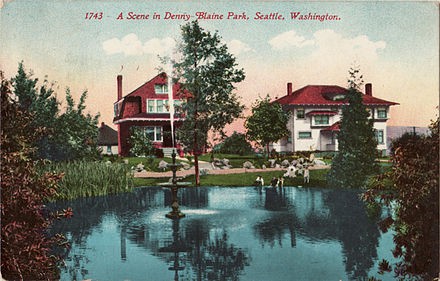 Denny Blaine Park on a sunny day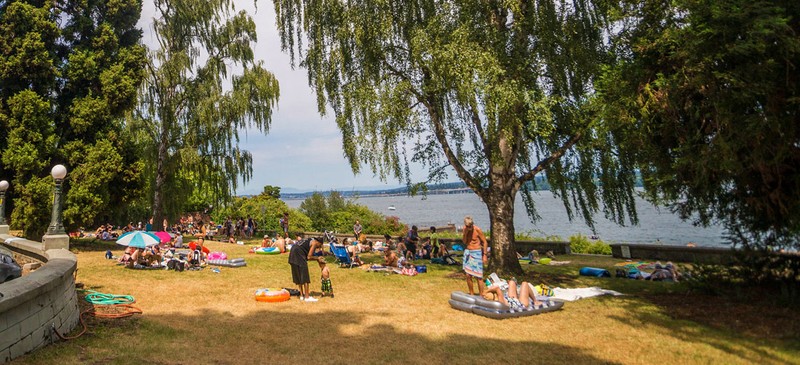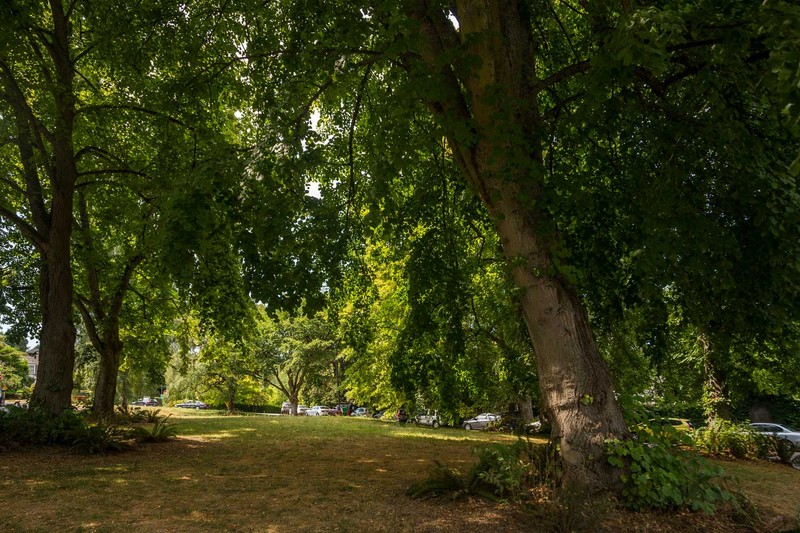 Postcard of Denny Blaine in the early 1900s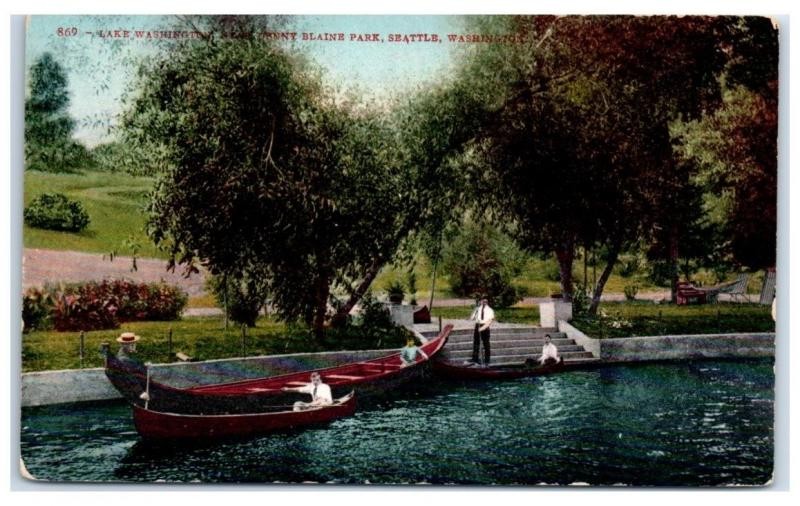 Backstory and Context
In 1901, Elbert F. Blaine and Charles L. Denny developed the Denny-Blaine neighborhood of Seattle. It was specially designed to follow the shape of the land they were building on, and they made sure to include multiple parks. The various lots blend with the streets, parks, fountains, and more, but the majority also have a view of Lake Washington. This neighborhood was annexed in the early 1900s after the addition of the Madrona trolley line, which played a part in the neighborhood's staid and modish maturation over the years. Denny Blaine started growing in the 1920s and 30s as nicer homes were being built on its hills, many of which were and are still occupied by wealthy families of Seattle. 
The hillsides of Denny Blaine were formed by the remains of the ancient Vashon Glacier. The first inhabitants of the neighborhood were known as the "Inside People," Hah-Tshu-Ab'sh, or the Lake People. They were a group of Duwamish hunters, fishers, and gatherers who lived around what is now known as Denny Blaine for thousands of years. Their territory consisted of the shores of Lake Washington, referred to as It-how-chug or Large Lake in their time. 
Centuries after the arrival of Duwamish Tribe members is when the Denny-Blaine Land Company was formed by Viretta (Chambers) Denny, Charles L. Denny, and Elbert F. Blaine. They were a mix of attorneys, former Seattle Parks Commissioner, and Charles L. Denny's parents were even the Seattle founders Arthur and Mary (Boren) Denny. They began buying land, which was either east or north of the Madrona trolley line. Once the Denny Blaine Lake Park subdivision was filed with the city of Seattle, they started looking for affluent buyers who benefited from the prime location of the Denny Blaine neighborhood. Along Lake Washington Boulevard in Denny Blaine there is even a house that belonged to the rock star Kurt Cobain who died by suicide in 1994. 
Denny Blaine Park is one of the many green areas in this neighborhood. In 1901, the Denny-Blaine Lake Park Addition development plat was filed which included Denny Blaine Park, making it a privately-owned park. Denny Blaine Park was one of the multiple parks, such as Howell Park, Viretta Park, and more. All of these parks were dedicated "[…]to the use of public[…] and park maintenance as fountain and parks[…] forever." Before it was named Denny Blaine Park, it carried the name "Whitman Place." Its purpose was to allow easy access to the water, and a seawall and boat landing were built as well. However, the seawall and boat landing were no longer put to use as of 1917 due to the lowering of the lake when a Ship Canal was built. 
  In 1932, the ownership of Denny Blaine Park was officially passed on to the city of Seattle. Since then, the park has become a pleasant and relaxing area for people to visit. When the level of the lake was lowered by nine feet in 1917, it exposed a slanted but usable beach, which is still there today and is defined by what used to be the seawall. During renovations in 2004, a large grass middle bed was built above the shoreline, in addition to the existing grass beach, picnic area, and a volleyball pit. Denny Blaine Park has become a prime spot in its neighborhood and attracts a lot of visitors. It is also considered a nudist park, though the amount of nudity and top free use was quite higher in the past. 
Sources
"Denny Blaine Park." Denny Blaine Park - Parks. Accessed May 27, 2020. https://www.seattle.gov/parks/find/parks/denny-blaine-park.
"Denny Blaine Park." Friends of Seattle's Olmsted Parks, March 22, 2019. https://seattleolmsted.org/parks/denny-blaine-park/.
"Denny-Blaine Park (Seattle)." Wikipedia. Wikimedia Foundation, October 15, 2019. https://en.wikipedia.org/wiki/Denny-Blaine_Park_(Seattle).
Rochester, Junius. "Seattle Neighborhoods: Denny-Blaine -- Thumbnail History." Seattle Neighborhoods: Denny-Blaine -- Thumbnail History, February 19, 2001. https://www.historylink.org/File/2996.
Image Sources
https://web.archive.org/web/20081205051135/http://www.vintageseattle.org/2008/06/06/past-post-denny-blaine-park-1912/

https://goodmigrations.com/city-guides/seattle/denny-blaine

https://www.seattle.gov/parks/find/parks/denny-blaine-park

https://www.hippostcard.com/listing/early-1900s-lake-washington-near-denny-blaine-park-seattle-wa-postcard/15919498