Kennesaw Mountain National Battlefield Park
Introduction
Kennesaw Mountain National Battlefield State Park is the site of a historic Civil War battle during the Atlanta campaign, which was the Union's effort to seize the city of Atlanta. On June 27, 1864 a large Confederate force, the Army of the Tennessee, which was commanded by General Joseph E. Johnston, clashed with a large but smaller Union force led General William T. Sherman. Johnston's men were positioned along the length of the mountain ridge, which stretches for about six miles. Union troops attacked the Confederates in a frontal assault but ultimately failed to dislodge them, suffering 3,000 casualties (1,000 Confederates were killed or wounded). While the battle was a tactical defeat for Sherman, it did not stop him from advancing towards Atlanta. The park was added to the National Register of Historic Places in 1917.
Images
A monument to Illinois Soldiers can be found at Cheatham Hill.
Cannon emplacements can be seen in the park.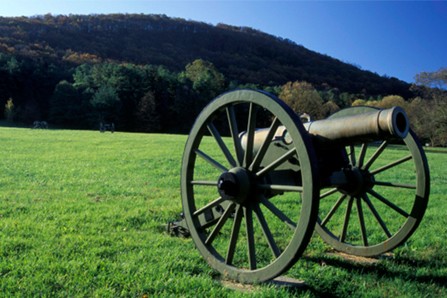 On Jun 27, 1864, Union General Sherman attempted to annihilate Confederate General Johnston's army and push toward Atlanta. The battle ended in a Confederate victory.

Backstory and Context
A month prior to the battle, Union Major General William T. Sherman guided a group of three armies from Chattanooga, Tennessee to Georgia. His goal was to crush the Army of Tennessee led by Confederate General Joseph E. Johnston. Johnston wanted to keep his army intact while also defending his supply and communications hub in Atlanta. Johnston created a smart defensive maneuver where his army entrenched across Sherman's route, making the Union forces choose between conducting a frontal assault or a flanking operation against skilled field soldiers. Johnston was willing and ready to attack pieces of the Union army if the opportunity presented itself. However, Johnston's focus would remain on keeping his army intact and preventing Sherman from reaching Atlanta. Although Sherman was able to push Johnston's men back, he feared that if he could not annihilate the army they would be able to lend more men to the Army of Northern Virginia to fight the Union's spring offensive in Virginia. This concern went away in June at Kennesaw Mountain when Sherman thought that Johnston made a mistake and a decisive attack could end the Army of Tennessee and allow passage to Atlanta.
On June 19 Johnston created a solid defensive line at Kennesaw Mountain that Sherman failed to avoid after a Confederate counterattack on June 22 at Kolb's Farm prevented him from doing so. This attack did not result in significant Union losses, but it made Sherman choose between sending his army farther south to still avoid the Confederate army or taking on the Confederates head on. Sherman ordered his men to attack arguing that the Confederates' attack at Kolb's Farm had weakened them. Sherman's force of 100,000 men and 35,000 horses outnumbered Johnston's 50,000. 
At 9:00am on June 27, Sherman's army attacked the Confederate troops and continued along the bottom of Kennesaw Mountain, but the Confederates were able to fight them off. At the same time, the rough land and Confederate forces hindered a Union attack at Pigeon Hill. At Cheatham Hill, the most intense fighting took place in a section of the Confederate line called "Dead Angle" by the Confederates. The Union soldiers tried to break through the Confederate trenches but failed due to the terrain and a strong defense from the Confederates. Despite Sherman's superior numbers the battle was a Confederate victory. There were an estimated 5,350 casualties, including Union Generals Charles Harker and Daniel McCook, who were killed. The battle was one the bloodiest one-day battles in the Atlanta Campaign. While Sherman lost, it did not stop him from pushing toward Atlanta, and he still strategically had the upper hand, the men, and the will to keep pursuing Johnston's men.
The park was created in 1935 to commemorate the battle and now consists of 2,965 acres. It contains the Kennesaw Mountain Battlefield, Kennesaw Mountain Road, and the Cheatham Hill Battlefield grounds. The battlefield grounds preserve the historic battlefield and include reconstructed fortifications and cannon emplacements. The site also includes the Kolb Farm House which has been restored. The number of visitors here every year have rose from 4,700 in 1939 to 1.4 million in 2004. Contributing to the high number of visitors is the fact that the park is the biggest rural area close to the city of Atlanta. The site also has a range of activities including: 18 miles of hiking trails, a visitor center that plays a 35 minute video on the Atlanta Campaign and the battle, a Civil War museum, and the visitor center also has a bookstore. The site celebrated its 150th anniversary in June of 2014.
Sources
"The Atlanta Campaign." National Park Service. Last updated April 14, 2015. http://www.nps.gov/kemo/historyculture/the-atlanta-campaign.htm.
Blythe, Robert W. et al. "Kennesaw Mountain National Battlefield Park." National Park Service - National Register of Historic Places Nomination Form. October 15, 1966. https://npgallery.nps.gov/GetAsset/a036c328-8ac2-4961-8317-7ca92ea601d2.
Fowler, John D. "Battle of Kennesaw Mountain." New Georgia Encyclopedia. December 9, 2005. Last Updated October 19, 2016. https://www.georgiaencyclopedia.org/articles/history-archaeology/battle-kennesaw-mountain.
"Marietta National Cemetery, Marietta, Georgia." National Park Service. Accessed March 1, 2020. https://www.nps.gov/nr/travel/national_cemeteries/georgia/marietta_national_cemetery.html.
Additional Information