Milwaukee Railroad Depot
Introduction
Now the location of the Alberton Community Center, the old Milwaukee Railroad Depot is considered the most historic building in Alberton. The Chicago, Milwaukee, St. Paul and Pacific Railroad (known as the Milwaukee Road) built it in 1908 and established the site as a division point. For many years, the company had machine shops, a roundhouse, and repair tracks here. The depot is the only building related to the railroad still standing in Alberton. It was added to the National Register of Historic Places in 1997 for its connection to the the city's railroading history. It is also a well-preserved example of Craftsman style architecture.
Images
The Milwaukee Railroad Depot was built in 1908 as part of the company's push towards the Pacific.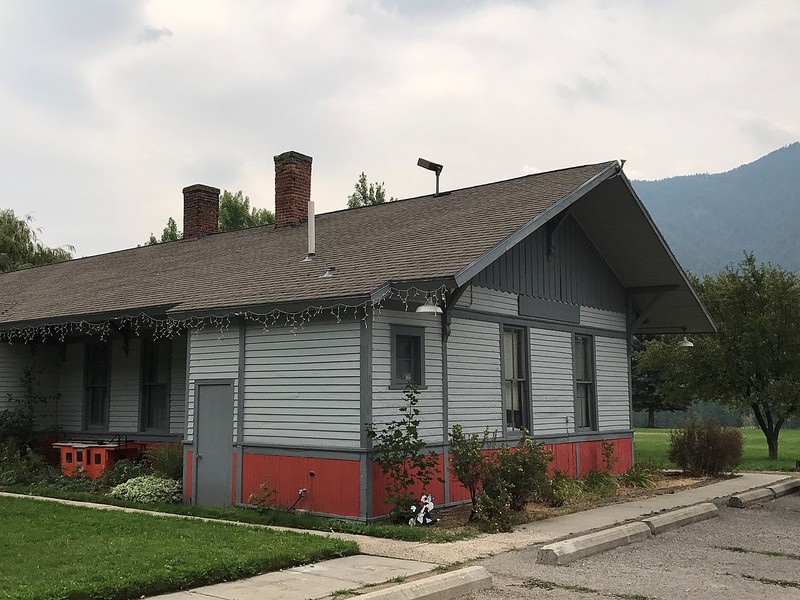 Backstory and Context
The Milwaukee Road originated in Milwaukee, Wisconsin in 1847. Over the coming decades, it grew rapidly (often by buying other railroads), owning 3,775 miles of track by the end of the 1870s. The company also bought other properties including grain elevators, coal mines, and even bridges. It started to move its way west towards the Pacific in the early 1900s, which is why the company established Alberton as a division point. At its height, the Milwaukee Road owned the longest railroad network (over 11,000 miles of track) in the country, from the Puget Sound to Louisville, Kentucky. Unfortunately, a variety of factors, including poor leadership, prevented it from becoming a much stronger company. As a result, it began to decline in the 1970s and went bankrupt.
In Alberton, the situation changed at the depot in 1917 when the company electrified the rail line between Harlowton and Avery. As a result, Alberton became obsolete as a division point and town's growth stalled. The depot continued to operate until 1980. The tracks were removed and the depot was boarded up. Fortunately, the community worked together to save the depot and convert the rail yards into a park.
Sources
McDonald, James. "Milwaukee Railroad Depot." National Park Service - National Register of Historic Places Nomination Form. https://npgallery.nps.gov/GetAsset/b3672b56-73fa-44ee-ae9d-0e029bcaf987.
"The Milwaukee Road, 'Route of the Hiawatha's." American-Rails.com. Accessed June 1, 2020. https://www.american-rails.com/milw.html.
Peters, Jackson. "The Milwaukee Road." Puget Sound Model Railroad Engineers. 1998. http://www.psmre.org/hist-milw.htm.
Image Sources
Wikimedia Commons: https://commons.wikimedia.org/wiki/File:Alberton_train_depot_-_town_hall_and_library_2017_-_2.jpg

Additional Information