1893 Waukesha County Courthouse
Introduction
This imposing limestone edifice was built in 1893-94, on the same site of Waukesha's original—and more modest—1849 courthouse. It dominated the city skyline, and housed county offices, records depositories and—up on the third floor—a large, wood-paneled courtroom, where schoolteacher Grace Lusk stood trial for the 1917 murder of Mrs. David Roberts, wife of renowned veterinarian Dr. David Roberts. Between June 1917 and September 1918, young men from across the county lined up in the first-floor hallway to register for Selective Service.
Images
Milwaukee architects Rau & Kirsch designed the Richardson Romanesque building. A 130-foot tower was topped by a seven-foot clock and a statue of Justicia, goddess of justice. The statue now dominates the Museum's second floor.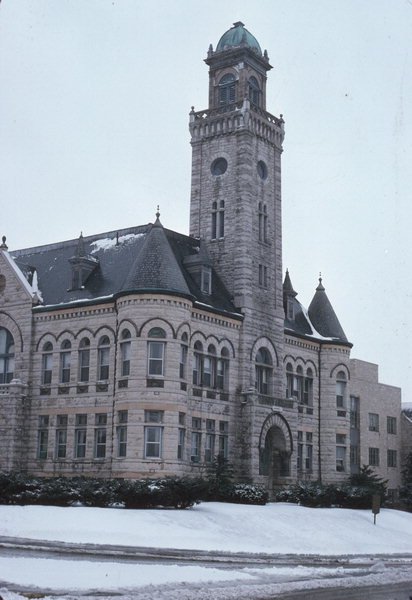 After extensive rehabilitation, the 3rd floor courtroom was inaugurated with a historical reenactment of the Grace Lusk trial--almost exactly 100 years after a Waukesha jury found her guilty of second-degree murder in the death of Mary Newman Roberts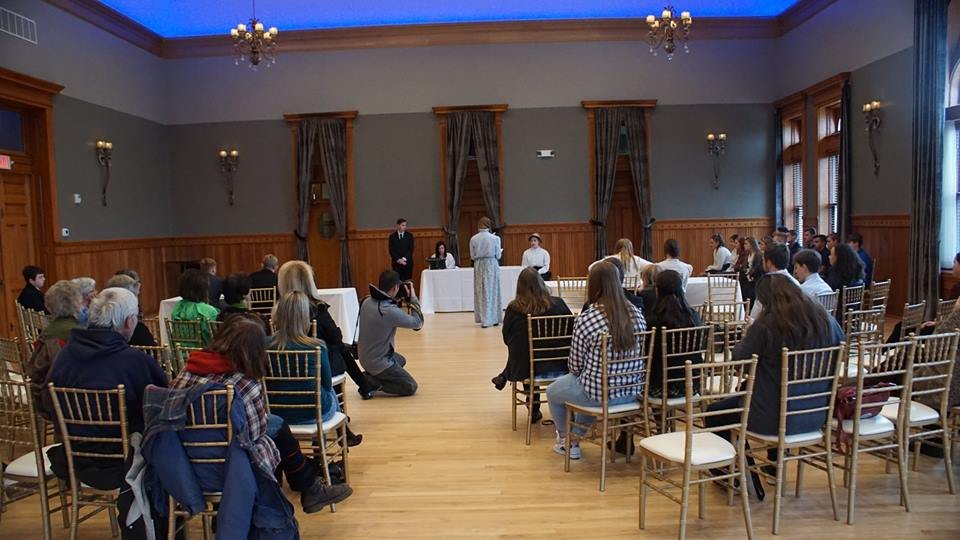 The historic jail served Waukesha County well into the 20th century. The recent courthouse rehabilitation included restoring the facade and converting the cell blocks into apartments.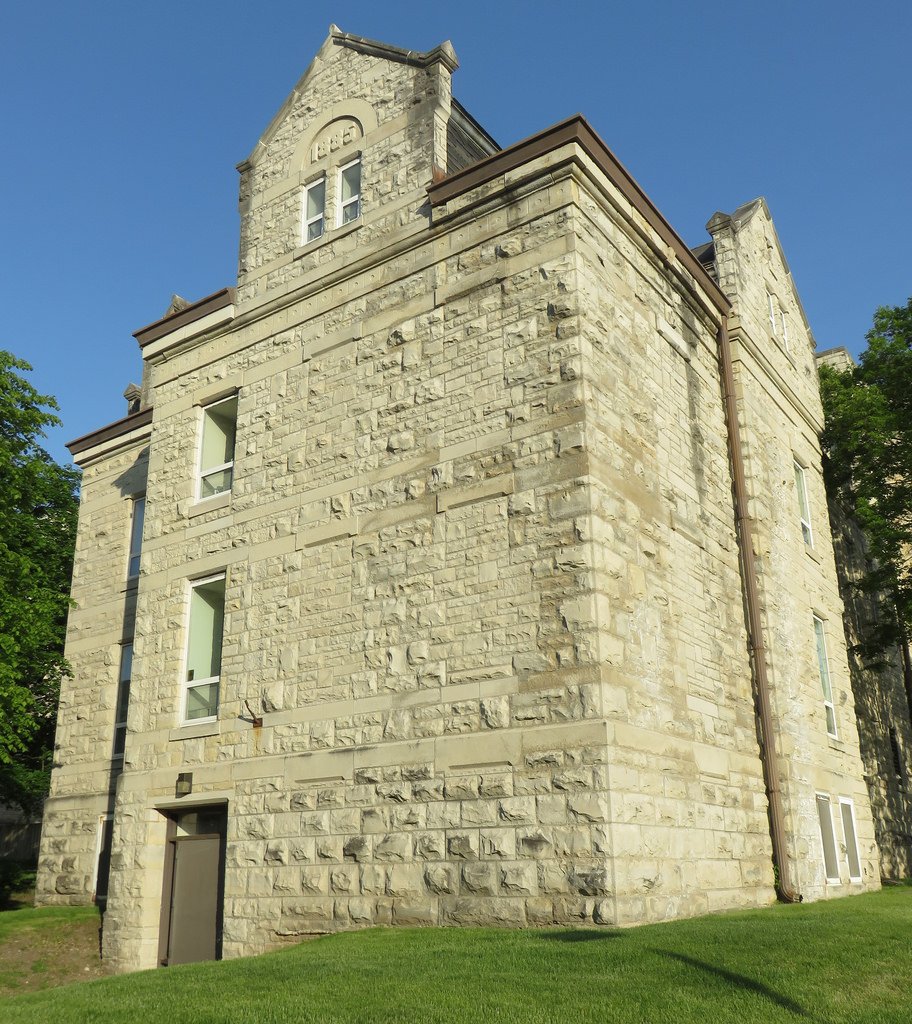 Backstory and Context
To old timers, this is the old "new courthouse." Waukesha County completed construction on its first courthouse in 1849, after numerous delays and disputes with Contractor John Gale, Jr. The 70-42 ft. two-story Greek Revival structure stood on a small rise (later identified as a native American effigy mound) on the east end of Main Street. By 1893, the growing county needed a larger judicial seat; Milwaukee architectural firm Rau & Kirsch responded with this turreted Richardson Romanesque structure, wrapped in local Lannon stone and decorative masonry. The 130 foot central tower, topped with both a 7 foot clock and a statue of Justicia (Justice) dominated Waukesha's modest skyline.

Inside, county residents documented key events and personal dramas. Many paid taxes, registered births, deaths and marriages in offices on the first and second floors. Some citizens stood trial or served jury duty in the third floor courtroom. And a few, like school teacher Grace Lusk, served time in the adjacent jailhouse.

Between 1915 and 1918, several thousand young men stopped by to register for Selective Service. It's easy to imagine secretaries updating these draft cards, as information trickled back from Camp Douglass (Illinois), Quantico (Virginia), or posts in France and Belgium. Sixty years later, local activists secured the preservation of the complex by adding it to both the Wisconsin and National Historic Registries.

Today, even though county officials work in a modern facility on Moreland Boulevard, the historic courthouse is still worth a visit. In addition to records of the Lusk trial, WWI draft cards, and travelling exhibits from across the country, visitors can peruse more than 18,000 artifacts and 250,000 visual images in the Waukesha County Historical Society & Museum. The newly rehabilitated courtroom offers a spacious venue for receptions and other gatherings, and more than a half dozen local contractors have converted both the jailhouse and a 1938 addition into two dozen luxury apartments.
Sources
Brown, Elizabeth Gasper. "Two Courthouses on Main Street Waukesha County, Wisconsin, 1846-1959." American Journal of Legal History 15:1 (January 1971), 3-37.
Waukesha County Historical Society. Landmark Magazine 61:3-4 (Autumn/Winter 2018).
Additional Information