Kemerer-Burner barn
Introduction
This property has been in the same family for more than 180 years. While the main frame dates to the 1860's a new gambrel roof system was added in the 1880's to allow for additional hay storage. Today, this historic barn houses a complex and technical operation for raising and showing 4-H animals. In recent years, the Burners have raised several champions, including Hancock County's Gran Champion Market Beef in 2014. (c. 1860's)
Images
Hancock Historical Museum, Barn Tour Collection, 2015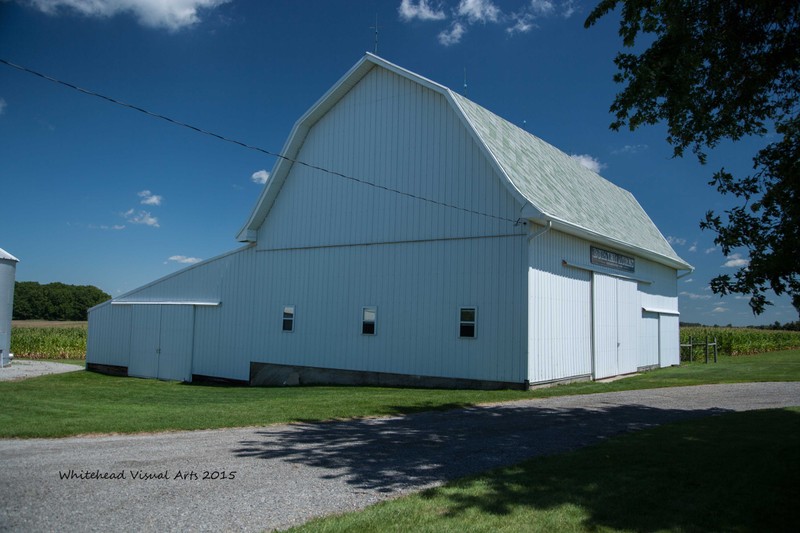 Backstory and Context
This property has been in continuous ownership by the same family for more than 180 years. Robert Burner's great-great-great grandfather., John Kemerer, entered the land on October 19, 1832. His entry was for 160 acres-80 acres for his son, David, and 80 acres for his daughter and her husband, Issac Burner. In 1896, David Kemerer sold the property to his son, Peter Kemerer. In 1924, peter and his wife, Harriett, sold the property to his cousin, Floyd Burner. Floyd later sold the property to his son, Ralph Burner, in 1957. The current owners, Robert and Mimi Burner, purchased the property from his grandparents in 1999 and farm approximately 600 acres.
The original frame of this 2,000 square foot ground barn dates to the Civil War era and was built by David Kemerer. The original frame would have had a gable roof when it was built in the 1860's. A new roof system was added to this barn sometime in the 1880's-1890's. The gambrel roof line made room for the new advent of the hay track and allowed for additional hay storage. The large canted queen posts that support the gambrel roof likely came from a different barn, as they are entirely hand hewn and pre-date this more recent addition. The barn exhibits skilled timber framing, with table half-lap (scarf) joints.
In addition to hay storage, the barn has been used for livestock. Robert's grandfather, Ralph Burner, raised hogs and the back shed was added for this purpose in 1965.A new cement floor was laid in the barn less than 10 years ago. Today, this historic barn houses a complex and technical operation for raising and showing champion animals. The barn is equipped with a cold room that stays a consistent 55 degrees for the 4-h calves. The animals are bathed prior and styled prior to shows. The Burner family has raised several champion animals, including the Hancock County Fair's 2009 Grand Champion Junior Heifer, 2013 Grand Champion Market Beef, 2013 Ohio Cattleman's Best Show Novice Division 4th Overall, 2014 Grand Champion Market beef, and 2014 Showman of Showman Large Animal Division Winner.
Sources
Hancock Historical Museum, Barn Tour Collection, 2015