Madisonville Tuberculosis Hospital; Baptist Health Hospital
Introduction
Madisonville Tuberculosis Hospital opened in 1950 and operated as a state-run hospital dedicated to treating and preventing the spread of tuberculosis in the state of Kentucky. Construction of tuberculosis sanatoriums were frequent in the early 1900s as cases were high and medical professionals had view viable treatment options. The hospital was only active until the 1970s when effective treatments made long-term care centers for tuberculosis unnecessary. At that time the complex was reconfigured to become government office space and has now reopened as Baptist Health Hospital. In addition to providing care for tuberculosis patients, the hospital partnered with a local radio station to broadcast educational programs where tuberculosis treatment and prevention methods were discussed by hospital staff. The hospital was added to the National Register of Historic Places in 2016.
Images
Madisonville Sanatorium in 1950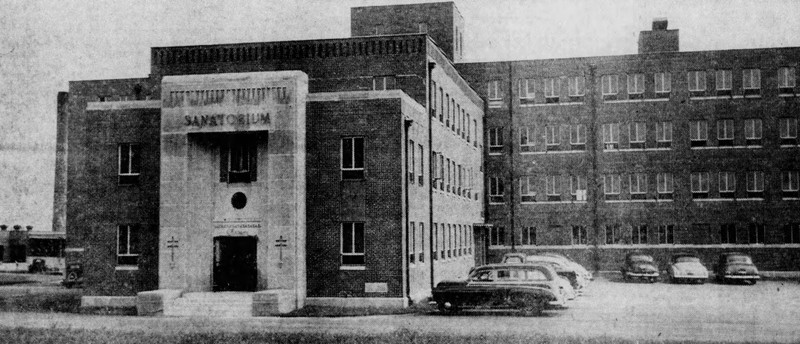 Solarium inside the sanatorium in 1950.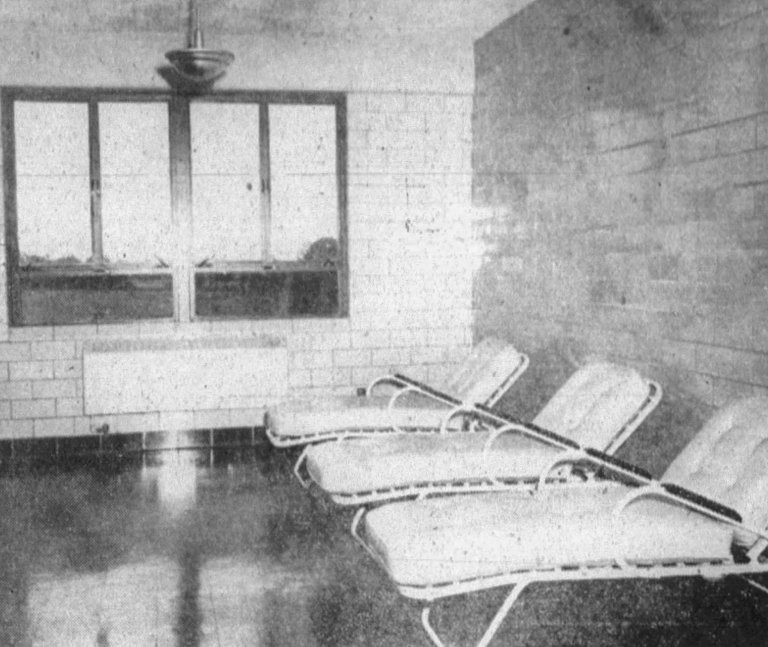 Backstory and Context
The Madisonville Tuberculosis Hospital, alternatively known as the District One Tuberculosis Sanatorium, opened in 1950 after four years of construction and planning. The hospital was a state-run facility intended to help stem the growing number of tuberculosis cases in Kentucky by separating sick patients from others. Occupying a 31-acre plot, the hospital complex featured a main building, housing for medical staff, laundry sites, and maintenance buildings. Many of these outbuildings are still standing today. There were no private rooms in the hospital and all patients stayed in either a two or four-person room. While the hospital was open, it paired with a local radio broadcaster to produce an educational public health radio show where staff from the hospital would discuss tuberculosis treatment and prevention methods.
Sanatoriums like this one were popular in the first half of the 20th century as a means of caring for tuberculosis patients. The goal of a sanatorium was to slow the progression of tuberculosis with fresh air, sunshine, and good quality food. Surgeries were also used as treatment but were largely ineffective and dangerous, especially as there were no antibiotics during this time. They also kept patients from spreading the illness to their family members. Sanatoriums became popular in the United States and Europe after Dr. Robert Koch's 1882 discovery of the Mycobacterium tuberculosis which causes the disease.
Prior to Koch's discovery, tuberculosis was largely believed to be a genetic disease due to the frequency of transmission to family members. This belief had meant that patients with tuberculosis kept living with their families and increased the risk of spreading the bacteria to them. The world's first sanatorium had actually been built in Asheville, North Carolina 1875, prior to Koch's discovery, but the practice only became widespread after the medical community accepted Koch's findings. From 1904 to 1953 the number of sanatoriums in the United States grew from 115 to 839 as both government funded and private sanatoriums were built.
With the discover of antibiotics in 1943, huge steps were taken toward effective treatments for patients with bacterial illnesses like tuberculosis. A combination of three to four drugs - isoniazid (1951), pyrazinamide (1952), ethambutol (1961), rifampin (1966)- have been found effective in treating tuberculosis since the discovery of antibiotics and are still in use today. With these developments, patients were able to live and receive treatments within their own homes, eliminating the need for sanatoriums. The Madisonville Tuberculosis Hospital closed in the 1970s as did many other facilities like it around the world.
Since the closure of the hospital, the building was repurposed to serve as a government office building. Eventually the site returned to its medical origins and became the Trover Clinic and Regional Medical Center. Today, the hospital complex is known as Baptist Health Madisonville and is once again an active hospital. Baptist Health have built many new structures on the grounds, but many of the original structures, including the main hospital building and laundry building, are still on the hospital grounds. The Madisonville Tuberculosis Hospital was added to the National Register of Historic Places in 2016. 
Sources
Logan, Shawn. Madisonville State Tuberculosis Sanatorium, Kentucky Historic Institutions. Accessed May 29th 2020. https://kyhi.org/madisonville-tuberculosis-hospital/.
Stout, Jenna. Madisonville Tuberculosis Hospital, Kentucky Heritage Council . Accessed May 29th 2020. https://heritage.ky.gov/historic-places/national-register/Property%20Listings/Hopkins_TBHospitalMadisonville.pdf.
World TB Day 2020, Centers for Disease Control and Prevention. December 12th 2016. Accessed May 29th 2020. https://www.cdc.gov/tb/worldtbday/history.htm.
Image Sources
https://kyhi.org/madisonville-tuberculosis-hospital/

https://kyhi.org/madisonville-tuberculosis-hospital/

Additional Information