Flick-Reese Barn
Introduction
This property has been in the Reese family for three generations, and has qualified for Century Farm status. The barn underwent extensive restoration five years with the assistance of Amish craftsmen. The grainery from a nearby 1860's barn was added at the that time. The barn is on the Hancock County Barn Quilt Trail, and houses a workshop and gift shop for nearby Kaleidoscope Farms. (c. 1870's)
Images
Hancock Historical Museum, Barn Tour Collection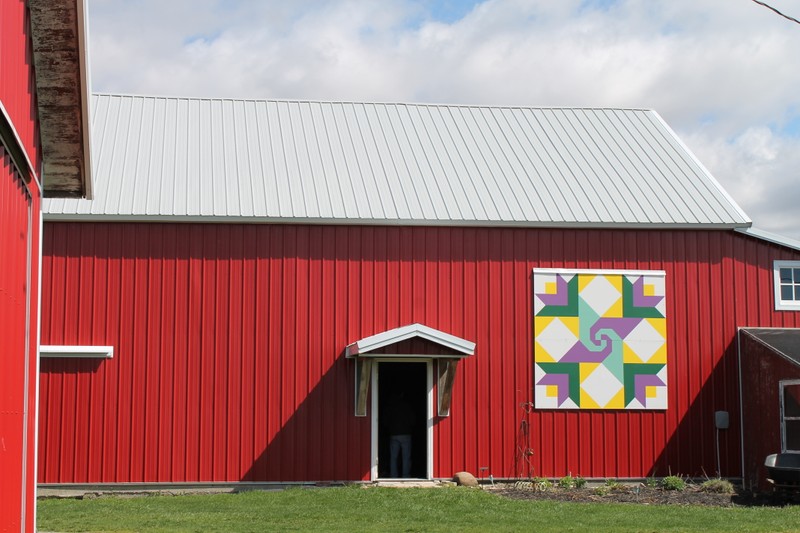 Backstory and Context
David and Janet Reese are the third generation of the Reese family to own this farm. David's grandfather, Pearl Jay Reese, and his wife, Jessie Mae, purchased the farm in 1918. Their acreage extends beyond this site, as they are the owners/operators of nearby Kaleidoscope Farms, where they grow thousands of Christmas trees. The nearby farm also includes several historic outbuildings. Kaleidoscope Farms is a family operation with the assistance of the Reeses' four sons.
For three generations, this 1,200 sq. ft. barn housed a dairy operation. The barn is a typical, three-bay, English ground barn, and the size and design are reminiscent of a New England style. It likely dates to the 1870's or 1880's, and gives several clues to its age. While some of the material is hand-hewn, the smaller braces (scantlings) are circular sawn. The barn builders probably made use of some of the last old-growth material available in the area that could span the whole length of the barn as one piece of lumber. Both the plates and purlins are one piece ("one stick"). The orientation of the bracing in the barn is unique.
The whitewash on the walls from the old milking parlor on the east side of the barn is still visible, and there is evidence that the milking parlor replaced earlier granary. The extant granary on the north is not original to this barn, but has a connection to Janet (deeds) and added to this barn five years ago. At that time, Amish craftsman were brought in to secure and preserve the barn-an important part of the history of this family farm. Janet has fond memories of running and playing through the granary as a child on her father's farm.
Following the renovation, this barn has been used as a workshop for Kaleidoscope Christmas Tree Farm. The barn is part of the Hancock County Barn Quilt Trail. The pattern of the colorful quilt square on the front of the barn was chosen to reflect Janet's lavender labyrinth garden on the property.
Sources
Hancock Historical Museum, Barn Tour Collection, 2015