Baton Rouge National Cemetery
Introduction
Tucked away in a small part of the city sets a place that encompasses our National history through the sacrifice of those who served. The Baton Rouge National Cemetery though closed to new burials is the resting place for more than 5000 Soldiers and sailors who never made it home.
Images
Massachusetts Monument was dedicated in 1909 and honors Union troops who died in the Gulf region.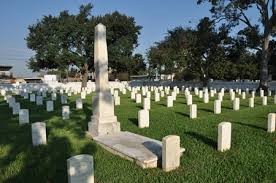 Backstory and Context
Located in city limits about 1 mile south east of Louisiana State Capital Building sets the Baton Rouge National Cemetery. Though many may look at the cemetery as only a final resting place for fallen Civil War Soldiers is actually much more than that. Because of where the city sets on the Mississippi River it was a much sought after spot for both sides, due to this reason Baton Rouge was experienced more hardship from the war than most cities of the time.

The cemetery itself was formally established in 1867 as a Union Soldier Cemetery for those that died in battle or after in battlefield hospitals. Not until the 1930s did monuments start becoming a regular thing at the cemetery and though a lot of the people buried there are from the Civil War it is the resting place for soldiers and sailors from the Revolutionary War, War of 1812, and other wars since than.

Probably one of the most influential people for the region buried in Baton Rouge National Cemetery is General Thomas who not only served in the Revolutionary war but also in the war of 1812. Thomas recaptured Baton Rouge in 1810 after the Spanish had claimed it their own. He than went and served in the war of 1812 but later returned to the land that he saved and called it home. Not only was Thomas a Military leader he was a Representative between 1831 and 1835 for the state of Louisiana in the House of Representatives. In Section 3 of the Baton Rouge National Cemetery you will find a large flat gravestone marking the spot the one of Baton Rouges Hero's was laid to rest.

Although the Baton Rouge Cemetery is a very interesting site to visit don't forget to visit the cities other historical sites. Baton Rouge is a city that shows a very unique side of American Military History encompassing wars from the birth of our country to when brother fought brother.

Sources
Baton Rouge National Cemetery . National Park Service, n.d. Web. 10 Dec. 2014. Path: http://www.nps.gov/nr/travel/national_cemeteries/Louisiana/Baton_Rouge_National_Cemetery.html.
Additional Information