ALL...ABOARD!: Tyler Station
Introduction
As trains headed west from Concord, Tyler Station was the first stop in Hopkinton. It was a flag station, meaning that trains would stop only when a flag was displayed or when passengers were to be discharged. It was likely most often used to pick up agricultural products and lumber for transport elsewhere. Of interest is the station's 471' spur. It was likely built to accommodate lumber that would have come from Joseph Barnard's property to supply building materials for the railroad and shipbuilding businesses.
Images
Image of the Tyler Station. The gentleman standing in front of the station is identified as Thomas Card (1871-1957). Mr. Card lived in the Blackwater District close to Tyler Station, and worked in Contoocook Village as a machinist at Kingsbury & Davis. Perhaps on this day he was taking the train from Contoocook to Tyler for his lunch break! Many accounts of K & D workers say they went home for lunch.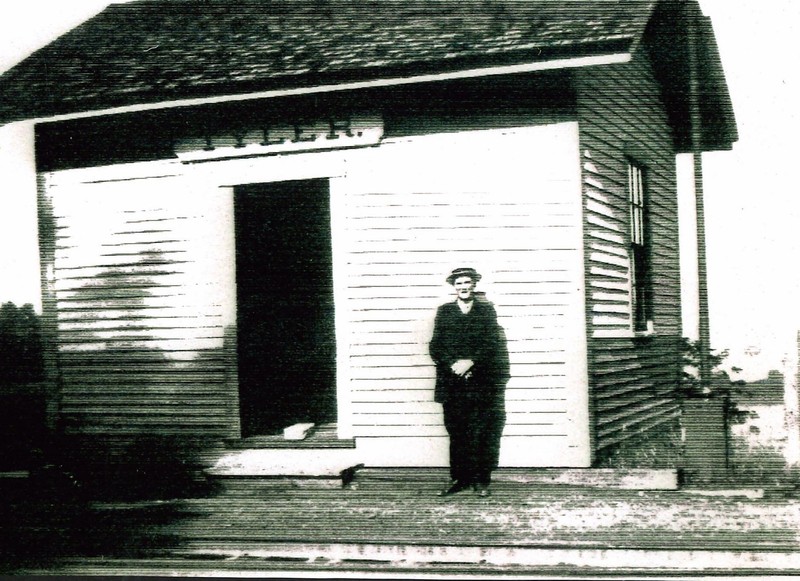 1914 B&M Valuation Map and detail of Tyler Station, Hopkinton, N.H.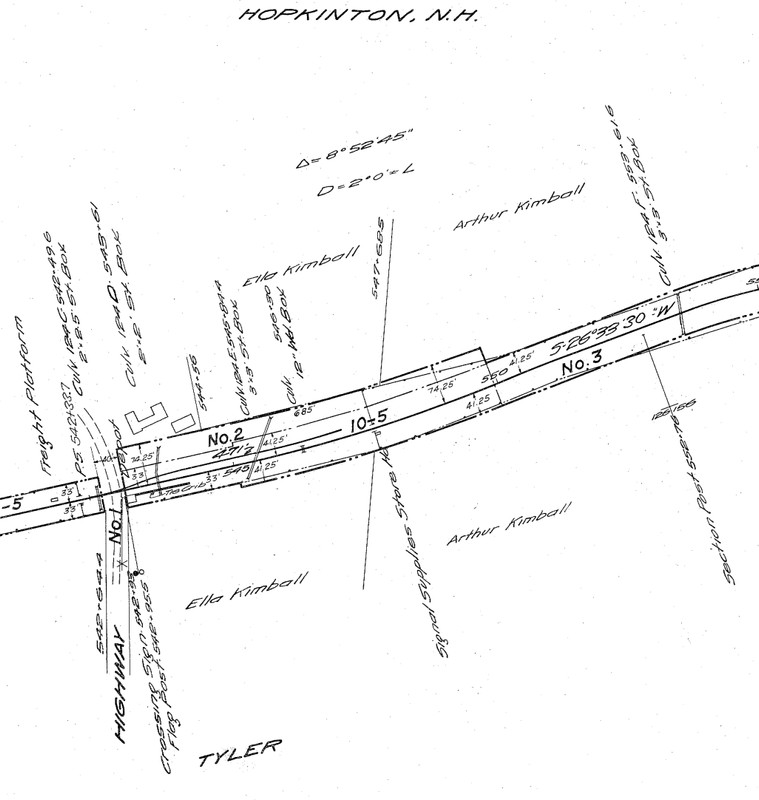 Bird's eye view of former location of Tyler Station.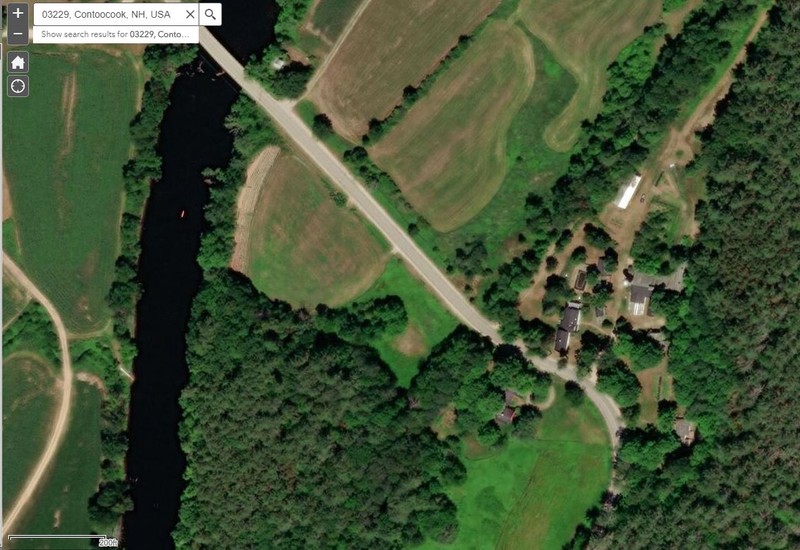 Bird's eye view of the former location of Tyler Station using LiDAR. Now visible under the vegetation is the old railroad bed running from NE to SW.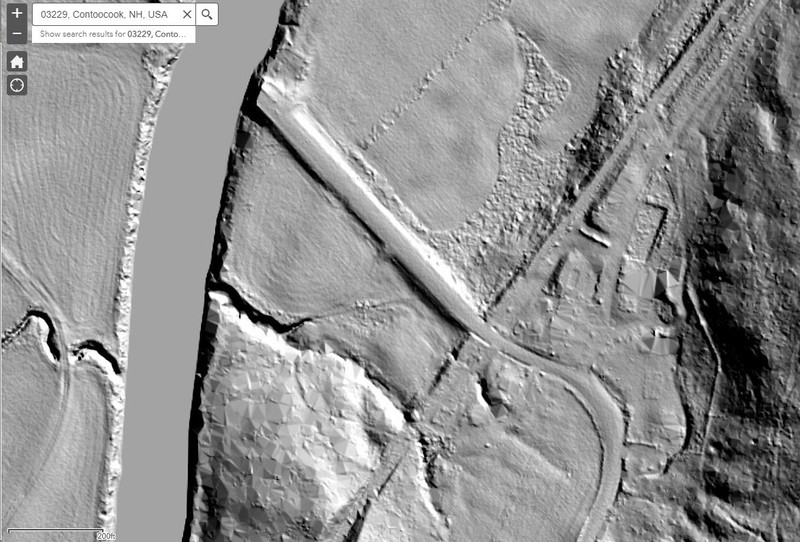 Photograph of sisters Marion and Dorothy Brockway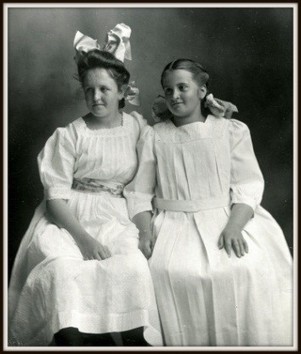 Backstory and Context
Parking for this stop is on Penacook Rd. between Tyler Bridge and 833 Penacook Rd. We suggest you park along the fields below the sharp curve. Please be respectful of private property. If you are driving, pull off the road completely and do not block driveways or roads. If you get out of your car, make sure you have the owner's permission to be on it.
Tyler Station
Little evidence of Tyler Station remains today. These two maps are from the website New Hampshire Stone Wall Mapper, an interface based on LiDAR (light detection and ranging) visualizations of the NH landscape that enables interested individuals to identify and map stone walls.  We've used it here to help identify the old railroad bed that used to cross Penacook Road near Tyler Bridge. The first map is a bird's eye view of the Tyler District. The Contoocook River runs from the top to the bottom of the image, and you can see Penacook Road going from NW to SE in the top photo. The second image, using LiDAR, also shows the river and Penacook Road, but what is also visible under the vegetation is the old railroad bed running from NE to SW. For more information on the New Hampshire Stone Wall Mapper, go the the links section below..
Dorothy Brockway Osborne
As an adult, Dorothy Brockway Osborne (1898-2001) remembered fondly her childhood visits to her grandparents' home in Hopkinton. She would come for summers as a young girl with her older sister Marion (1896-1976), often taking the train to Tyler Station. Her grandparents, Amanda Carroll and John Griffin Brockway, were living on Penacook Road, having moved from the family farm on Brockway Road. It was the early 1900s, and the Brockway family was three generations deep in Hopkinton history.
Dorothy's great grandfather, John Brockway (1793-1874) had purchased a farm consisting of 156 acres from Aaron Smith in 1860. The hope of John Brockway was that the farm would remain in the family for generations, as was stated in his will. It remained in the family when bequeathed to his son John Griffin Brockway (1834-1914). It was there that the extended family had summer "picnics" at the homestead. Many photographs survive the years showing groups in wagons, near barns, among farm animals.
But the farming way of life was not to extend another generation as Frederick John Brockway (1860-1901), John Griffin's son, chose a career in medicine – becoming an outstanding doctor specializing in surgery and a medical professor at Columbia University. Frederick married Marion Turner and together had daughters, Marion and Dorothy. Frederick's father, recognizing the large farm was no longer an asset, sold it and moved to a smaller farm on Penacook Road. By the time Dorothy and her sister could remember their summer visits to Hopkinton, their father had died and their mother was raising her daughters in New York City.
The memories of visiting the grandparents were so pleasing to Dorothy, she retired to the area and became active in many organizations including the Hopkinton Historical Society, Hopkinton Town Library and the New Hampshire Audubon Society which manages the John Brockway Nature Preserve on land kept in the family since 1860.
Sources
Historical Society. A Walk Through Two Villages Contoocook and Hopkinton. Hopkinton, NH. Hopkinton Historical Society, 2009.
Lord, C.C. . Life and Times in Hopkinton, N.H.. Concord, NH. Republican Press Association, 1890.
Mead, Edgar T.. Through Covered Bridges to Concord. Brattleboro, VT. Stephen Greene Press, 1970.
NH Stone Wall Mapper. Accessed June 22nd 2020. https://www.arcgis.com/apps/webappviewer/index.html?id=f4d57ec1a6b8414190ca0662456dffb0.
New Hampshire Antiquarian Society. Life and Times in Hopkinton 1735-1970. Hopkinton, NH. New Hampshire Antiquarian Society, 1989.
New Hampshire Antiquarian Society. Hopkinton New Hampshire 1765-1965. Hopkinton, NH. New Hampshire Antiquarian Society, 1965.
Image Sources
HHS collection

B&M Historical Society

https://nhdes.maps.arcgis.com/apps/webappviewer/index.html?id=f4d57ec1a6b8414190ca0662456dffb0

https://nhdes.maps.arcgis.com/apps/webappviewer/index.html?id=f4d57ec1a6b8414190ca0662456dffb0

HHS collection

Additional Information