David Thompson Monument and Saleesh House Historical Marker
Introduction
Situated along Highway 200 is this site that features a monument and historical marker commemorating one of the great 18th and 19th century explorers, David Thompson (1770-1857). He is known for mapping much of western Canada, and parts of the Northwest, Minnesota, North Dakota, and Manitoba. In 1809, Thompson, who was working for the British North West Company at the time, established Montana's second trading post called Saleesh House five miles to the east. He traded mostly with the Salish Indians who sought European goods in exchange for muskrat and beaver pelts. Thompson also had an interest in astronomy and the Salish called him "Koo-Koo-Sint," which roughly translates to "star looker." Thompson Falls is named after him. Over the course of his career, Thompson mapped approximately 1.9 million square miles and traveled around 56,000 miles.
Images
The David Thompson monument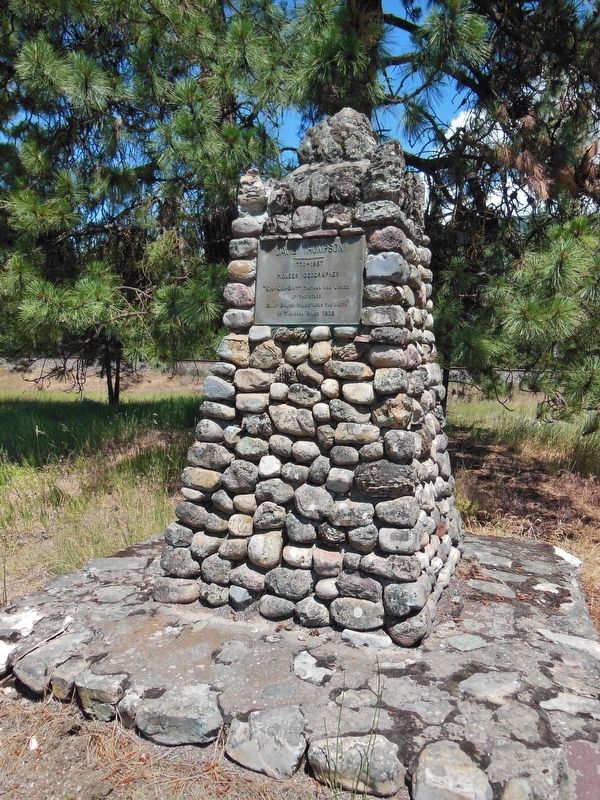 The historical marker describes the Saleesh Trading post, which Thompson established in 1809.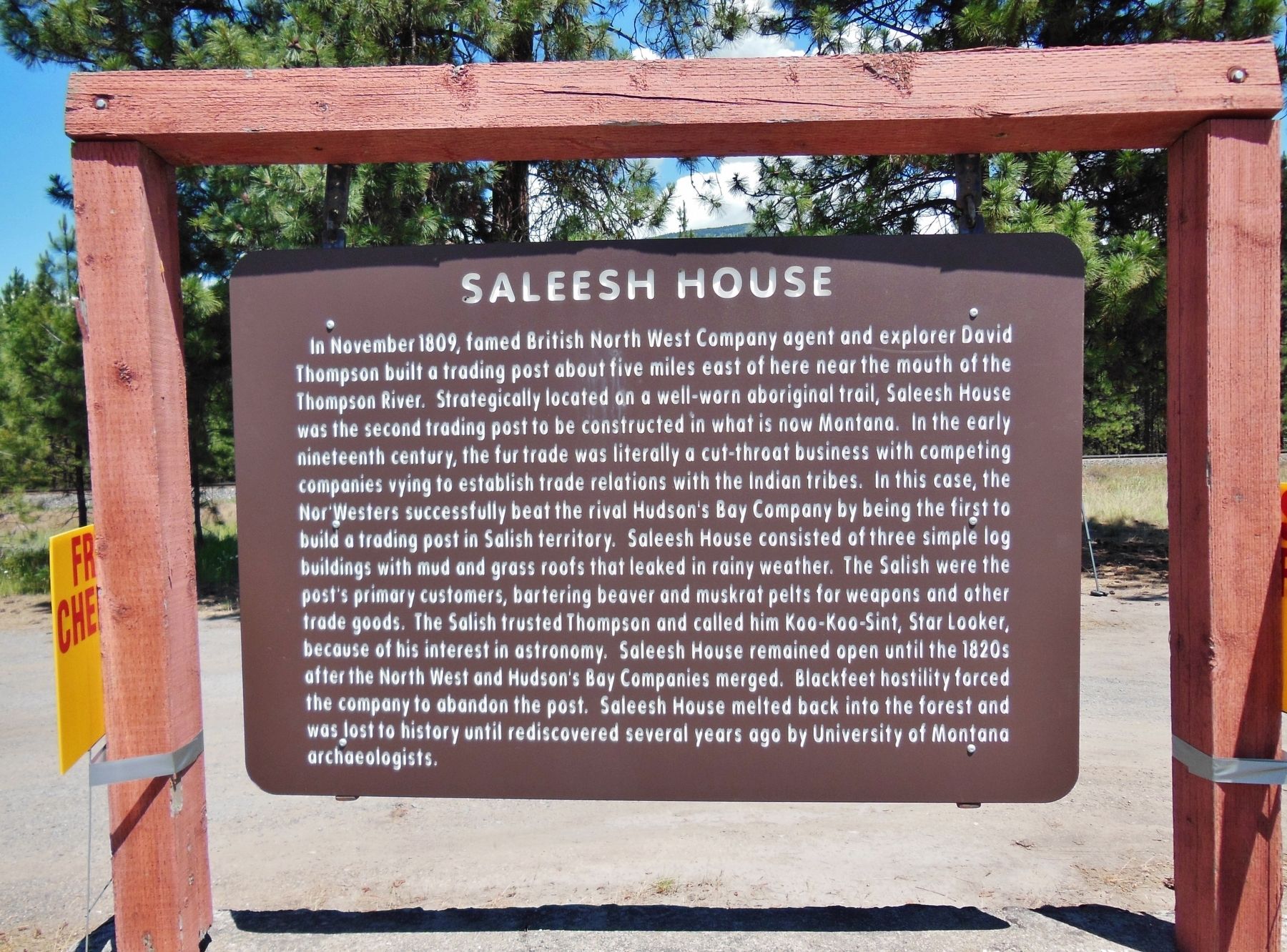 Backstory and Context
David Thompson was born outside of London, England on April 30, 1770 to Welsh parents. Sadly, his father died when he was two years old. When Thompson was seven, his mother enrolled him in a school for the poor and orphaned children called Grey Coat, which was near Westminster Abbey. There, he received a good education, studying writing, vocational studies, geography, astronomy (specifically to navigate using stars), and mathematics (he was essentially being trained to become a midshipman with the Royal Navy). When he was 14, he became a fur-trading apprentice with the Hudson Bay Company (HBC), which periodically asked for apprentices from the school. In May 1784, Thompson sailed from England to Churchill, Manitoba on a company ship named the Prince Rupert. He never to returned to England.
In Churchill, Thompson worked as a clerk. He was transferred to a other HBC trading posts in the coming years. During this time, he not only only gained experience in various clerical duties, he was also sent inland where he encountered Indian tribes including the Crees, Blackfeet, and Peigans. He learned a number of Indian languages as well. In December 1788, Thompson broke his leg. It was so severe that it took him a year to recover and he had a limp for the rest of his life. He would also lose sight in his right eye because, apparently, he spent a lot time looking at the sun.
However, while he recovered during his injury, Thompson studied cartography under the company's best cartographer, Philip Turnor. This included further study of astronomy, math, and surveying under Turnor. Thompson also accompanied Turnor on a surveying trip to the Athabasca region. Thompson proved himself to be an excellent surveyor and when his apprenticeship was completed in 1790, the company awarded him with fine clothes (which was a typical gift at the end of apprenticeships) and surveying instruments. They also gave him a three-year clerk contract. In 1796, when he was 27, Thompson decided to leave the HBC and joined its main rival, the North West Company (NWC). He preferred surveying, mapping and exploring over fur trading, which he was able to do with the NWC.
He was sent to Grand Portage, Minnesota which is located next to Lake Superior. Thus began a decades-long career during in which Thompson achieved a number of accomplishments. Between 1797-1798, he traveled a total of over 4,000 miles to survey an area of the 49th parallel (which would become the boundary between the U.S. and Canada) that covers present-day western Minnesota, North Dakota, and southern Manitoba. The purpose of this trip was to determine the location of several NWC trading houses. He also got married in 1799 to his wife, Charlotte, with whom he would have several children. Another accomplishment was sailing the Columbia River all the way to the Pacific, beginning around 1806. As he had done in the past, he developed relationships with the Indians he encountered. In the early 1810s, Thompson created two maps of western North America for the NWC, which showed where the Saskatchewan, Peace, Athabasca, and Missouri Rivers were located. After working for the NWC, Thompson worked as the chief surveyor for International Boundary Commission from 1817-1827.
Unfortunately for Thompson, he was never able to profit off of the maps he created over the years; he couldn't find publishers nor was he given credit for his work. His financial situation began to worsen in 1825 due to a number of factors. He lost money on a bad investments, including supporting his children's failed business ventures. He continued to do survey work but could only continued until 1846 when the vision in his other key worsened. In his later years he Charlotte moved to Montreal to live with his daughter and son-in-law. He tried to write a book about his life but his poor vision made it impossible. He was also forced to sell his instruments and other belongings. He died in Montreal in February 1857 in relative obscurity and Charlotte passed away just three months later.
Sources
"David Thompson." The Historical Marker Database. Accessed May 28, 2020. https://www.hmdb.org/m.asp?m=112923
"David Thompson." Hudson Bay Company History Foundation. Accessed May 28, 2020. http://www.hbcheritage.ca/people/explorers/david-thompson.
Gilmore, Don. "David Thompson." The Canadian Encyclopedia. January 7, 2008. Last Updated March 4, 2015. https://www.thecanadianencyclopedia.ca/en/article/david-thompson.
Gottfred, J. & A. "The Life of David Thompson." Northwest Journal ISSN 1206-4203. http://www.northwestjournal.ca/Rules.htm.
Nisbet, Jack. "David Thompson (1770-1857)." The Oregon Encyclopedia. Last Updated February 6, 2020. https://oregonencyclopedia.org/articles/thompson_david.
"Saleesh House." The Historical Marker Database. Accessed May 28, 2020. https://www.hmdb.org/m.asp?m=112921.
Image Sources
Both images via The Historical Marker Database

Additional Information