Branford-Horry House
Introduction
Branford-Horry House, in Charleston, South Carolina, is widely held to be one of the grandest historic homes in one of the nation's oldest cities. Built for a wealth Charleston planter and later sold to the namesake of one of the state's largest counties, it has withstood nearly 250 years and a high speed car crash.
Images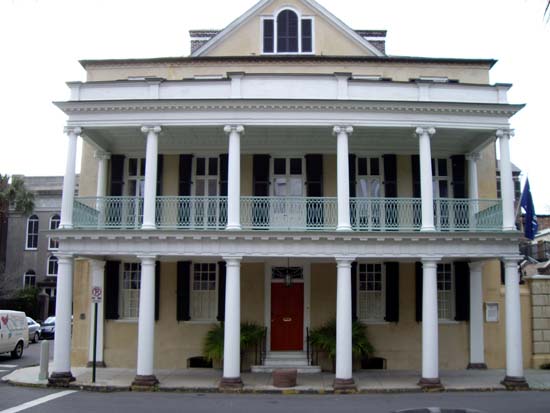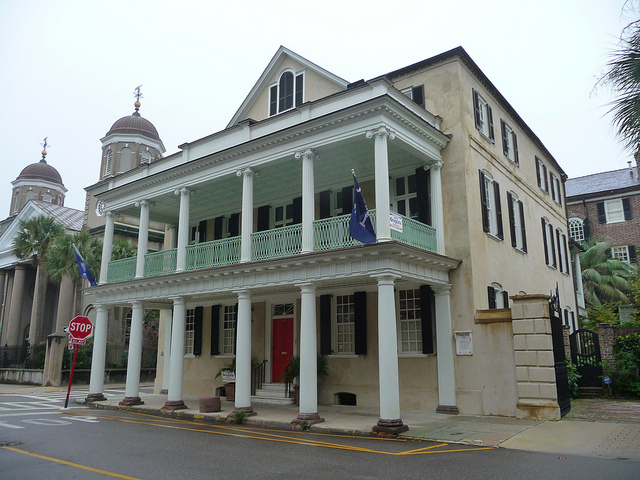 Backstory and Context
Standing three stories tall at 59 Meeting Street in Charleston, South Carolina, Branford-Horry House is considered one of the greatest examples of Georgian architecture in the state. The house was built between 1765 and 1767 for William Branford. Branford was a wealthy Charleston planter. He sold the house, prior to is death, to his son-in-law, Thomas Horry. Horry's son Elias inherited the home upon Thomas Horry's death. Branford-Horry House stayed in the Horry family until 1853.
The house is a three-story Georgian townhouse, also called a "double house." It is primarily constructed of brick with stucco covered walls. It is five bays wide and has a two story piazza. The piazza extends over the public sidewalk.
The house withstood a strange incident in 1988 when a speeding car crashed into it, collapsing two columnns and slamming one into the front door.

It has been on the National Register of Historic Places since 1970.

Sources
"The Charleston Home: Past Perfect," Charlestonmag.com, accessed Dec. 9, 2014, http://charlestonmag.com/features/past_perfect "Branford-Horry House," South Carolina Department of Archives and History, accessed Dec 7, 2014, http://www.nationalregister.sc.gov/charleston/S10817710025/
Additional Information