George Horton gravesite, Mount Avon Cemetery
Introduction
This location is the burial place of Private George Horton, a Revolutionary War patriot who died in Rochester in 1835. Horton served with a line of Pennsylvania militia from 1780 to 1783. He moved from his Northampton County, Pennsylvania home to Canada in 1809, and migrated to Michigan in March 1825. His gravestone was dedicated by the Sons of the American Revolution in 2012.
Images
George Horton headstone, Mount Avon Cemetery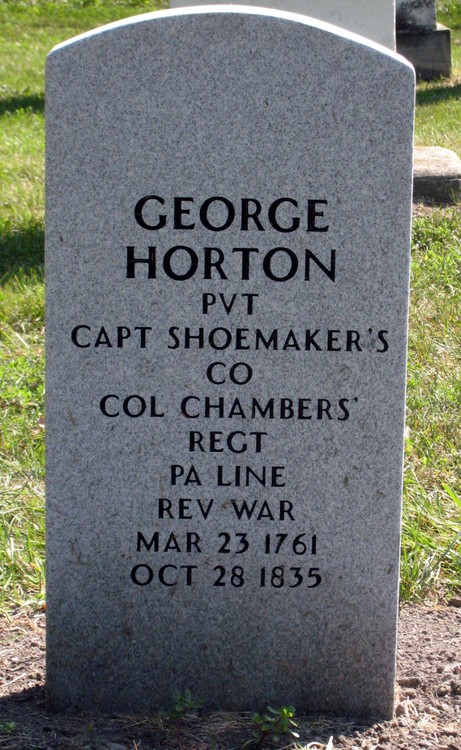 Backstory and Context
Author-Uploaded Audio
George Horton was born in the Philipstown area of Dutchess County, New York [now a part of Putnam County] on March 23, 1761. When he was nineteen years old and living in Lower Smithfield, Northampton County, Pennsylvania, he served with the Pennsylvania militia in the American War for Independence. He was part of Captain Henry Shoemaker's company, 5th battalion, Northampton County militia. He served from May 1780 until September 1783. During this time, the militia was engaged in a number of skirmishes with Native Americans in the area. In 1782, Horton's name appears on the muster roll of the 5th Company of the 5th Battalion of the Northampton County, Pennsylvania Militia under the command of Henry Shoemaker. His rank is listed at Private 2nd Class. According to his pension papers, Horton was assigned garrison duty and was chiefly occupied with making repairs to the forts along the Delaware River.
Following his military service, Horton moved to Ontario, where he lived from 1809 until March 1825, when he arrived in Detroit and thereafter settled south of the village of Rochester. In 1831, he was granted an annual pension of $80 for his military service during the Revolutionary War. His last pension payment was made in March 1835.
Sources
Almond, Mary Beth. "Graves of Two Revolutionary War Patriots to be Rededicated," Rochester Post, August 15, 2012.
Seeley, Thaddeus DeWitt. History of Oakland County, Michigan. Chicago: Lewis Publishing, 1912, v.1, pp.74-75.
Pennsylvania State Library., Pennsylvania. Dept. of Public Instruction., Pennsylvania. Secretary of the Commonwealth. (1852). Pennsylvania archives. [S.l.: s.n.], Series 5, Vol. 8, p.420.
NARA M804. Revolutionary War Pension and Bounty-Land Warrant Application Files, George Horton.
Additional Information