First Presbyterian Church of Whitefish
Introduction
The First Presbyterian Church of Whitefish has been an important landmark for the city since its construction in 1921. On one hand, it is a beautiful example of Romanesque Revival architecture. Its most notable features are perhaps its stained glass windows. Many are large arched window openings that have a circular window in between two arched windows. There are also two large circular windows in the square tower on the northwest corner, which serves as the main entrance. Decorative brickwork is another attractive feature of the church. Aside from architecture, the church is significant in another area. It was and continues to be an important social, educational, and recreational center for Whitefish. Additionally, the congregation has always participated in community service work. For these reasons, the church was added to the National Register of Historic Places in 2004.
Images
The First Presbyterian Church of Whitefish was built in 1921 and has been an important social, religious and education center for the city ever since.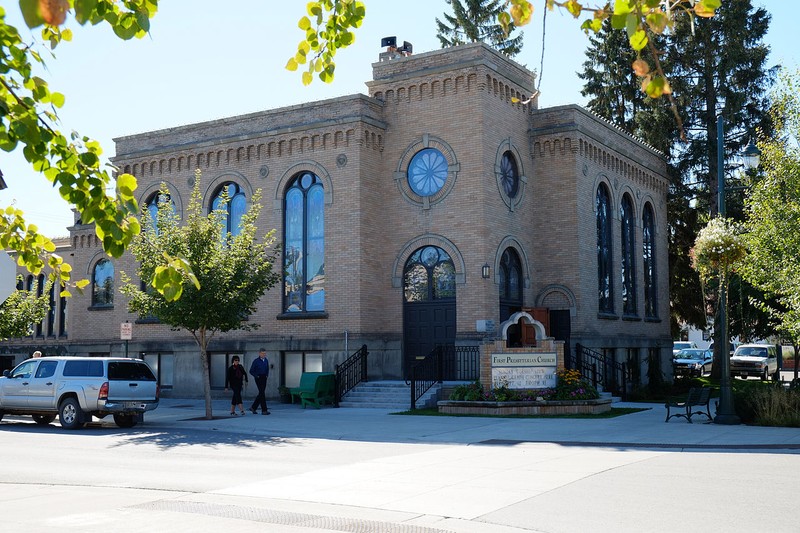 Backstory and Context
The establishment of First Presbyterian Church of Whitefish coincided with the arrival of the Great Northern Railway, which decided to move its division point from Kalispell to Whitefish in 1903. Upon learning of this development in July of that year, two Presbyterian ministers visited Whitefish and discussed with local officials the idea of building a church, which would also be used as a school. The two men believed that the railroad would help Whitefish grow into a large community and would therefore be a new place to do missionary work. As a result of their efforts, the original First Presbyterian Church opened on December 6, 1903 and classes began in January.
As the congregation grew, it moved to temporary locations, including the Masonic Temple in 1919. Efforts to build the current church building began around this time and it was completed in October 1921. The was basement designed large enough to hold basketball games and other recreational activities. A modern addition was built in 1982.
The church's role as a community social and education center began at the outset. In March of 1904, a group of women formed an aid organization called the Daughters of Dorcas. In the coming years, other service organizations operated from the church, including the Women's Missionary Society, which was established in 1911. The congregation also support various social programs in the community. Over the years, church members have participated in several community service activities such as tutoring, teaching music, and volunteering at food banks, clinics and with Habitat for Humanity. The church has also been a popular place for both religious and non-religious events. The reason for this was that the church was, for some time, the only place in town big enough to hold large gatherings. All of these activities continue today.
Sources
Hull, Vivian. "First Presbyterian Church of Whitefish." National Park Service - National Register of Historic Places Nomination Form. October 1, 2004. https://npgallery.nps.gov/NRHP/GetAsset/NRHP/04001085_text.
Image Sources
Wikimedia Comons: https://commons.wikimedia.org/wiki/File:First_Presbyterian_Church_of_Whitefish.jpg

Additional Information