St. Richard's Church
Introduction
Although no longer an active church, the former St. Richard's Church is an important landmark in Columbia Falls. It was built in 1891 and was the first Catholic church erected in northwestern Montana. It also became the town's first public school in 1892. Between October and December of that year, classes met during the week and church services were held on Sundays. The church is also notable for its Gothic architecture, featuring an attractive steeple topped by a spire, a facade made with locally sourced red bricks, and intricate stained glass windows, all of which are in the shape of pointed arches except for the circular one above the main entrance.
Images
St. Richard's Church was built in 1891. It was the first Catholic church in Columbia Falls and is a fine example of Gothic architecture.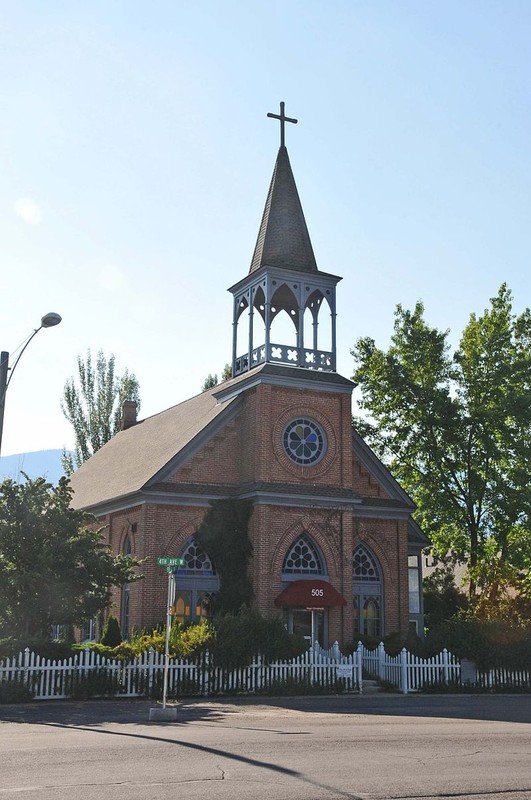 Backstory and Context
When St. Richard's was built, Columbia Falls was a young but prosperous town. Residents worked in the mining, lumber, and farming industries, and they could spend their hard-earned money in one of the many stores on Nucleus Avenue. There was also a relatively large number Catholics in the area. A priest from Frenchtown, a town northwest of Missoula, visited the area and discovered there was no church for them to attend. As a result, St. Richard's was built. The bricks were made using clay found near the Flathead River.
The first visiting priest, Rev. H.J. Van de Ven, arrived in 1894. He was based in Kalispell, which became the new headquarters for priests who served in the area up to the Canadian border. For much of its history, visiting priests served the church, coming from other towns in the area such as Whitefish, Kalispell, and Frenchtown.
The congregation occupied the church until 1958. By then it grew too large and moved to a new building where it is still located today. The old St. Richard's has remained a private property every since. It was added to the National Register of Historic Places in 1980 for its architecture, the role it played in serving the local Catholic community, and the fact that it was the town's first school.
Sources
Chaix, Jaix. "St. Richard's Church." Flathead Beacon. June 16, 2015. https://flatheadbeacon.com/2015/06/16/st-richards-church.
Pyramid Builders & Montana Historic Preservation Office. "St. Richard's Church." National Park Service - National Register of Historic Places Nomination Form. March 19, 1980. https://npgallery.nps.gov/GetAsset/0c3880db-a367-4827-9232-1570513a0185.
Image Sources
Wikimedia Commons: https://commons.wikimedia.org/wiki/File:ST._RICHARD%27S_CHURCH,_COLUMBIA_FALLS,_FLATHEAD_COUNTY.jpg

Additional Information