James Bishop House at Rutgers University
Introduction
The Italianate-designed James Bishop House looks much like a castle and enjoyed a wealth of modern conveniences available to its owners, James and Mary Ellis, in 1852. James Bishop gained his wealth as a transatlantic trade mogul, but he and his brother David also served as politicians; James served in the U.S. Congress as a member of the Whig Party. The Panic of 1873 took away much of Bishop's wealth. He sold the home and, by 1925, it had become part of Rutgers University; the school has used it for various academic needs for nearly a century.
Images
James Bishop House at Rutgers University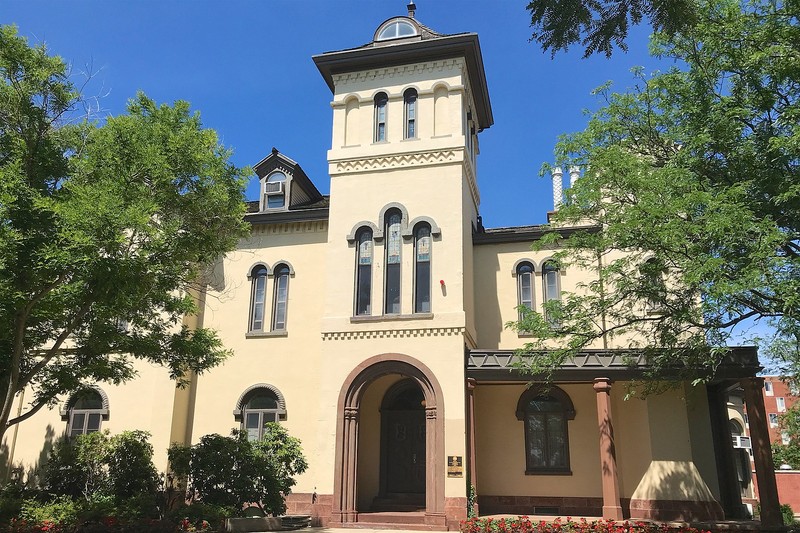 Backstory and Context
Wealthy transatlantic tradesman, James Bishop, Jr., had the castle-appearing Victorian mansion built for him in 1852. Bishop also served as a New Jersey Assemblyman and U.S. Representative in Congress as part of the Whig Party. The estate became part of Rutgers University in 1925.
New Brunswick lies on the Raritan River between Philadelphia to its south and New York to its north. For much of the nineteenth century, New Brunswick served as a prominent river hub on that route; the town enjoyed the nickname, "river city." James Bishop, Sr., owned a grain depot and maintained a tiny fleet of small ships that ran between New Brunswick and New York. Indeed, when Bishop, Jr. had the Italianate-designed mansion built for him, it included the "Pomparo Room," which is believed to be a replica of the cabin found on the Pomparo, the younger Bishop's favorite clipper ship.
The younger Bishop bought the 10-acre James Harper estate in 1848, which had been run by Harper's wife and son for fifty years following James' death. Two years after purchasing the land, Bishop married Mary Ellis, 19, of Sing Sing, New York. The Bishop House possessed the most modern conveniences available in 1852, including central heating, running water, and interior toilets. The Bishops also enjoyed the use of gas lighting, a newly introduced technology to New Brunswick by Bishop's brother David, a local politician. James Bishop, Jr. also served as a politician. Bishop served as a New Jersey Assemblyman from 1849-1850, and the U.S. Congress from 1855-57 as a member of the Whig Party.
Bishop lived in his mansion for twenty years. However, he fell ill in 1871 and decided to travel to Europe to heal. When Bishop returned, the U.S. suffered an economic decline stemming from the "Panic of 1873," which exhausted his wealth. He fired his eighteen servants, moved to a farm near Morristown, and sold his mansion to Mahlon Martin and his three sisters in 1874. Four years later, Bishop relocated to Trenton after taking a job as the head of the New Jersey Bureau of Labor Statistics. 
Martin bequeathed the Bishop Mansion to his sisters for the rest of their lives, stipulating that the house transfer to St. Peter's Catholic Church after the last sister passed away. However, Eliza, the last surviving sister, was not a Catholic. So, instead of honoring her late brother's wishes, she went to court and had the church's deed repealed. Eliza sold the mansion to Rutgers University in 1925 for $200,000, which is equal to roughly She sold Bishop House to Rutgers, in April 1925, for $200,000 (equivalent to nearly $3 million in 2020). 
Rutgers has used the mansion as a home for such academic purposes as classrooms, academic department offices, the Office of Student Conduct, the Dean's residence, and for Rutgers University receptions.
Sources
Barr, Michael C. "Nomination Form: James Bishop House." National Register of Historic nps.gov. September 29, 1975. https://npgallery.nps.gov/GetAsset/f4fbb537-7584-47a9-aa49-07918c66902a/
Holzschlag, Morris Jacob Kafka. "The Creation of a Landmark: The Bishop House of College Avenue." The Journal of the Rutgers University Libraries, vol. 47, no. 2. Published June 12th 2012.
Kafka-Holzschlag, Morris J. and Suzanne L. Gehlert. "New Brunswick and Transportation: A Brief Sketch of the History of Transportation and the Architecture of the Train Station." The Journal of the Rutgers University Libraries. 51 (2012). http://jrul.libraries.rutgers.edu/index.php/jrul/article/download/1684/3124
Rabinowitz, Richard. "A History of Bishop House, One of New Brunswick's Most Historic Buildings." New Brunswick Today. newbrunswicktoday.com. May 11, 2014. https://newbrunswicktoday.com/2014/05/11/a-history-of-bishop-house-one-of-new-brunswicks-most-historic-buildings/
Image Sources
By Zeete - Own work, CC BY-SA 4.0, https://commons.wikimedia.org/w/index.php?curid=72624882

Additional Information