Harrison Garner Park
Introduction
Garner Park, with its stunning Frank Lloyd Wright influenced shelter, is named after a prominent Madison resident, Harrison L. Garner. He served 35 years on the Madison city council and was also heavily involved in numerous local organizations. His military service record is just as impressive—he served his country in active duty on three separate occasions.
Images
Harrison Garner Park Stone Entrance Sign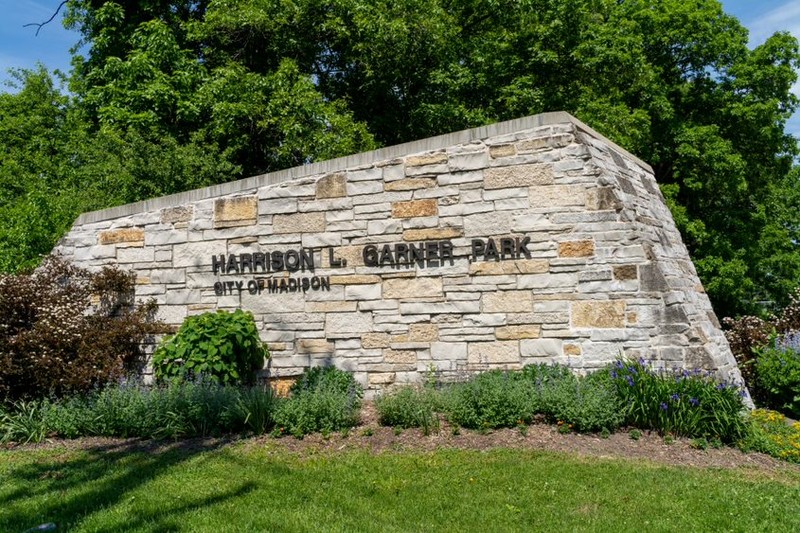 Harrison Garner Park information sign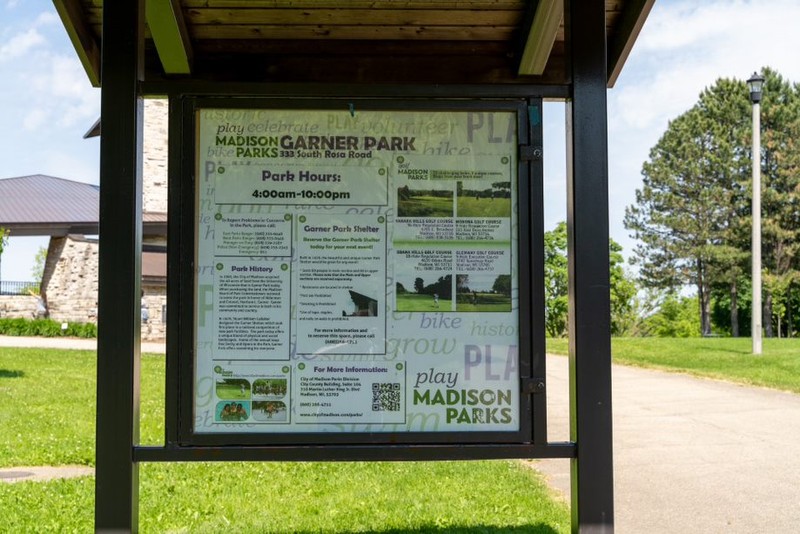 Harrison Garner Park shelter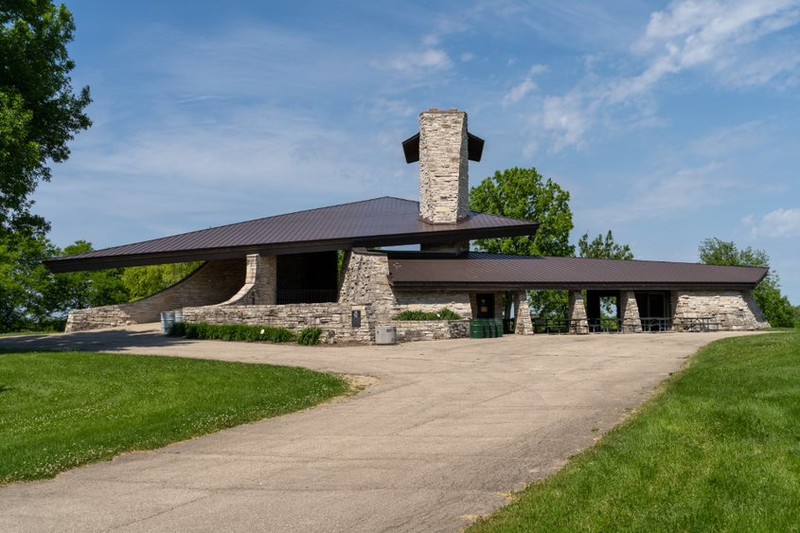 Harrison Garner Park plaque.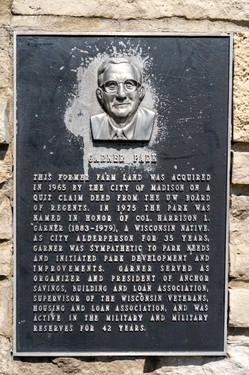 Side view of Harrison Garner Park Shelter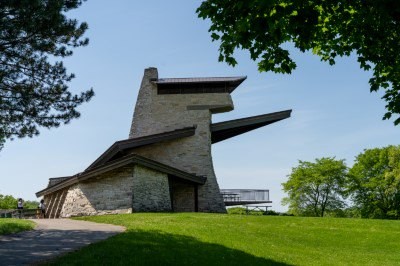 Harrison Garner Park Hill looking up at the shelter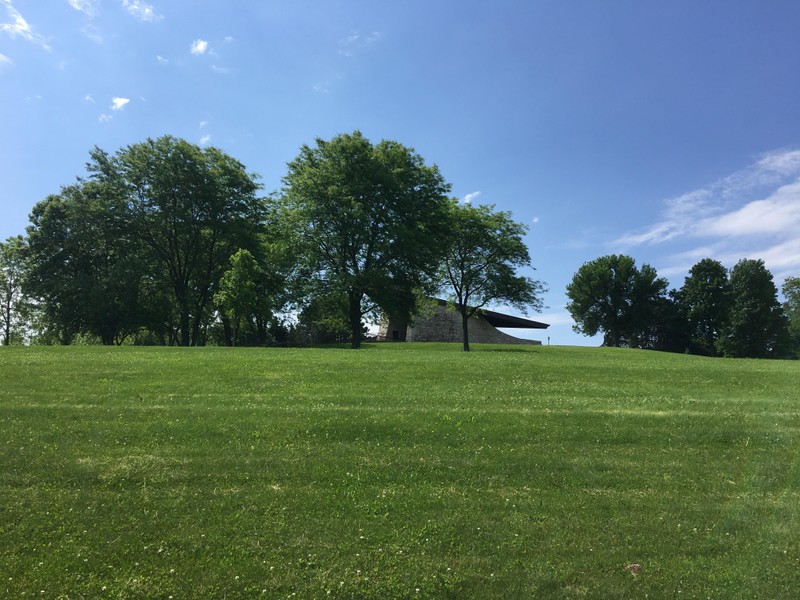 Harrison Garner Park Playground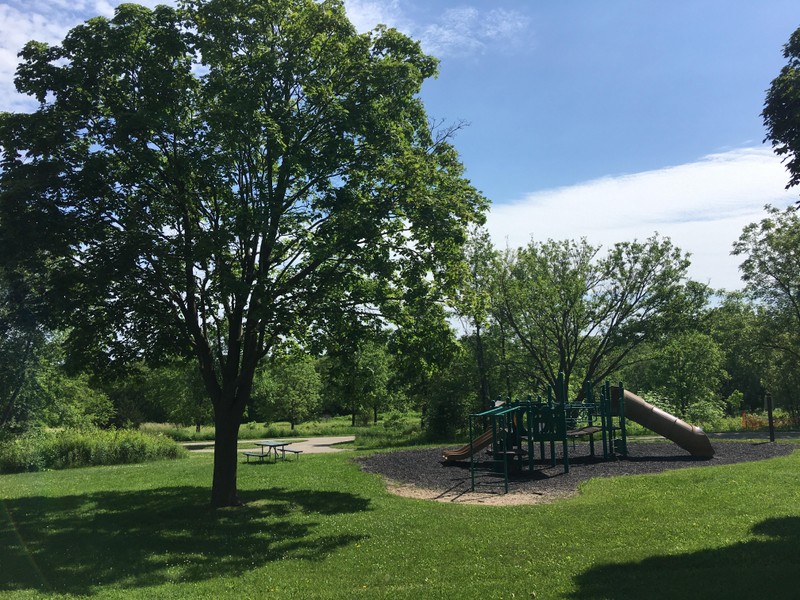 Backstory and Context
Born in 1883, Garner served as a 1st lieutenant in Company G, 1st Wisconsin Infantry Regiment when the National Guard was called into active service during the Mexican Expedition in 1916. He spent nearly a year guarding the border in Texas. Shortly after returning to Wisconsin, he again entered active duty at the start of World War I and rose to the rank of Captain during the conflict. When the United States entered World War II, the nearly 60 year old Garner again answered the call. Staying closer to home, he served as a colonel with the Wisconsin State Selective Service board for almost four years.
Garner's career as a civilian was just as impressive. The Lancaster native moved to Madison in 1903 and helped rescue law books from the Capitol fire in 1904. After graduating from UW-Madison with a degree in civil engineering, he was involved in the savings and loan industry. He served on the boards of numerous financial institutions, as well as Madison General Hospital and the Dane County Humane Society. He was also active as a veteran, helping to found a local American Legion post and serving long periods as marshal of the Memorial Day and Armed Forces Day parades in Madison.  
The City of Madison acquired the land for this park in 1965, the year Garner retired from the city council, and immediately named it after him. Garner helped establish an endowment to provide for youth programs and playground equipment at the park. In 1976, the stunning shelter opened and remains an attraction in the city. 
Sources
"Garner Park." https://www.cityofmadison.com/parks/find-a-park/history.cfm?id=1168. June 6, 2020. 
"Harrison L. Garner Park." https://www.historicmadison.org/Madison's%20Past/connectingwithourpast/garnerpark.html. June 6, 2020. 
 https://www.historicmadison.org/Madison's%20Past/connectingwithourpast/garnerpark.html. June 6, 2020. 
Veterans Service Records. Wisconsin Veterans Museum. 
Image Sources
Pino, Yvette. Harrison Garner Park entrance sign. June 7, 2020, Madison

Pino, Yvette. Harrison Garner Park information sign. June 7, 2020, Madison

Pino, Yvette. Harrison Garner Park Shelter. June 7, 2020, Madison

Pino, Yvette. Harrison Garner Park Plaque. June 7, 2020, Madison

Pino, Yvette. Harrison Garner Park Shelter. June 7, 2020, Madison

Bravener, Jennifer L. Harrison Garner Park. June 6, 2020, Madison

Bravener, Jennifer L. Harrison Garner Park Playground. June 6, 2020, Madison

Additional Information