Fisher House
Introduction
The historic 1892 Fisher House is named after Rev. George McVey Fisher, who was one of Kalispell's prominent figures during the late 18th and early 19th centuries. Fisher was a pioneer Presbyterian minister known for his interest in farming, providing food and shelter to those who needed help including local Indians, and founding a congregation here in Kalispell and five others in Flathead Valley . As for the house itself, it was designed in the Stick/Eastlake style with features of the Queen Anne style as well, such as bay windows. It was added to the National Register of Historic Places in 1994.
Images
The Fisher House was home to pioneer Presbyterian minister, George McVey Fisher, who built the home in 1892.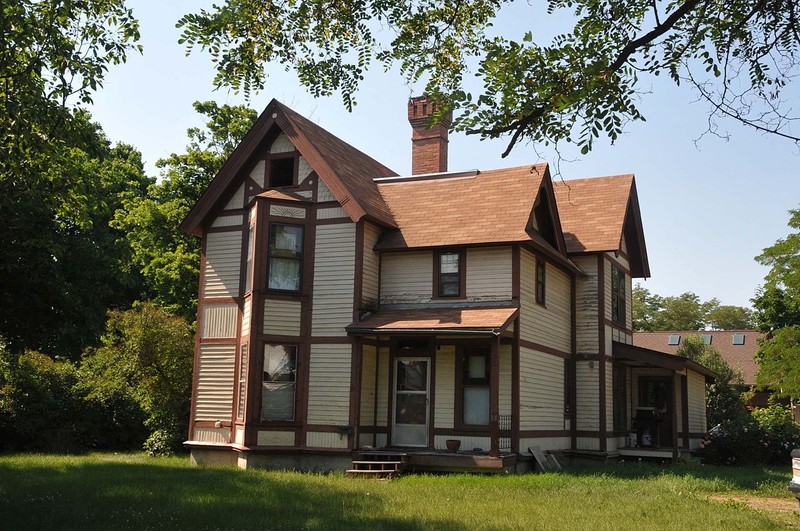 Backstory and Context
Fisher was born in Ohio in 1849 but grew up in Pennsylvania. As a young man, he attended Washington and Jefferson College in 1875 and later from Union Theological Seminary in 1882. He moved to Montana soon after and later married his wife, Mary, in Missoula in 1886. That year he also gave his first sermon in what would become Kalispell. At the time, there were around 700-800 settlers in the area and no church of any kind. Fisher saw an opportunity to do missionary work and he and his family settled in the Flathead Valley in 1887. Fisher also bought a homestead and took up farming.
His church superiors didn't approve of his interest in farming and they refused to support him financially. However, Fisher believed that growing crops and raising livestock was the only way to survive.
Fortunately, in 1891 the Great Northern Railway, which was planning to pass through the area and help establish Kalispell, offered to buy the homestead. Fisher accepted the money and used it to build the house in 1892 and contribute to the construction of the first Presbyterian church in town. He served as pastor of the church until 1900 when returned to farming and missionary work. It was during these years that he established five other churches in the region.
Mary was born in Pennsylvania and worked as a piano and singing teacher. She often accompanied George when he preached, playing the portable organ they had. They also owned the very first piano in the valley.
The Fishers had six children. Some of them lived in the house for a time as adults. Interestingly, during the 1890s a Chinese cook worked for the family, making meals not only for the family but also for guests, local Indians, and weddings that took place at the house. George died in 1934 and Mary in 1937. One of their daughters, Ruth, owned the house until another daughter, Mary, and her husband acquired it in 1941. Mary lived in the house until she died in the late 1980s.
Sources
Chaix, Jaix. "Fisher House." Flathead Beacon. May 12, 2015. https://flatheadbeacon.com/2015/05/12/fisherheller-house.
McKay, Kathy. "Fisher House." National Park Service - National Register of Historic Places Nomination Form. August 25, 1994. https://npgallery.nps.gov/GetAsset/796b8154-aa5b-4e74-ae08-2e6986735bf4.
Image Sources
Wikimedia Commons: https://commons.wikimedia.org/wiki/File:FISHER_HOUSE,_KALISPELL,_FLATHEAD_COUNTY.jpg

Additional Information