Henry Vilas Park/Zoo
Introduction
Vilas Park sits on 63 acres along the shore of Lake Wingra in Madison. In 1905 the project for a park began when William F. Vilas and Anna Vilas donated $18,000 to the Madison Park and Pleasure Drive Association. Overall, Vilas donated $35,000 for the development of the park. Today, visitors can engage in similar activities families and people enjoyed when the park first opened. Vilas , a Civil War veteran, was a prominent and influential lawyer, statesman and philanthropist during the late 19th century.   Henry Vilas Zoo is named after William F. and Anna's son Henry, who died at a young age from diabetes.
Images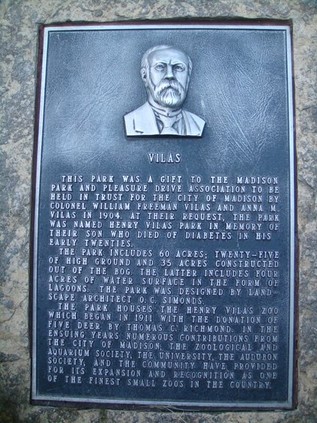 Backstory and Context
Within Vilas Park is the Henry Vilas Zoo, named after William F. and Anna's son Henry, who died at a young age from diabetes. When William and Anna donated the money for Vilas Zoo, the only stipulation was there would be no charge to the public. The official opening of the zoo in 1911 showcased 10 local species including deer, rats, rabbits, an American eagle, and more. The first elephant, Annie, arrived in 1918 and lived until 1948. As the zoo grew, it continued its promise of keeping the zoo free of charge thanks to community outpouring. Today the zoo is one of ten in North America who are free to the public and it includes over 650 animals. Check out Wisconsin's state animal, the badger, when you get the chance. 
William F. Vilas was a prominent figure in the Madison community. He was born in 1840 in Vermont and moved to Madison in 1851. He went to the University of Wisconsin at 13 years old and after graduating in 1858, he moved to New York to study law at Albany Law School. He then returned to Madison as a lawyer, but when the Civil War broke out, he joined the Union cause and became captain of Company A, 23rd regiment of the Wisconsin Volunteer Infantry. In 1863 he was promoted to major and later lieutenant-colonel and led his regiment to victory at the Battle of Vicksburg.  
After the Civil War, he was a Professor of Law at the University of Wisconsin from 1868-1885 while also conducting his duties as a lawyer. Later he was the chairman of the Democratic National Convention in Chicago who helped Grover Cleveland obtain the presidency. Cleveland bequeathed him the title of Postmaster General from 1885-1888. He was then appointed Secretary of the Interior from 1888-1889. Vilas similarly became a politician and served one term as U.S. Senator in 1891. Outside of his professional life, he married Anna M. Fox in 1866 and they had four children, but only two outlived him. He passed away on August 27th, 1908 and is interred at Forest Hill Cemetery.   
Sources
"About Us." Henry Vilas Zoo, 7 Jan. 2020, www.henryvilaszoo.gov/about-us/. 
"Animals: Habitat, Species & Conservation." Henry Villas Zoo, 18 July 2019,  
www.henryvillaszoo.gov/animals/. 
"City of Madison." City of Madison, Wisconsin, www.cityofmadison.com/parks/find-a-park/history.cfm?id=1365. 
 DeFour, Matthew. "Timeline: Vilas Zoo over 100 Years." Madison.com, 3 Apr. 2010, madison.com/timeline-vilas-zoo-over-100-years/article_220a2826-3eac-11df-a3cd-001cc4c03286.html. 
 Madison (Wis.) Board of commerce. Madison, "the Four Lake City," Recreational Survey ... [Madison, Wis.: Tracy & Kilgore, printers, 1915. 
 "Our History: About Us." Henry Vilas Zoo, 1 July 2019, www.henryvilaszoo.gov/about-us/history/. 
 Usher, Ellis B. (Ellis Baker), 1852-1931. Wisconsin, Its Story And Biography 1848-1913. Chicago and New York: The Lewis Publishing Company, 1914. 
Image Sources
Olson, Michael G. Vilas Park Plaque. May 26, 2020, Madison.

Additional Information