Sterling Hall
Introduction
Early in the morning of August 24, 1970, nearly a ton of explosives detonated in a van in front of Sterling Hall on the University of Wisconsin campus. The blast heard 30 miles from Madison, killed one researcher, injured three people, and hurled shrapnel around a three block radius. More than two dozen campus buildings suffered damage. The event succeeded in capturing national attention, but failed in its goal of destroying a U.S. Army research facility.
Images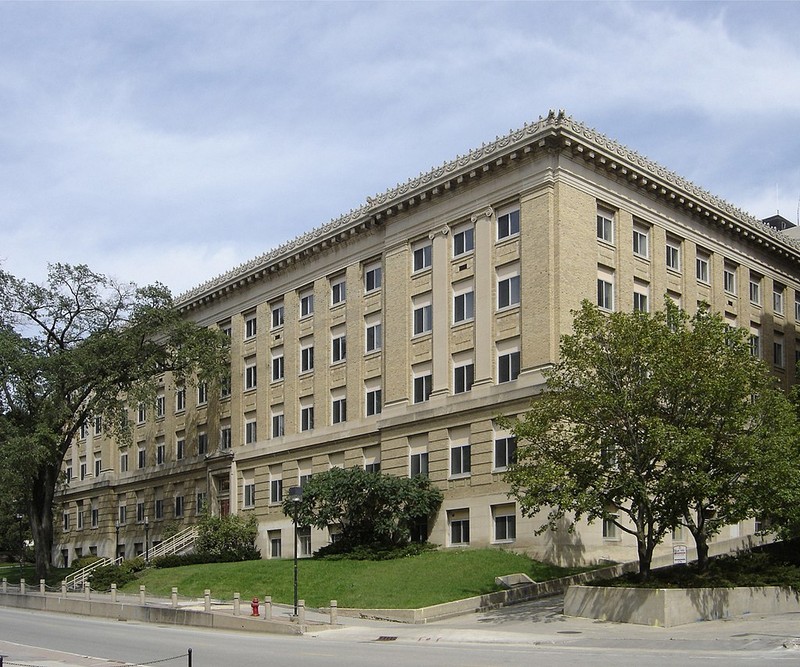 Sterling Hall Historic Marker Plaque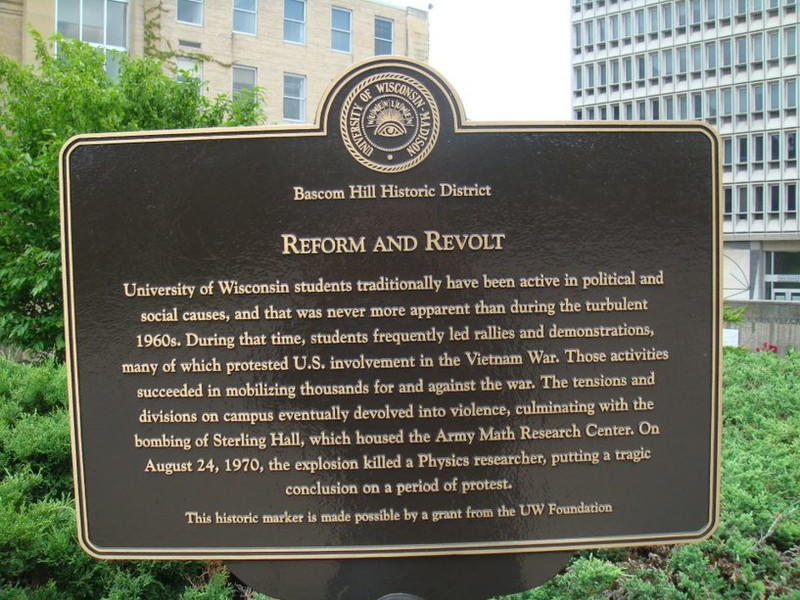 Newspaper clipping printed 10 years after the bombing at Sterling Hall. The image features the wreckage at Sterling Hall, showing two men standing amongst debris, and a car in the front of the image, also filled with debris.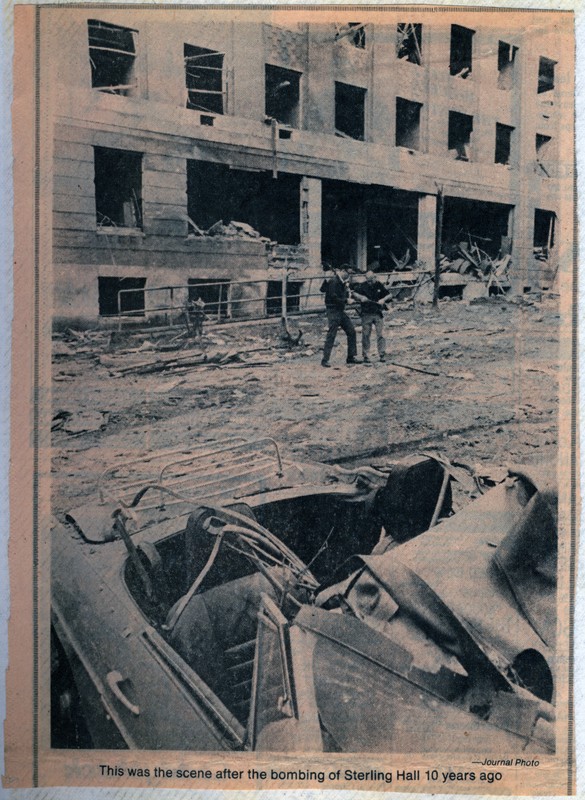 Backstory and Context
Sterling Hall housed the university physics department, as well as the United States Army Mathematics Research Center (AMRC). The AMRC, which performed research for the United States Department of Defense, had previously been the target of demonstrations. Robert Fassnacht, a postdoctoral researcher, was killed in the early morning blast. His research had no connection to the AMRC. Four others — three in Sterling Hall and one across the street at University Hospital — were injured.
The University of Wisconsin campus, site of the Dow Chemical protests in 1967, had an active anti-war culture during the Vietnam War. Students and residents regularly gathered for protests and demonstrations against the involvement of the U.S. military in Vietnam. Three of the four bombers — David Fine and brothers Karl and Dwight Armstrong — eventually served prison time. The fourth, Leo Burt, remains at large. Burt and Fine were UW–Madison students at the time.
Sources
"Archival photos: Remember the UW-Madison Sterling Hall bombing 49 years ago." June 6, 2020. https://madison.com/wsj/news/local/education/university/archival-photos-remembering-the-uw-madison-sterling-hall-bombing-49-years-ago/collection_d122a408-25ed-5ce0-ac97-7de68b69fe23.html 
"Sterling Hall Bombing." June 6, 2020. https://en.wikipedia.org/wiki/Sterling_Hall_bombing 
"Sterling Hall bombing: Seven men linked by a moment in history." June 6, 2020. https://madison.com/wsj/news/local/education/university/sterling-hall-bombing-seven-men-linked-by-a-moment-in-history/article_6817a970-a981-11df-9407-001cc4c03286.html 
"When bomb tore through Sterling Hall 50 years ago, he was inside: 'I still have flashbacks.'" February 9, 2021 https://news.wisc.edu/when-bomb-tore-through-sterling-hall-he-was-inside-i-still-have-flashbacks/
Image Sources
JabberWok at the English-language Wikipedia, CC BY-SA 3.0 <http://creativecommons.org/licenses/by-sa/3.0/>, via Wikimedia Commons

Olson, Michael G. Sterling Hall Historic Marker Plaque May 26, 2020, Madison.

James J. Kasparek, Mss2003.173. Wisconsin Veterans Museum (Madison, Wis).

Additional Information