Ferguson House
Introduction
Named after its builder and first owner, Frederick Ferguson, this historic home is a well-preserved example of a typical railroad worker house in Kalispell from the late 19th and early 20th centuries. Ferguson worked for the Great Northern Railway and built the house around 1897. The house is designed in the Queen Anne style and Ferguson likely chose the design from a pattern book. Notable Queen Anne details of the house include a large porch with turned porch supports and a front gable end with a small arched window and decorative wood shingles.
Images
The Ferguson House was built around 1897 and is a fine example of Queen Anne architecture.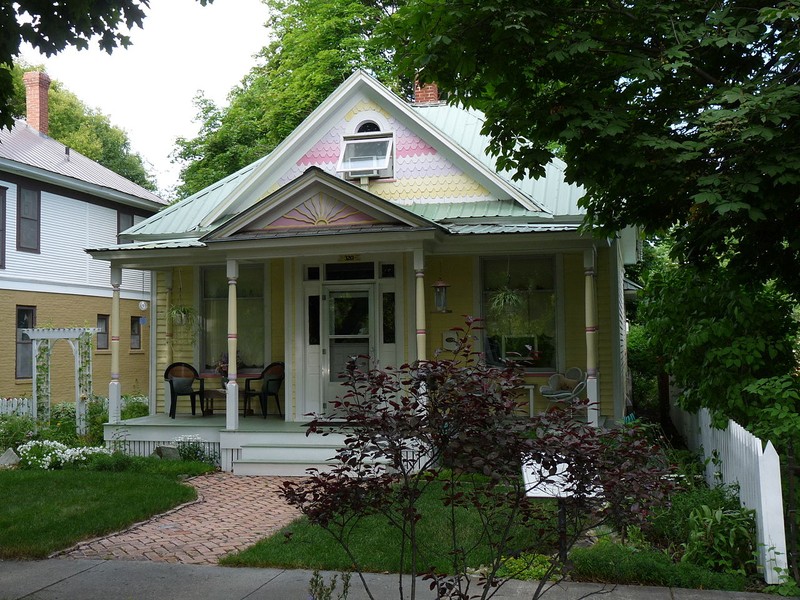 Backstory and Context
Ferguson, who was born in England in 1844, worked as a boilermaker for the Great Northern Railway. He immigrated to America with his wife, Esther, in 1875 and they settled in Chicago. It is not clear when Ferguson began to work for Great Northern but he and Esther eventually made their way to Kalispell in 1891 after the company made the town a new division point for its main line. In 1904, Great Northern relocated the division point to Whitefish and the Fergusons moved there as a result. 
However, instead of selling the house, Ferguson retained ownership and rented it. A number of interesting tenants lived here in the coming years including Civil War veteran Captain James D. Eaton, who occupied the house from 1905-1910. Eaton worked as a brickmason and sold farm equipment. He is notable for organizing Company H of the Montana National Guard, which served during the Spanish-American War in the Philippines. Eaton also held the prominent position of Inspector General of Montana. Tenants continued to rent the house for some time and it remained the in Ferguson family until 1971. It is not clear whether it is currently rented or a private home.
Sources
Chaix, J.C. "Ferguson House." Flathead Beacon. March 15, 2013. https://flatheadbeacon.com/2013/03/15/ferguson-house.
"Ferguson House." Montana Historical Society. Accessed May 21, 2020. http://digitalvault.mhs.mt.gov/items/show/20295.
McKay, Kathy. "Ferguson House." National Park Service - National Register of Historic Places Nomination Form. August 24, 1994. https://npgallery.nps.gov/GetAsset/468da58f-bc4b-48d0-b5fb-f1bf16447937.
Image Sources
Wikimedia Commons: https://commons.wikimedia.org/wiki/File:Ferguson_House_Kalispell.jpg

Additional Information