I. J. Bailey Home
Introduction
This home, built in 1906 by Isaac and Helen Bailey, is a 1 ½ story American foursquare style with a full basement. It has been owned by Kasey Koski and Zeb Postelwait since 2013. I. J. Bailey was a prominent citizen in early Wenatchee History. He built the first bridge across the Wenatchee River replacing the earlier cable ferry. He was an investor in some of the early steamboats to ply the waters of the Columbia, the Squilchuck irrigation system, and he engineered and built many buildings in Wenatchee and throughout the region.
Images
Second bridge made of wood and steel over the Wenatchee River near its confluence with the Columbia. Built by I. J. Bailey who built many bridges in his career.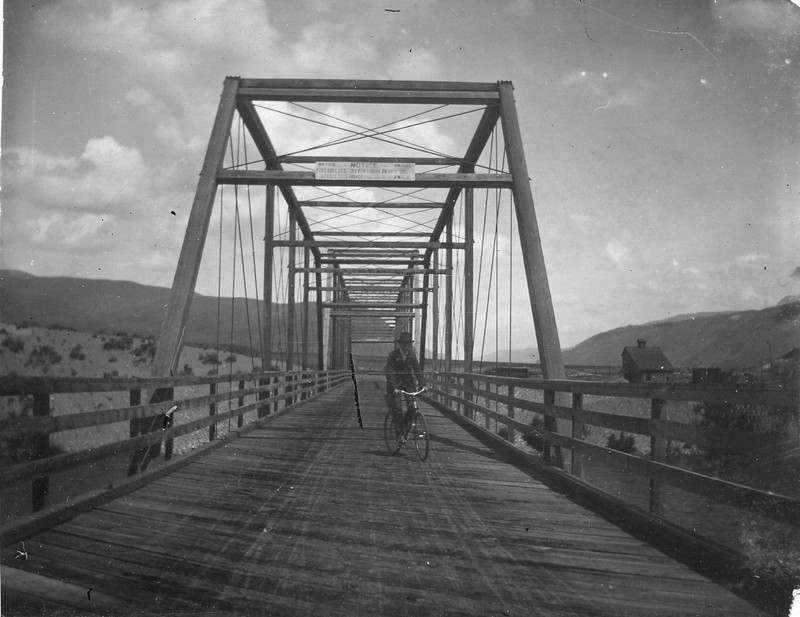 The current facade of the I. J. Bailey home.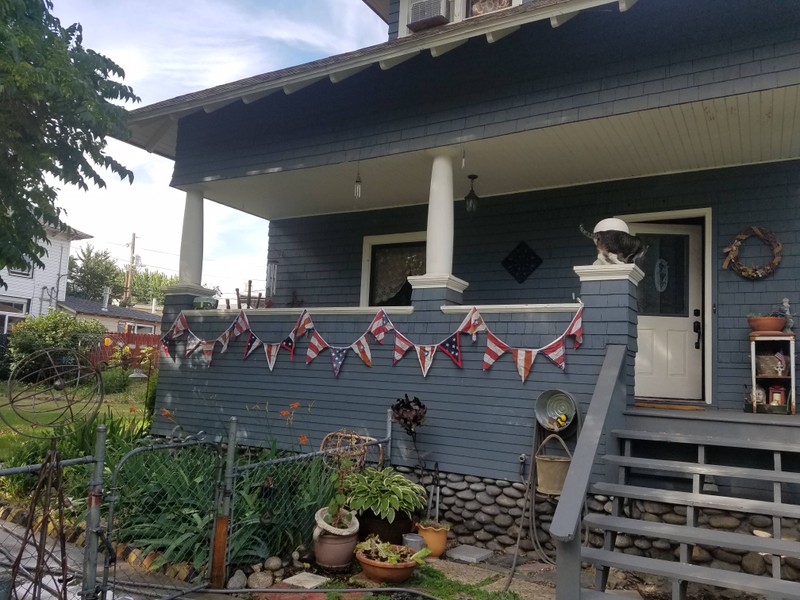 Backstory and Context
I.J. Bailey's contributions to the City of Wenatchee and the Inland Northwest are extensive. He was born in New Jersey in 1860 and relocated with his parents gradually across the United States. He arrived in Wenatchee around 1892 having already experienced owning a stage line as well as discovering his knack for building trades. Upon his arrival, he invested as co-owner in the steamers "The Irish World" and "North Star". He also invested in the Squilchuck irrigation system, a cable ferry across the Columbia. His first timber bridge across the Wenatchee River was washed out by high water in 1894, but Bailey was not defeated. His second bridge at this location, made of timber and steel, burned. Bailey, throughout the course of his career, built 9 bridges spanning the Wenatchee River and a variety of others throughout the region for the Great Northern Railroad.
Helen Parrish – Bailey had moved with her parents from Ellensberg to Wenatchee in 1889. They settled in Brown's Flat (Monitor) and raised cattle and fruit. Helen was one of 9 children born to George and Louise Parrish. Only 7 of their children survived to adulthood. Helen was an industrious young woman who used her sewing skills to contribute to her family's income after the hard winter of 1889-90 that killed much of their cattle. 
Helen and Isaac were married on June 1, 1894. After marrying, Helen became involved in several ladies clubs and found she loved to entertain. After building the home at 232 Pennsylvania Avenue in the Nob Hill neighborhood of Wenatchee, she had a home worthy of hosting gatherings for their friends. She also hosted numerous gatherings for her ladies clubs, including Presbyterian Church, Kensington Club or Tourist Club. She was also active in local theater. Helen enjoyed hosting family in her home as well, possibly keeping her company while Isaac was on construction sites throughout the region.  Helen was tasked more than once with care taking of members of her family while they were ill.
Helen and Isaac had one child. Ruth Bailey was born July 8, 1896. She lived out most of her life in Seattle, having two children of her own.
The house itself features a full width one story front porch with three Tuscan columns for support. The columns are unique in that the abacus is missing from the column structure and the echinus is attached directly to the porch ceiling. The fourth post on the porch is topped with a large decorative ball finial instead of a column. The house has horizontal wood lap siding around the base and shingles above. The porch ceiling and eaves are bead board. The front window and door have been replaced but the remaining windows on the main floor are double hung and feature a unique triangle pane pattern. The interior features original wood floors and trim throughout. The foundation is the original local stone with a full basement. 
Sources
Polk Directories. Wenatchee, WA. 1907-2006.
Hull, Lindley M.. A History of Central Washington - History of the Famous Wenatchee, Entiat, Chelan and Columbia Valleys. Shaw & Borden Company, 1929.
Rader, Chris. Isaac J. Bailey's Bridges Connected Communities. The Confluence. March 1st 2018. 3 - 6.
Image Sources
Wenatchee Valley Museum & Cultural Center #85-0-87

Collection of the home owner

Additional Information