Big Bone Lick State Historic Park
Introduction
Author-Uploaded Audio
Created as a state park in 1953, Big Bone Lick combines a historic site and museum with campgrounds and trails in addition to the opportunity to see live bison herd. The museum features exhibits on archeological finds and local Native American history and is free to visitors. Prior to the discovery of prehistoric remains at Big Bone Lick by French military explorers in 1739, the local Shawnee had known that the site had the remains of many ancient species. Many notable early Americans visited and found artifacts from Big Bone Lick including Daniel Boone, Meriwether Lewis, William Clark, and William Henry Harrison. Others like George Washington, Thomas Jefferson, and Ben Franklin purchased or were gifted these artifacts from explorers and built their own collections.
Images
Visitor Center & Museum at Big Bone Lick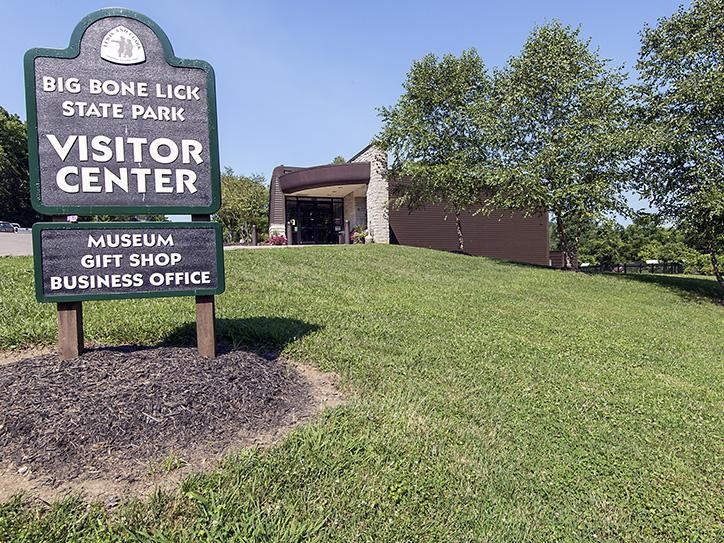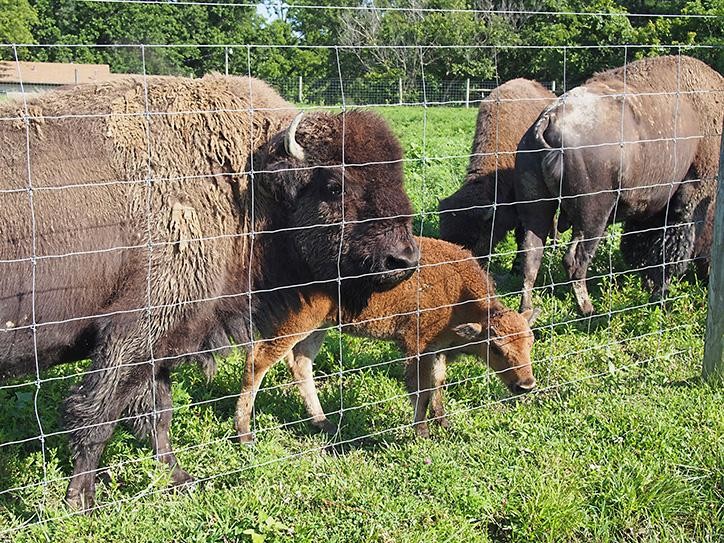 Men holding bones recovered at Big Bone Lick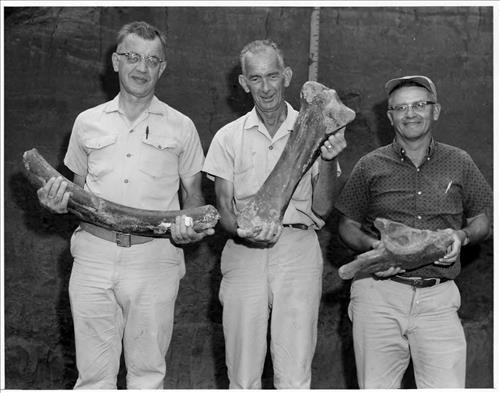 Backstory and Context
Author-Uploaded Audio
Big Bone Lick became a Kentucky State Historic Site in 1960. Prior to this time the site was a popular place for paleontological researchers, archeologists, and amateur collectors to search for animal remains. Until coming under the state's protection as a state park, the site was largely unmonitored, and digs were done with little to no oversight. This disorganization means that few detailed records of finds and excavations were kept to guide future researchers.
The first known European explorers to find artifacts at Big Bone Lick arrived in 1739. The French military group led by Captain Charles Lemoyne de Longuiel reported finding fossils along the Ohio River. De Longuiel's account led explorers in later years to venture to the site. As stories of finds spread and artifacts were viewed by European collectors, the site gained a reputation of being an incredible source historical and scientific artifacts. Colonel George Croghan led the first two major digs at the site in 1765 and 1766. The remains found by Croghan were sent to scientists in Great Britain and to Benjamin Franklin to be studied. Other major expeditions were led by future president William Henry Harrison (1795) and Meriwether Lewis and William Clark who were sponsored by President Thomas Jefferson (1807). The site was also notably visited by early settler Mary Ingles after Ingles was captured by Shawnee in 1756.
The park gets it name both from the bones of a large mastodon found on the site in 1799 and the salt industry which grew in the region from 1756 to 1812. The area also had a large salt lick which contributed to its name. The salt lick, nearby springs, and potential for finding fossils and bones made the area a popular destination for tourists. In 1812 the first hotel was built on site known alternately as Clay House or the Henry Clay Hotel and bathhouses were built in the following years. For nearly 40 years Big Bone Lick was popular as a health resort. The resort faced declining tourist interest as the springs began to dry up.
The Commonwealth of Kentucky took over Big Bone Lick and some of the surrounding land which included many early homesteads in 1960 after purchasing the site from the Big Bone Lick Historical Society. The society had been formed with the express intention of making Big Bone Lick a state park in 1953. The group purchased land in during the seven year period that they lobbied for park status.
Today the park is home to a herd of bison. Though bison were once common in the region, they were hunted to the brink of extinction by the 1800s and wild herds were no longer found in the area. Bison were reintroduced at Big Bone Lick in 1992. Visitors can see the bison from walking paths along a fenced in area where the bison roam. In addition to seeing bison, visitors to the park can stay at campgrounds, explore trails, and visit the museum. The museum has exhibits on archaeological finds and local Native American history featuring items found at Big Bone Lick and is free to visitors.
Sources
Big Bone Lick, National Park Service. Accessed May 21st 2020. https://www.nps.gov/places/big-bone-lick.htm.
Big Bone Lick State Historic Site, Kentucky State Parks. Accessed May 21st 2020. https://parks.ky.gov/union/parks/historic/big-bone-lick-state-historic-site.
Big Bone Lick State Historic Site, Kentucky Tourism. Accessed May 21st 2020. https://www.kentuckytourism.com/big-bone-lick-state-historic-site/.
Boone County Historic Preservation Review Board. Big Bone Lick State Park (Boundary Expansion), National Register of Historic Places. July 5th 2002. Accessed May 21st 2020. https://npgallery.nps.gov/GetAsset/fa5f134d-121d-4301-8d92-db6b65ec7acd.
Sues, Hans-Dieter. The Story of Charles Willson Peale's Massive Mastodon, Smithsonian Magazine. May 6th 2020. Accessed May 21st 2020. https://www.smithsonianmag.com/smithsonian-institution/story-charles-willson-peales-massive-mastodon-180974384/.
Tenkotte, Paul A.. Our Rich History: The story behind Big Bone Lick's 'Big Bone Heist' by con artist Thomas Ashe, Northern Kentucky Tribune. December 11th 2017. Accessed May 21st 2020. https://www.nkytribune.com/2017/12/our-rich-history-the-story-behind-big-bone-licks-big-bone-heist-by-con-artist-thomas-ashe/.
Image Sources
https://parks.ky.gov/union/parks/historic/big-bone-lick-state-historic-site

https://parks.ky.gov/union/parks/historic/big-bone-lick-state-historic-site

https://npgallery.nps.gov/NRHP/AssetDetail/2c6ded52-5a89-4160-8f8b-5cc510bfd9a4

Additional Information