Lovers Oak
Introduction
The Lovers Oak is a recreation of the famed tree shaped by the 1876 Columbia River flood when a slender oak sapling was forced over one log and under another, maturing into the shape of the letter "S" lying on its side. Originally located north of this location near the Troutdale Airport, the lowest curve of the tree formed a perfect bench where friends and lovers met on pleasant Sunday afternoons. Local residents came to call it the Lovers Oak. A windstorm in 1962 toppled the tree estimated to be over 86 years old. This recreated Lover's Oak is made with a concrete link to a live oak and was placed at this site in 2018 by artists from Crete, Inc of Wisconsin. The art, commissioned by the Troutdale Historical Society, was installed in the spring of 2018 in Harlow Park between the Fred E. Harlow House Museum and the Barn Exhibit Hall.
Images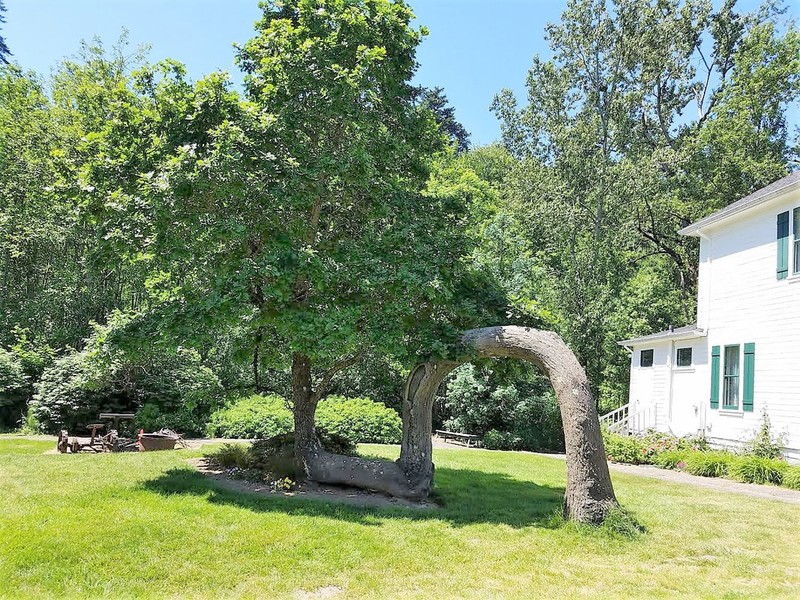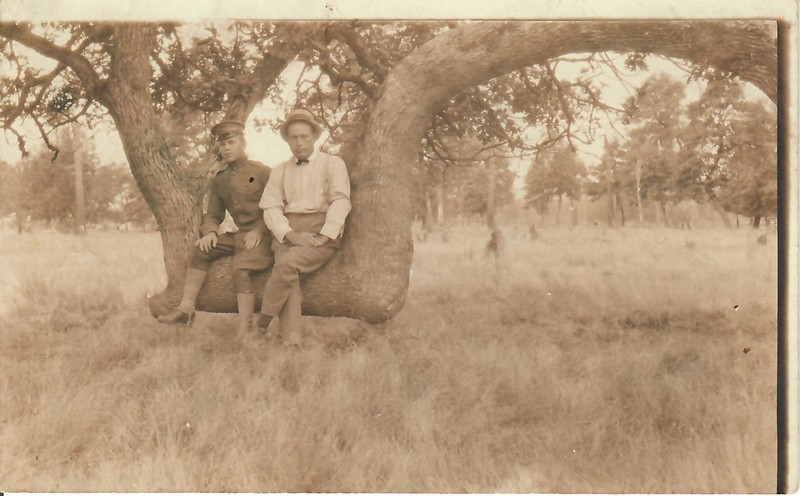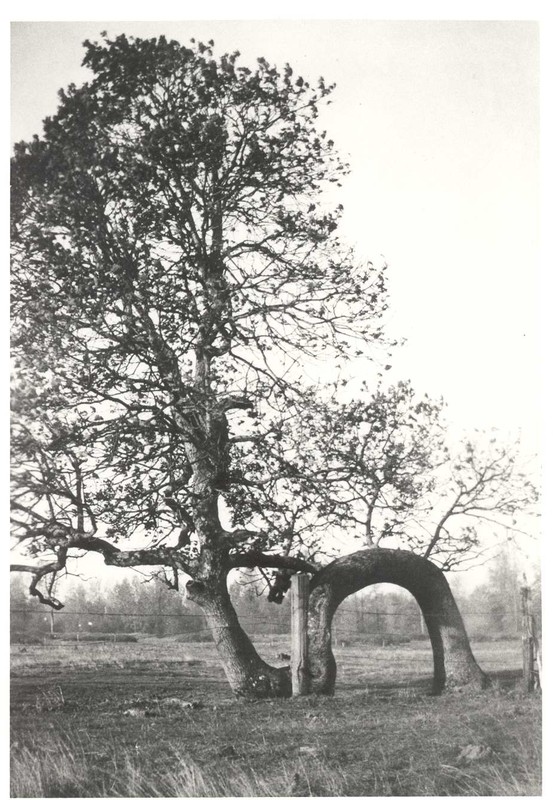 Backstory and Context
When the 1876 Columbia River flood occurred, Captain James Menzies owned Sundial Ranch, 1200 acres at the confluence of the Columbia and Sandy Rivers. It encompassed the area that is now the Troutdale Reynolds Industrial Park (location of Troutdale Airport, FedEx and Amazon Distribution-Fulfillment Center). Trees felled to clear the land littered the ground. When water levels rose the logs became buoyant, coming to ground on and against the oak sapling shaping it into the letter S on its side.
In 1889 the land was sold and the remaining timbered harvested, excepting Lovers Oak. It stood alone in a field and became the rendezvous point for many local residents. Some became engaged at this tree, others spent hot summer days under its shaded protection. It had several names over the years: Praying Tree, Centennial Praying Oak, Lovers Seat, Camelback Tree, Arch Oak, Arch Tree, and Lovers Oak.
The Aluminum Company of America (ALCOA, later Reynolds Aluminum Plant) purchased the land in the 1940s to produce aluminum for the war effort. After a public outcry, ALCOA agreed to fence and protect the tree. The area was off limits to the general public. The publicity brought the tree to the attention of Ripley's Believe it or Not, a nationally syndicated cartoon featuring unusual items throughout the world.
After the war, the tree was forgotten by most and, with the advent of prosperity and more cars, was no longer a Sunday afternoon destination. It fell in the Columbus Day windstorm of 1962, but is remembered in the logo of the Troutdale Historical Society.
Sources
Troutdale Historical Society
Our Logo - Lovers Oak, troutdalehistory.org. Accessed February 23rd 2021. https://www.troutdalehistory.org/about-us.
Nesbit, Sharon. It Could Have Been Carpdale. Pediment Publishing. 2007
Image Sources
https://www.troutdalehistory.org/about-us.html

Troutdale Historical Society

Troutdale Historical Society

Additional Information