Hoyt Block
Introduction
This downtown Cleveland structure known as the Hoyt Block opened in 1875 in the heart of the city's commercial district. The building was constructed for the prominent lawyer and real estate investor James Madison Hoyt and his son, Colgate. The building stands as the city's only surviving example of an upscale commercial, stone-block building that was constructed in the High Victorian Italianate style.
Images
2010 Photo of Hoyt Block in Cleveland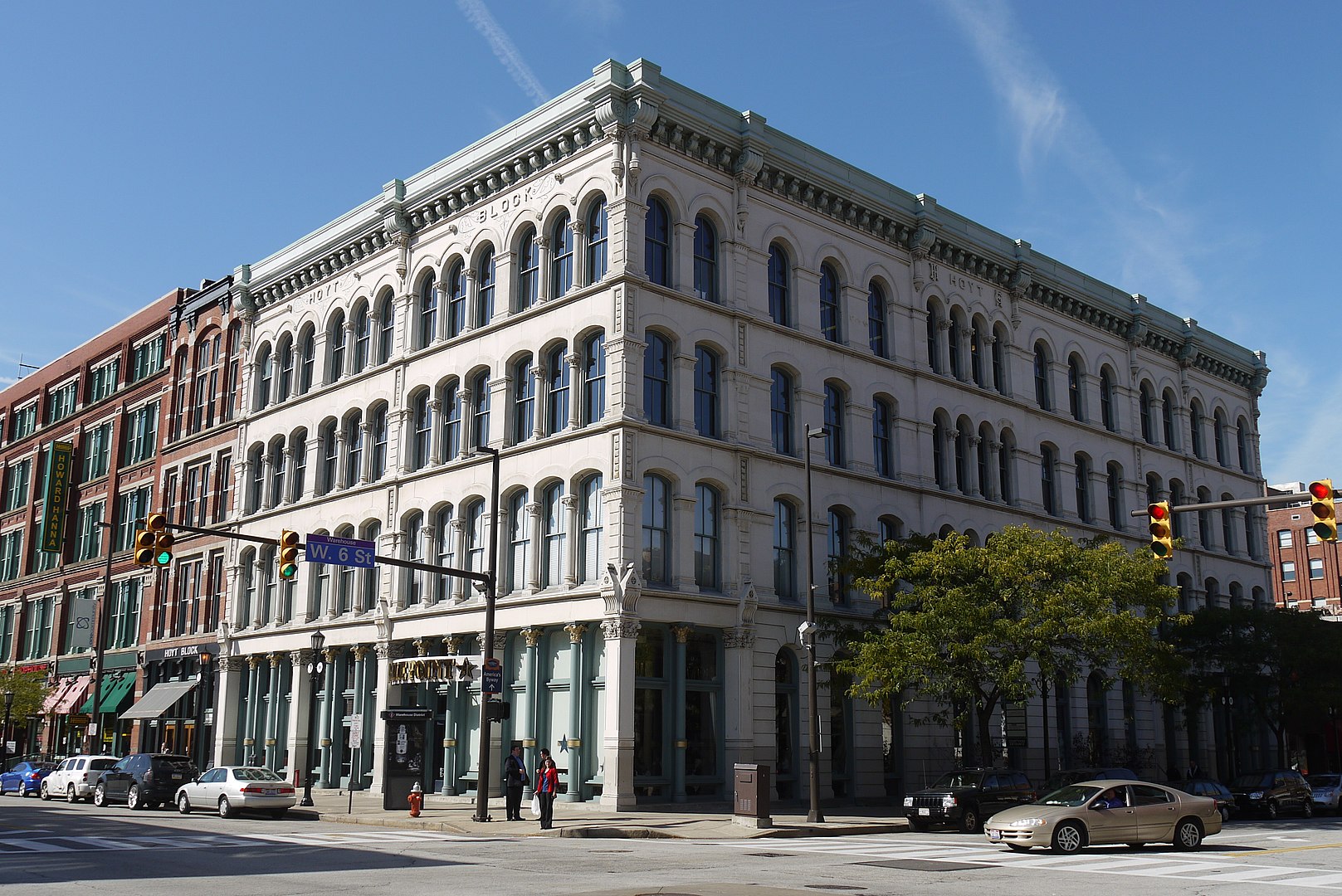 Backstory and Context
Prominent lawyer and real estate dealer, James Madison Hoyt funded the construction of the Hoyt Block which was completed in 1875. The building stands as the only surviving example of an upscale commercial stone-block in the High Victorian Italianate style located in the 1870s central business district of Cleveland.
James M. Hoyt (1815-1895) gained fame in Cleveland as a successful lawyer and real-estate developer. He passed the bar in 1837 and worked as a lawyer until 1853 when he transitioned to real estate. Hoyt developed entire neighborhoods by purchasing expansive tracts of lands and separating them into lots; he subdivided and sold almost 1,000 acres of city and suburban land. As a result, he named more than 100 streets in the Cleveland area. A known advocate for helping the poor, he won an election in 1870 to serve on the State Board of Equalization. Three years later, in 1873, he was appointed to the Cleveland Board of Public Improvement. He was also one of the founders of the Cleveland Female Seminary. He, along with his son Colgate, served as principal owners of the Hoyt Block. They hired the preeminent father-in-law and son architectural team of Charles. W. Heard and Walter Blythe to design the structure. 
The Hoyt Block has cast-iron columns capped with carved stone capitals visible at street level in addition to the stone block exterior and arched windows. The building also offered its visitors one of the first hydraulic elevators in Cleveland. When it opened, it functioned as a multi-purpose building that was home to professionals, retailers, lawyers, and much more within what is now the city's historic Warehouse District. 
Sources
Editorial Staff, State History Publications, LLC. Dictionary of Ohio Historic Places. St. Claire Shores, MI: Somerset Publishers, 1999.
Encyclopedia of Cleveland History. "Hoyt, James Madison." Case Western Reserve University. case.edu. Accessed May 19, 2020. https://case.edu/ech/articles/h/hoyt-james-madison
National Parks Service. "Cleveland Warehouse District." A National Register of Historic Places Travel Itinerary: Ohio and Erie Canal National Heritage Corridor. nps.gov. Accessed May 12, 2020. https://www.nps.gov/nr/travel/ohioeriecanal/cle.htm
Image Sources
By Eli Pousson - originally posted to Flickr as Commercial Building, Downtown Cleveland, CC BY-SA 2.0, https://commons.wikimedia.org/w/index.php?curid=11786074

Additional Information