Old Main Building at Macalester College
Introduction
The Old Main Building of Macalester College opened in 1888. The college history dates back to 1874 (classes began in 1885), but ostensibly grew from a prep school named Baldwin School, which opened in 1853. The principal visionary for the Baldwin School, and whom served as the first president of Macalester College, was Rev. Dr. Edward Duffield Neill. In addition to his sties to the college, he helped the Twin Cities grow, served as Civil War chaplain, worked in the White House for three U.S. Presidents, and worked as an educator, and author.
Images
Old Main, Macalester College (Photo taken in 2008).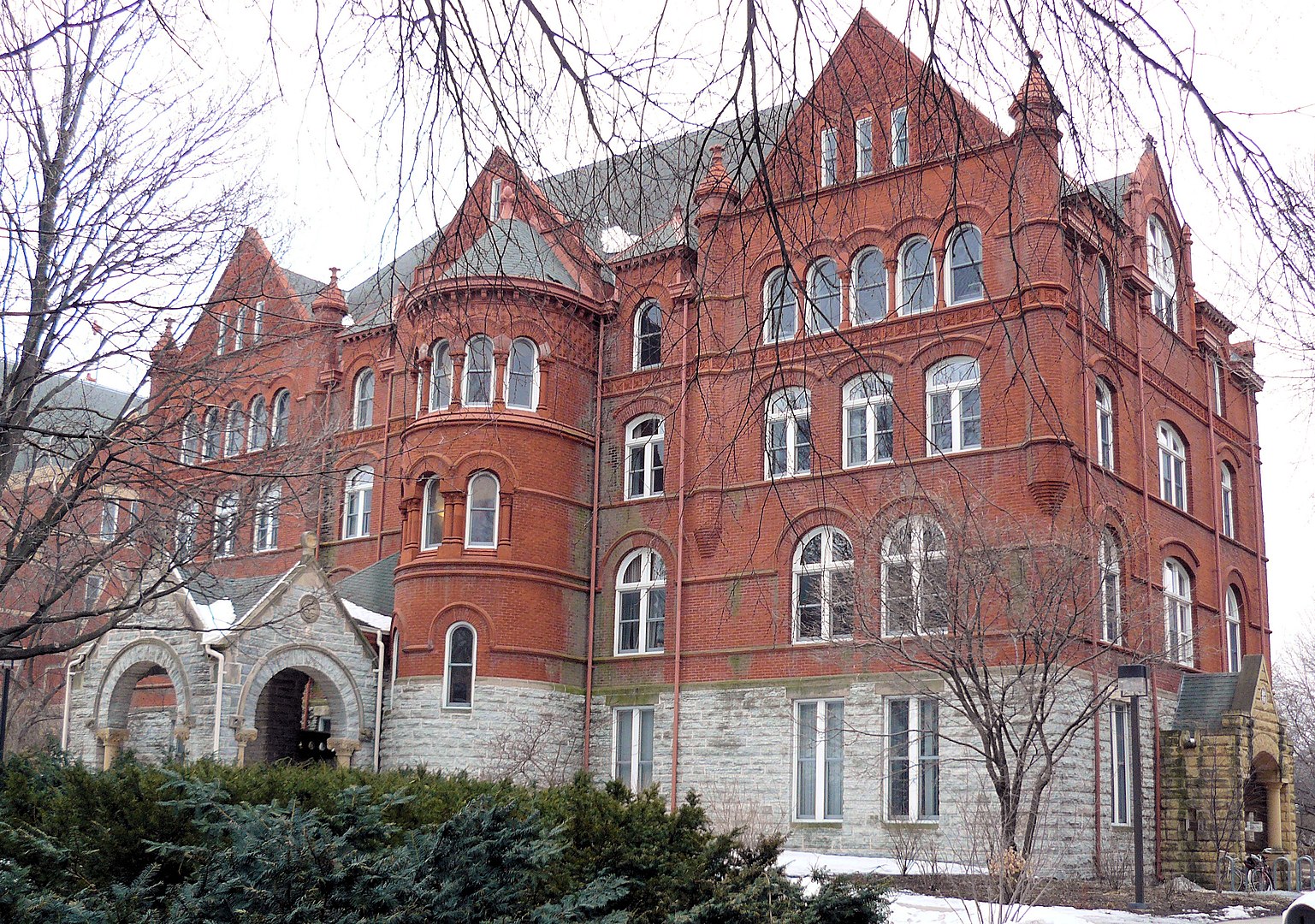 Backstory and Context
Old Main is the oldest remaining building associated with the almost 170-year-history of Macalester College. The college got its start in 1885, but its history dates back to 1853 as a prep school called Baldwin School. Rev. Dr. Edward Duffield Neill, a Civil War chaplain, U.S. Presidential Secretary, educator, and author, had founded Baldwin School with the assistance of the Presbyterian Church. After leaving the war and working for three U.S. Presidents, he returned to Minnesota and received a charter to develop a college along with M.W. Baldwin. By 1885, aided in large part by a donation by the college's namesake, Charles Macalester, the new college opened; Old Main opened three years later in 1888. 
Edward traveled to Minnesota Territory in 1849 and quickly became involved in politics and the local social life. He founded two local churches, was appointed the first Chancellor of the University of Minnesota, and later became Minnesota's first superintendent of public education. He left the University of Minnesota intending to build a religious school that enjoyed a connection to the Presbyterian Church but would also serve Christians from other denominations. Neill, along with the school's namesake, Mr. M. W. Baldwin, opened the Baldwin School, a secondary (pre) school, in 1853. 
Neill left during the 1860s to serve in the Civil War as a Chaplain. Before the war ended, in 1864, President Abraham Lincoln hired him as his private secretary, a position he also heled under Presidents Andrew Johnson and Ulysses S. Grant. While Neill was away, Baldwin spoke with Neill and stated his desire to create a college. Neill returned to Minnesota in 1870 and by 1874 had received a charter to found a college, which he served as its president. However, the development of the college mostly fell to Baldwin.
Initial plans involved the formation of Baldwin University, which would have included both the Baldwin (prep) School and the College of St. Paul. But, Baldwin died during the planning, and he did not leave a provision for the project in his will. Charles Macalester, a prominent entrepreneur and philanthropist from Philadelphia, came to the rescue. He rented out his Winslow House (hotel) to the College of Saint Paul for one hundred dollars per month, a stop-gap measure that allowed the newly formed college to regain its financial footing. 
Construction began on Old Main building in 1884, although it would not be finished until 1888. Regardless, in 1885, Macalester had formed a board of trustees, and the college opened. Fifty-two prep students, six freshmen, and five teachers met in the Winslow House hotel rented out by Charles Macalester. In his will, Mr. Macalester bequeathed the Winslow House to the College of Saint Paul, stipulating that it be used solely for educational purposes. The founders took no time in naming the college after Macalester. 
To see the Old Main Building is to see evidence of a time when Baldwin School slowly transitioned to a University with the immense help of Charles Macalester. But, the college would not have existed if not for M.W. Baldwin and, most importantly, Rev. Dr. Edward Duffield Neill, who not only worked in the White House but proved integral in the development of the Twin Cities, including the college. 
Sources
"Humanities building to be renamed Neill Hall: Founder, first President recognized on campus." The Mac Weekly (St. Paul). October 11, 2013. https://themacweekly.com/65698/news/humanities-building-to-be-renamed-neill-hall-founder-first-president-recognized-on-campus/.
"Macalester's History." Macalester College. macalester.edu. Accessed May 15, 2020. https://www.macalester.edu/about/mission/history/
Spaeth, Lynne Van Brocklin. "Nomination Form: Old Main — Macalester College." National Register of Historic Places. nps.gov. August 16, 1977. https://npgallery.nps.gov/GetAsset/acb3c05e-50de-4a65-bbfb-a3ce3eed3136
"Way Back at Mac: Prehistory." The Mac Weekly (St. Paul) February 19th 2016. https://themacweekly.com/70166/features/way-back-at-mac-prehistory/.
Image Sources
By Appraiser - self-made Photo by William Wesen, CC BY-SA 4.0, https://commons.wikimedia.org/w/index.php?curid=3745409

Additional Information