Gilmer Heitman House
Introduction
The Gilmer Heitman House is one of the largest homes built in Fort Myers in the early 20th century. Named after prominent businessman Gilmer Heitman (1881-1960), who built the house in 1908, it is listed on the National Register of Historic Places for its association with Heitman and its architecture. Heitman served in a number of roles, including as president and director of a bank, that contributed to the economic development of Fort Myers. The fourteen-room house is a fine example of the Queen Anne style. It features a wraparound porch with paired Ionic columns that encircles most of the first floor, a rounded southeast corner, and decorative interior woodwork. The house today operates as a wedding venue.
Images
The Gilmer Heitman House was built in 1908 and is an excellent example of Queen Anne architecture.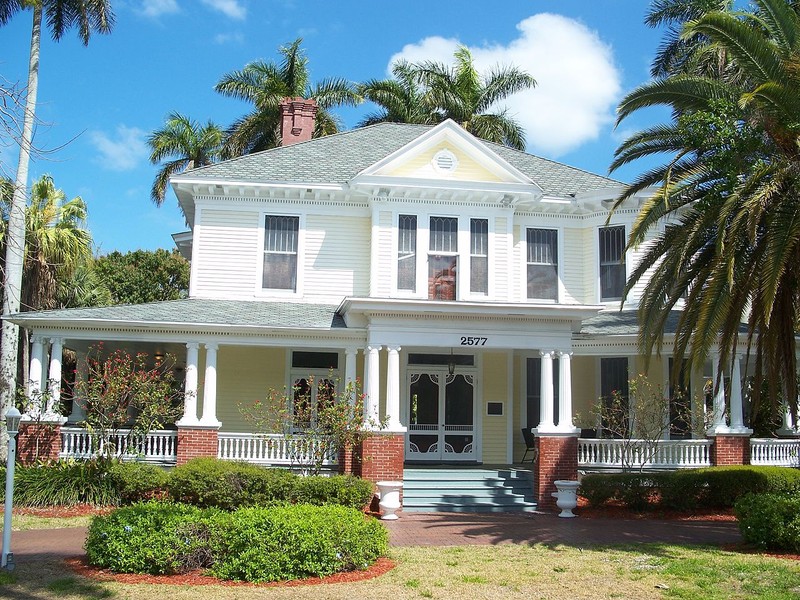 Backstory and Context
Gilmer Heitman grew up in Lexington, North Carolina. He moved to Fort Myers in 1896 to work with his older brother, Harvie, who had opened a general store there in 1895. Heitman also established a citrus grove that he eventually sold. He used the money from the sale to build the county's first telephone service in January 1900, which also included erecting a commercial building to house the telephone exchange. Heitman next enrolled in a college in Atlanta to study business.
He came back to Fort Myers where he continued his business activities. These include founding the Mutual Realty Company and Home Insurance Company, developing subdivisions between Fort Myers and Tice, developing the town of Bonita Springs (and building the Bonita Hotel), and serving as president and director of the Bank of Fort Myers. In the 1930s and 1940s, Heitman served in a number of roles including as director of Lee County Bank, director of the Lee County Chamber of Commerce, president of the Caloosa Grove Improvement Company, and president of the West Coast Land Company.
In 1908, he married Nina Travers, the sister of a close friend, Mark Travers. Unlike some of the other wealthy individuals who lived in Fort Myers, including Frank Alderman (whose house is across the street) and inventor Thomas Edison, the Heitmans lived a rather quiet life and did not often host large gatherings at the house. They had two children, Gilmer Jr. and Dorothy. The family often took trips together, including one to Europe. Gilmer Jr. and his family moved into the house after his father died in 1960. It remained in the family until 1993. It was restored in 2001 and sold to the current owners in 2002, who opened it as a wedding venue in 2014.
Sources
Hartig, Victoria & Piland, Sherry. "Heitman, Gilmer, House." National Park Service - National Register of Historic Places Nomination Form. September 27, 1996. https://npgallery.nps.gov/GetAsset/7e797f98-bbca-4123-8d89-27669f492b76.
Hogan, Dick. "Historic Heitman House isn't for sale." The News-Press. September 29, 2014. https://www.news-press.com/story/money/2014/09/29/historic-heitman-house-really-sale-owner/16460065.
Image Sources
Wikimedia Commons: https://commons.wikimedia.org/wiki/Category:Gilmer_Heitman_House

Additional Information