Crocker Field, athletic field
Introduction
This athletic field with its stands and buildings was designed by landscape designers Frederick Law Olmsted and Sons. It opened in 1918 for use by the Fitchburg High School teams. It is home to one of the longest football rivalries in America, the Fitchburg vs. Leominster Thanksgiving Day game. The annual game is a vital holiday tradition in the Twin Cities and served as an important introduction to American culture via football for many of Fitchburg's first generation immigrant families.
Images
Track and view, Crocker Field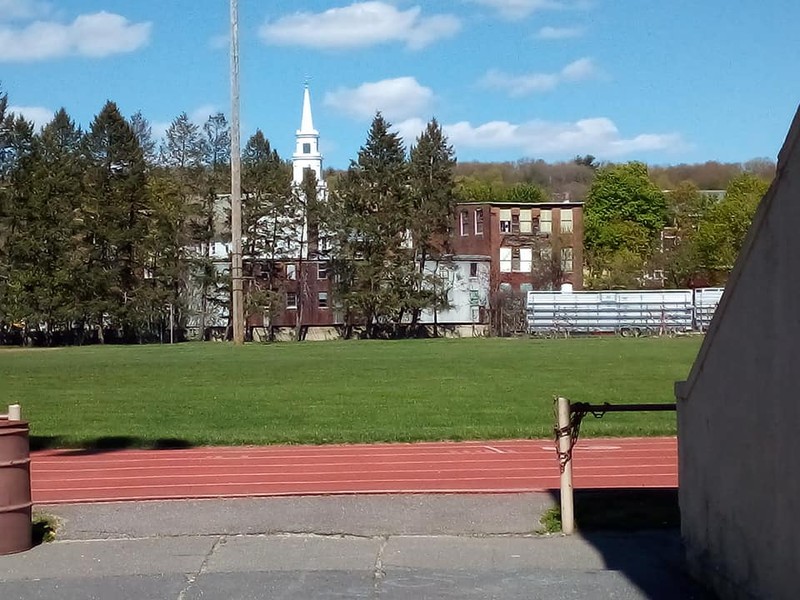 Close up of Crocker Field gate, 2020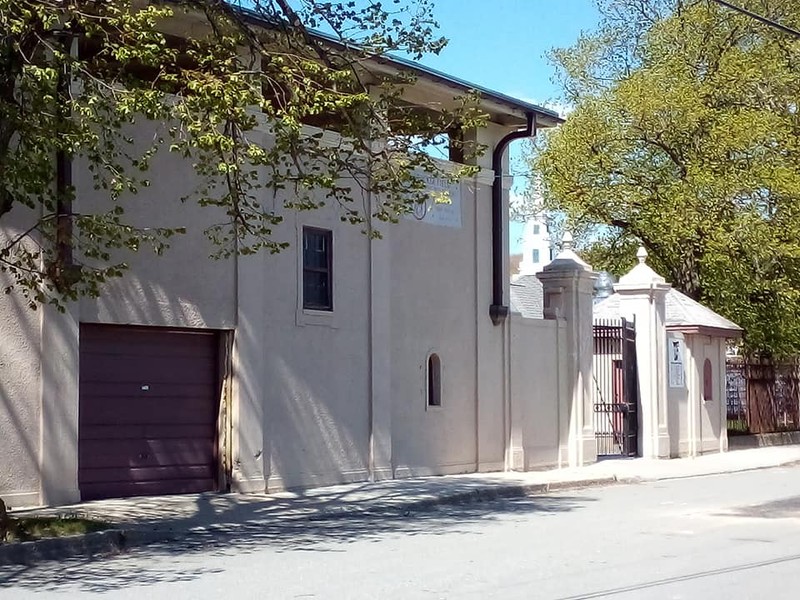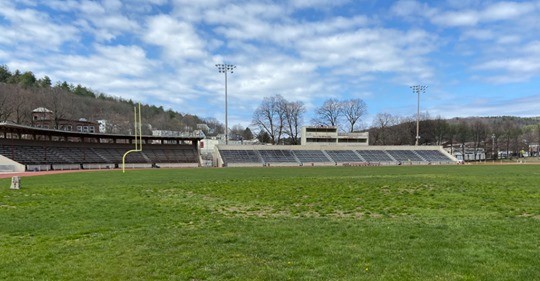 Map shows millpond where Crocker Field is now located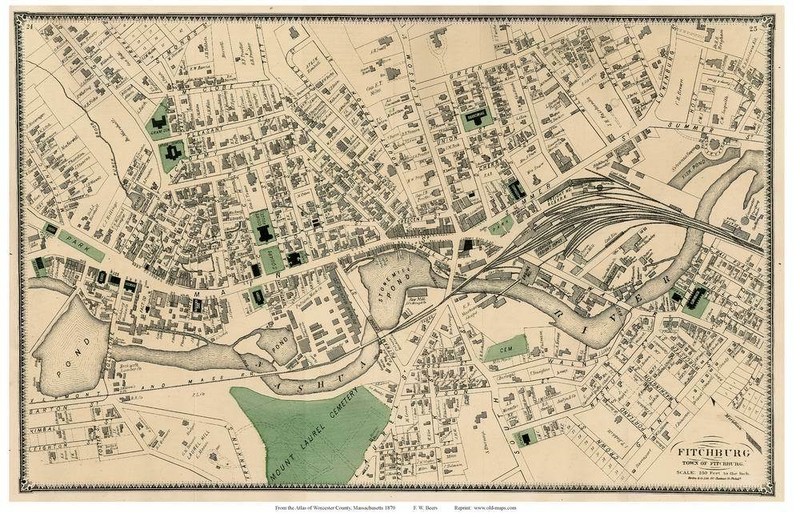 Backstory and Context
In the late fall 1916, Charlotte Crocker was dismayed to see her son John coming home full of cuts and scratches from playing with his friends in a vacant lot owned by his father near the Nashua River, at Circle and Broad Streets. That evening, she addressed the issue with her husband Alvah, by recounting their son's condition after his return that day. Charlotte opined that there wasn't a decent place in Fitchburg for school children to play outdoor games.
She had planted the seeds!
Not only had Alvah inherited great wealth from his grandfather Alvah Crocker, Sr. and his father C.T. Crocker, he inherited his family's tremendous sense of civic duty. By the end of the holidays, Alvah Crocker II had a plan that he put it in motion. On January 1, 1917, Crocker addressed a letter to Mayor Foss, declaring that he would be funding an athletic field to be used by the children of Fitchburg for their physical and mental development. He committed $250,000 to the project and hired the renowned landscape designers, Frederick Law Olmsted and Sons Landscaping firm. The firm's founder, Frederick Law Olmsted, Sr., was the architect of Central Park in New York City and Boston's Emerald Necklace. Olmsted's sons were engaged to design Fitchburg's Crocker Field.
Mr. Crocker also hastened to visit Principal Charles Woodbury at Fitchburg High School; he requested that the School Board assume the responsibility for Crocker Field's oversight. He also presented the principal with a check for $38,000 to fund its continuous care.
When word of the field reached the Fitchburg High students, they organized a visit to the Crocker home at 120 Prospect Street to thank Mr. Crocker properly. They formed a group at the school, marched with the band over to Main Street and the Upper Common, and up the hill to his home on Prospect; all while singing school songs and shouting their "thank you" for his generosity.
Crocker Field was built during World War I and the Spanish influenza epidemic, so it took some extra time to complete. It contained a football gridiron, a baseball field, two tennis courts, a track, open and covered grandstands, and a club house enclosed by a Black iron fence and the Nashua River.
On Opening Day, May 11, 1918, thousands of fans watched the dedication. Alvah Crocker II raised the American flag and threw out the first pitch in a baseball game between Fitchburg High School and Gardner High school.
For one-hundred years, Alvah Crocker II Field has been the pride and joy of Fitchburg High School and the city. Thousands of sporting events, graduations, civic events, and special visits there have been recorded. In 2001, Crocker Field was listed on The National Register of Historic Places.
Today, if he were alive, Alvah Crocker would be very pleased by his investment. Not only would he marvel at its maintained beauty, but he would rejoice in how much it has contributed to the well-being of all the Fitchburg children who have used it and will continue to enjoy it.
Sources
Flynn, Kathleen . Happy 100th Birthday Crocker Field. Fitchburg Historical Society Newsletter. August 1st 2018. 1.
Image Sources
Susan Navarre

Susan Navarre

Sentinel and Enterprise website

Facebook Group: Fitchburg Historical Society

Additional Information