Alderman House
Introduction
Erected around 1925, the Alderman House is one of the many historic homes on First Street, which also goes by the nickname "millionaire's row." Famous local architect Addison Mizner designed it in the Mediterranean Revival style. The house is also significant for its association with the man who built it, Frank Alderman, who was a prominent Fort Myers businessman and banker in the 1920s. In terms of architecture, notable features of the house include a front patio of Italian blue and white tile, a covered space (similar to a porch) with twisted columns, and a two-story square tower with coved friezes (the decoration along the top of the walls). The house is now called the Mizner Estate and three rooms are available to rent on Airbnb. It was added to the National Register of Historic Places in 1988.
Images
The Alderman House was built around 1825 and is fine example of Mediterranean Revival architecture.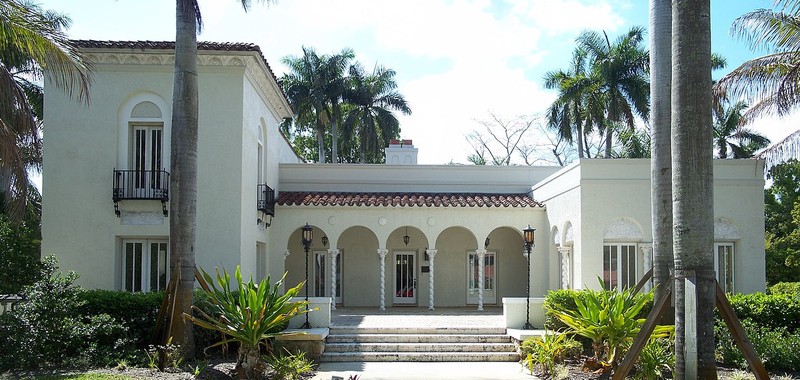 Backstory and Context
In the early 1920s, thousands made their way to Florida to enjoy the tropical climate the state became known for. Some were looking to take a vacation while others sought winter retreats. Speculation reached a high point during the Florida Land Boom in the middle of the decade when construction of homes and businesses soared throughout the state. Frank Alderman was among the many wealthy individuals who came to Florida. He, however, did not simply build a winter retreat; he built the house to be his permanent residence. It appears he also meant for it to be showpiece for his wealthy friends, including the inventor and fellow resident Thomas Edison who visited the house. The house is also unique for the fact that the walls were built with hollow clay with a stucco finish, which was a technique from northern Italy and southern Spain.
Alderman is notable for his role as president of the First National Bank. He is regarded as the person who prevented the complete collapse of the local economy after the Miami hurricane of 1926, which devastated southern Florida, especially the city of Miami. Alderman provided much-needed loans to residents and businesses, which helped steady the local economy through another hurricane in 1928 and during the Great Depression. The house was used a commercial building for a few decades before the current owner bought and opened it as an Airbnb rental in 2018.
Sources
Borns, Patricia. "In new hands, Fort Myers' Mizner mansion is glam again." The News-Press. April 14, 2018. https://www.news-press.com/story/news/2018/04/13/new-hands-fort-myers-mizner-mansion-glam-again/453703002.
Welcher, Vicki L. "Alderman House." National Park Service - National Register of Historic Places Nomination Form. December 1, 1988. https://npgallery.nps.gov/GetAsset/07261f15-757c-4444-97e9-1acd10e94711.
Image Sources
Wikimedia Commons: https://commons.wikimedia.org/wiki/Category:Alderman_House

Additional Information